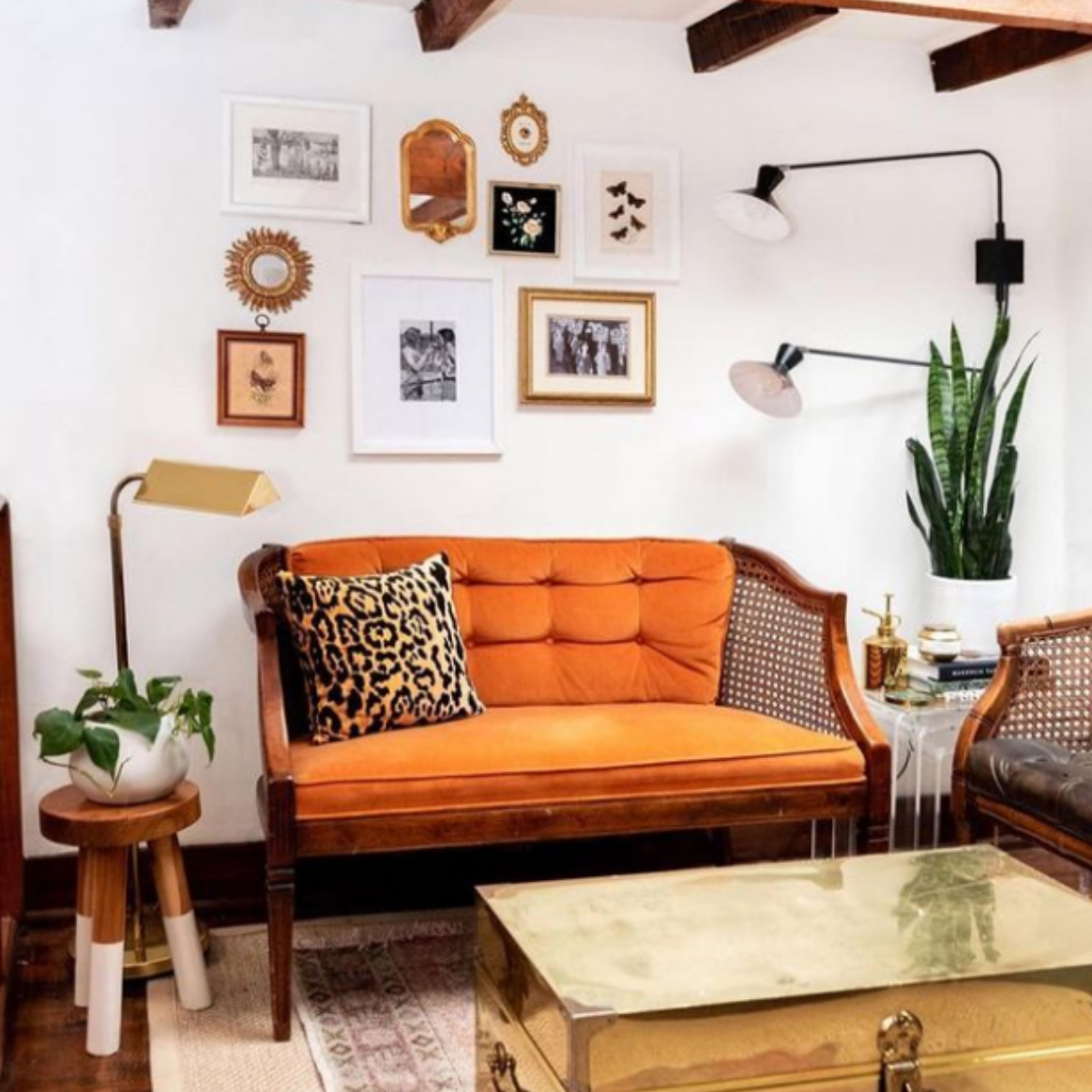 How to Incorporate 2022's Top Design Trends Into Your Space
By: Sarah Lyon
New year, new decor, amirite? We're majorly excited about the home design trends that will be making waves in 2022—bring on the texture, vintage finds, bold patterns, and so much more. If you're not sure what we're talking about, make sure to take a peek at this guide to view all of the looks that you'll be seeing in your fave spaces this year. 
Now that you know what trends will be big in the design world, it's time to think about how you can introduce them into your own space. And no, that doesn't mean ripping your place apart and tossing half your furniture and accessories, don't worry! It's oh-so-easy to make smaller updates that will help your apartment look nice and current without blowing your entire budget or creating waste.
Below, check out my tips on how to incorporate a few of 2022's fave looks into your own home! 
How to Add Texture
TBH, winter is honestly the perfect time to have lots of fun with textural accents in your home since it's all about layering! Bring on the chunky throw blankets, cozy pillows, and more.
When it comes to picking fabrics, we love boucle and velvet in particular, and they'll continue to be popular in 2022. Leather is also a fun pick if your style leans edgier or more modern. Pro tip: Changing out your throw pillows every few months is such an easy way to introduce new textures and styles into your home. I also keep a few varieties of throw blankets in baskets under the bed and grab whichever are seasonally appropriate to style on my sofa and in my bedroom.
As a bonus, I've found that when you use certain decorative items less frequently, you have a new appreciation for them (or maybe looking forward to my sherpa-style blanket every winter just means I'm getting old, IDK). 
Incorporating Luxe & Vintage Touches
If you're of the mindset that you can't find little luxuries at the thrift store, flea market or online - it's time to change your mind. I can't tell you how many gems I've scored while shopping secondhand.
I recently grabbed a vintage Dior suitcase for a steal at a local flea market, and it looks so stylish holding magazines and other odds and ends in my living room. I also love looking for little jewelry dishes, picture frames, candle holders, and other charming pieces at flea markets and thrift stores.
Not in a major city? No problem! There are vintage and secondhand pieces everywhere—in fact, we have tons of goodies on our site! Luxuries (that don't break the bank!) will be in for 2022, and let me once again assure you that if you're not looking for pre-loved finds, you're missing out. Not to mention, we all know that shopping vintage is better for our planet, and who doesn't want to feel better about their environmental habits in 2022?! 
Sourcing Up and Coming Artwork
As a major art enthusiast and gallery wall addict, nothing makes me happier than discovering a new creator whose works I absolutely love. And discovering independent artists doesn't have to mean breaking the bank.
A lot of up-and-coming creators offer their pieces for extremely reasonable prices, and there are usually options to purchase prints of certain works if an original doesn't fall within your ideal price point. You never know who could be the next "it" artist, so why not take a chance on someone whose pieces make you happy? 
Going Bold With Patterns & Color
Say buh-bye to beige, people! Bold colors are in for 2022. We could all use a little more pep in our lives right now, after all. Whether you have fun with paint, install real or removable wallpaper, or just go wild with accent pieces like pillows, throws, vases and trays...it's actually not that scary to introduce bold hues into your home.
Neon and retro colors will be big—think bright greens, pinks, marigolds, and more. If you're nervous about going bright, start with small accents. I love the 'tray trend' for storing knick-knacks, coffee table books and more, with a punch of color!
Parisian Design
We may not all be Emily in Paris, but we can certainly replicate French influences in our own homes if we wish! As a lover of French interiors myself, I've managed to bring Parisian vibes to my NYC apartment by incorporating a couple of faux mantels into my space.
Even though they weren't originally part of my unit, no one has to know—in fact, they look authentic enough that they fool most people! Other ways to Frenchify your space include adding faux molding to the walls, decorating with travertine and marble pieces, and hanging (or leaning) beautiful ornate gold mirrors. 
What we love about 2022's design trends is that there's truly something for everyone, whether you're all about traditional decor or are feeling a bit whimsical. Happy new year and happy redesigning!
 By Sarah Lyon: Sarah Lyon is a New York City-based freelance writer who contributes to a number of national design and lifestyle publications like Architectural Digest, Apartment Therapy, MyDomaine, the Wall Street Journal, and more. Sarah also works with designers to help them style spaces for photo shoots. Find more shelfies on her Instagram page, @sarahlyon9