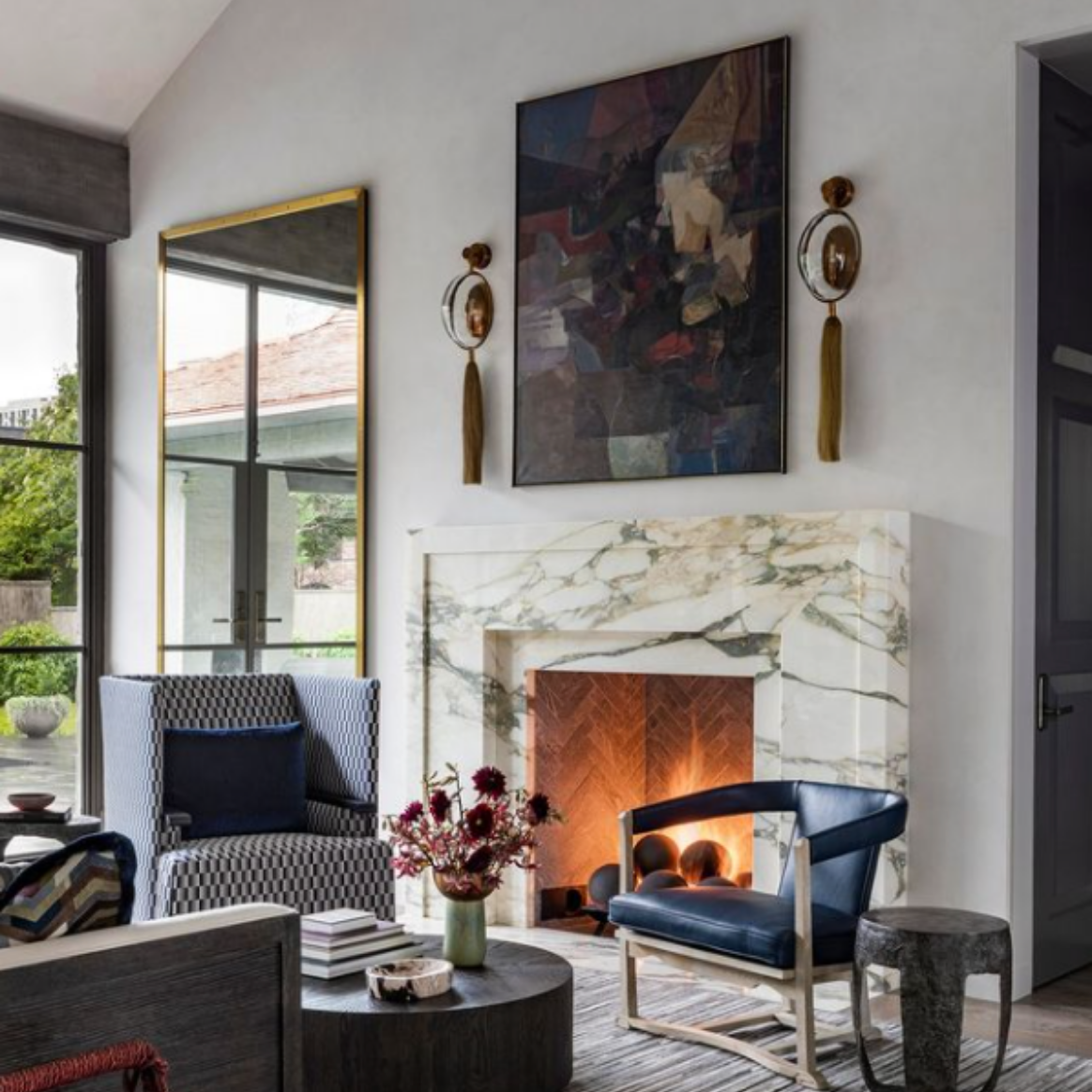 2022 Design Trends: What's In & What's Out
By: Emory Rakestraw
Oh, January. Everyone on your Instagram feed swears they're done drinking; the streets are filled with joggers gasping for air and families gather to rip down holiday décor in blind rage! A fresh start, amiright?
As a new year settles in, the general population asks, 'What's trending for 2022?' From plenty of green to vintage #vibes, I'm particularly loving what the design gods are predicting for the year of the tiger.
What's In
Image Credit: SheerLuxe
Texture, Texture & More Texture
The 'feel' of a room gets a literal interpretation in 2022. Textured decor like woven rugs, patterned jute, boucle side chairs and soft velvet are thrown in with splashes of leather. Layering these elements gives warmth to a space, which you'll see as an overall #vibe for 2022.
When it comes time to accessorize, look to the luxe trend which highlights velvet, metallic and mirrored details in oversized accents. Statement clocks, large Victorian mirrors and a stylish display of knick-knacks are one way to elevate an interior while not breaking the bank.
Sculptural and Curved Furniture
Image Credit: Fenton & Fenton
After decades of harsh midcentury lines, the 80's Art Deco style birthed curved accents and in 2021, the feminine shape of furniture silhouettes made a re-emergence. If neon mirrors showed us anything, it's that the 80's are back, baby!
Love it or hate it, curved sofas and accent chairs work great in open, airy spaces and play well with traditional styles. If you're looking to go big or go home, may we suggest a curved couch in jewel-toned velvet?
Modern Grandmillennial
Image Credit: Gabby Home
Speaking of upholstery, last year 'grandmillennial' made its debut. The more eloquent and traditional 'cottagecore' echoed the cheerful relaxation of staying at Grandma's house. While many millennials had a brief dance with Scandi and/or Neutral Boho…there were others who craved maximalism. Add in the pandemic, we all took an introspective look at our abode and began decorating in a way that rang true to us. Turns out, a lot of us prefer nostalgic comfort.
For 2022, 'grandmillennial' takes a modernized approach and mixes other trends like patterned sofas, floral window treatments and damask prints. If you're wanting to start small, look for pleated lampshades, ruffled lines and blue and white ceramics.  
Bold Patterns and Colors
Image Credit: My Cakies
Playing off the above, a move away from neutrals and muted interiors brings in canary yellow, citrus green, bold patterns and neon pops of retro design. The 2021 wallpaper trend is partially to thank for this, decorative texture became a focal point in overall design. While some might not want to wallpaper their entire living room – the same vibe can be lent through patterned sofas, throw blankets and large-scale artwork.
Up-and-Coming Artwork
Image Credit: Den XYZ
Highbrow galleries be aware! A shift to shop and support local has also shifted to sourcing up-and-coming creators the world has yet to hear of. Novice and seasoned collectors are looking for fresh faces that echo diversity and an innate expression of our world and their perception.
Parisian is The New Scandi
Image Credit: Rue Rodier
Bright white interiors are out. To still appeal to the minimalist, French design adds colored glass, iridescent accents and natural light that oozes warmth (while not being overbearing). French country's modernized cousin also mixes contemporary furniture and décor that echo a vintage or distressed appearance.
You might not have herringbone floors and a marble fireplace, but you can add touches through a gilded mirror above the mantle, Louis side chairs, dried flowers in vintage vases and one of my (personal) favorites – bust statues.
Vintage & Sustainable
Image Credit: Trim Design Co
Supply chain issues have forced many to run to the nearest antique store – turns out, the general public isn't too inconvenienced. An effort to shop small has led to large-scale pieces like sofas, coffee tables and armoires that are entirely one-of-a-kind. For accents, look to colored tableware like eclectic glassware sets, taper candles and a one-off vase.
Embracing Nature
Image Credit: KNOF Design
In 2022, pastoral and cottagecore are re-created not through décor, but color. Leafy greens, cloudy whites, grey blues…to name a few. One word you'll hear constantly this year, biophilic, might leave you scratching your head. Essentially, biophilic design looks to bring the great outdoors, indoors, while helping us re-connect with the natural world (aw).
From evergreen to sage; olive and emerald - natural is the new neutral. Architectural Digest even referenced 'goblincore,' an aesthetic that denotes a forest fantasy re-created at home. I don't think there will be any bridge trolls or faeries, but whimsical mushroom statues and plenty of plants are one way to start.
Kind of In, Kind of Out: Wallpaper
Someone call the 90's, the wallpaper trend has stuck around for one more year! Yet in 2022, it's shifting to unexpected spaces – think on the ceiling, behind open shelving and even hung as art.
Midcentury
Midcentury design and 70's inspired homes are still making the rounds, yet we're not incorporating the orange-brown shade that dominated the decade. Instead, midcentury is getting a modernized approach in 2022 – look to chocolate browns, curved furniture and splashes of pattern to incorporate this updated look.
Completely Out : Stark White & Boho
Kayla Blanton said it best when she asked the neutral boho trend to kindly see its way out. The plants can stay, but the crisp white interiors and minimal artwork can go! If you can't tell, 2022 is all about colorful spaces that radiate warmth, nature and authenticity – so, a sterile white wall really has no place here.
Open Concept
Good news to everyone with 'designated rooms,' open concept is closed for business. Thank the pandemic for this one. As many shifted to remote work, a la spending more time in their home, the need for privacy has grown increasingly. If you can't call the contractors and put up a wall ASAP, try designated spaces within one room!
Shiplap
Sorry, farmhouse décor (and Joanna Gaines) shiplap has set sail.
Harsh Metals
Bold hardware has long been a popular choice to incorporate an ultra-modern vibe. Yet, hand-painted, brushed, textured and satin finishes are now taking dominance in terms of hardware and accessories.
All Of This Said...
Trends are just that – trends. If you're clutching your midcentury sofa and gasping at a curved coffee table, it's ok! This is merely a guide to what styles we'll see dominating the interior sphere in 2022. I'm a big believer in decorating in a way that rings true to you… but I am a bit excited to see what 'goblincore' is all about.
Header Image: Benjamin Johnston Design
By Emory Rakestraw: Emory is a freelance writer based in coastal North Carolina. She grew up watching her mom refurbish antique furniture and an interest in interiors has grown into artwork, including a monthly art column for a regional magazine. A southerner at heart, she appreciates a good tablescape and the art that is hosting. Emory serves as the Editor in Chief of Den XYZ.