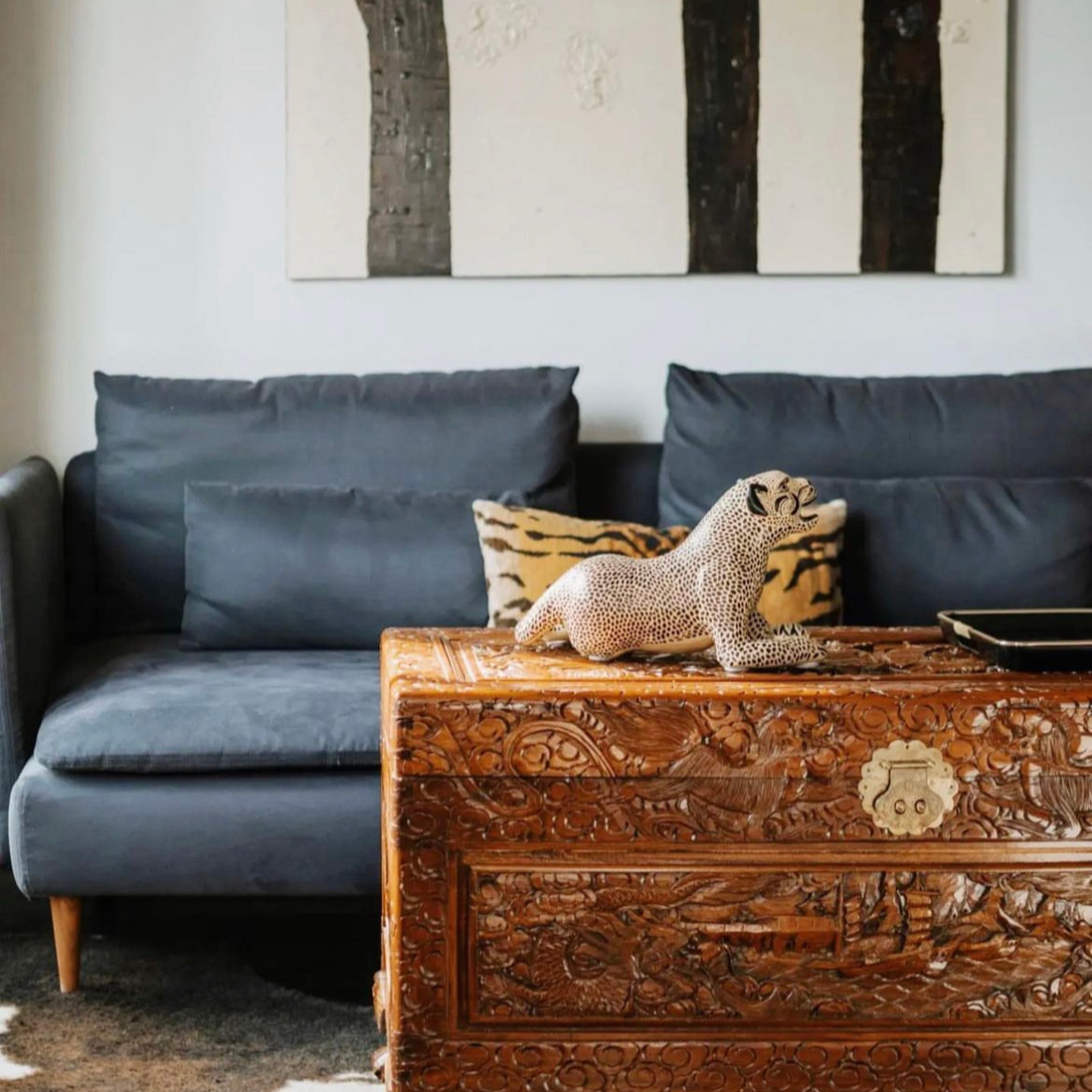 What Comes After Grandmillennial?
By: Heather Bien
I've leaned into grandmillennial over the past couple of years. That came with some regrets  — for example, I realized what a mistake I made when I let go of my grandmother's plain, solid wood furniture because it didn't fit into my studio apartment. But it also validated my lifelong enthusiastic embrace of all the antiques and old stuff. Those delicate plates I always eyed at vintage stores now had a home in my decor and every well-loved print I spotted seemed to have a timeworn appeal rather than looking like it came from the dusty $5 bin.
Interior designers and enthusiasts alike have made grandmillennial style their own, with matchy matchy bedrooms filling the pages of magazines once again and classic blue and white gently nudging warm midcentury tones out of the spotlight.
But does this Ethel and Mabel-approved design trend have staying power? Or is it simply finding itself as the popular girl at the dance just for a song or two, before it disappears back into the archives for the next three generations?
My inkling is that "This reminds me of my grandmother's house" will only remain a compliment for a short time before it goes back to its original form — either implying a room feels dated or that it is perfectly curated nostalgia. Grandmillennial's moment is still going strong as we close out 2022, but it won't last forever.
So what could the next big design trend look like? I have three theories.
The Quirkiness of the 90s Will See a Casual Comeback
First, consider that fashion and design often echo each other. The TikTok houses of a few years ago showed an affinity for early 90s mansions. A couple of years later, we're seeing the 90s back in full force with cargo pants, beaded chokers, cropped tops. Could a 90s resurgence in home design follow not far behind? I'm imagining apartments influenced by one of the most famous 90s TV sets — the Friends apartment. And quirky, patterned, casual decor could be a cozy place to land after a few decades of minimalism followed by grandmillennial tradition. Plus, with many historians saying that the millennials followed the boomers, and Gen Z is the next iteration of Gen X, it might make sense that the youngest apartment dwellers will look to their predecessors for inspiration.
The Palm Springs Aunt Will Waft Onto the Scene
Second, those of us who leaned fully into midcentury silhouettes, sleek, low-profile furniture, and warm, funky colors aren't going to easily give up the good and minimalist life. We still want to picture at-home happy hours, lounging with a double old-fashioned glass and a record playing. But there's a dream of something new. The Palm Springs Aunt could be it. She's of the same generation as Don Draper, but so much more relaxed. Her decor is bright and light, there's none of that heavy wood filling her living room. She's floating around in a caftan, a cocktail in hand, surrounded by her bold art and glossy white floors and walls. It's the 70s. And they're back.
Our Royal Dreams Could Mean Tea Time at Home
Lastly, our Victorian obsession isn't going anywhere and our affinity for all things Anglophile only goes stronger with each passing season of The Crown. I predict this trend will mean more original wood trim dodging a white paint brush (something I've already noticed during my Saturday and Sunday open house field trips), more moody florals appearing on wallpaper and upholstery, and still life paintings in ornate gold frames adorning gallery walls. Living royally doesn't require major square footage, and it's easy to find formal antiques next to grandmillennial vintage finds at any thrift store. We may not live in a turn-of-the-century estate, but who says we can't decorate like we do?
So will one of these design trends of decades past become the next cool girl as grandmillennial style begins to wane?Only time will tell but, whatever comes our way, remember that decor is a  circle, and, if you do what you love, all will eventually come back in style again. 
By Heather Bien: Heather Bien is a Washington, D.C.-based writer. You'll often find her making pitstops for roadside antique shops, drooling over original hardwood floors, or perfecting her latte recipe.