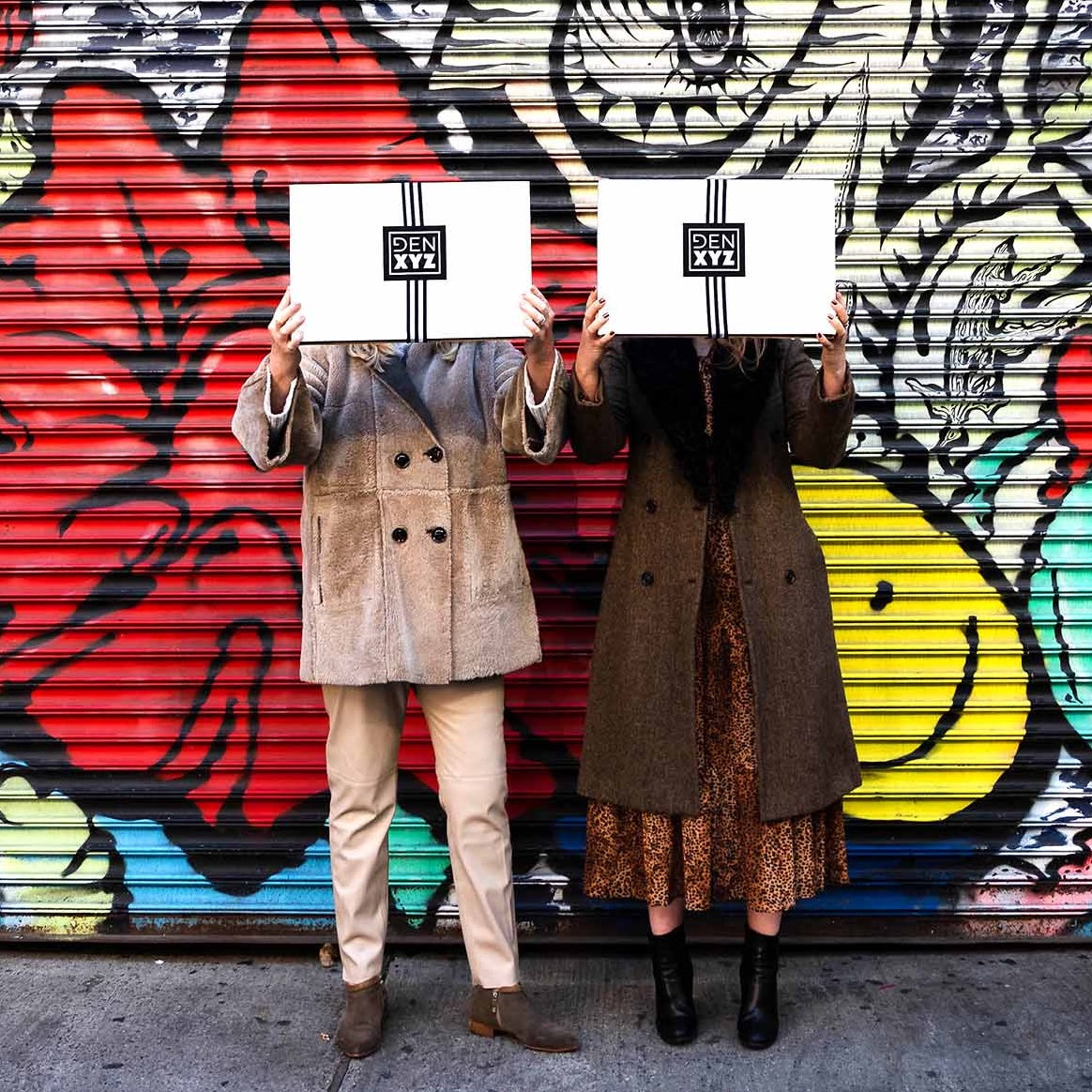 Thank goodness you found us. We have been waiting for you. Welcome to your new favorite shopping destination to design the den of your dreams. We hope you are ready to ditch the boring beige decor from *gasp* off-the-rack and start giving your space the respect it deserves.
We can't wait for you to see what we have in store. 
Who Are We?
A mother daughter duo with a knowledge and passion for art and interior design.
We're not intimidated walking into a Chelsea gallery and making connections. Actually, that's how we've gotten to where we are today, through forming genuine relationships with creators, makers and small businesses.
Now we're bringing it to your den.
At the forefront of DenXYZ, we want to do the heavy lifting for you, and sustainably. As we say, we're design that gives a damn. And we mean it. Years spent in the business now has our stomach turning at mass-produced household items (i.e., junk). 
Sure, it's quick, but will it really stand the test of time? Will it really make your friends green with envy? Will it really set your interior apart from every other Pinterest mood board? We think not.
Trust us when we say, "We got you, boo."
Why DenXYZ?
Your home is fundamental to who you are. You deserve better than run of the mill decor. When shopping small, you're not lining the pockets of mass corporations (dare we say the A word?). You're supporting real people; be it an artist, a glassblower, an up-and-coming business and most importantly, YOURSELF. 
It feels good to shop small and sustainably, let us give you that feeling.
At DenXYZ, we're constantly evaluating how we can shop smarter (while not turning the world into a heaping pile of carbon emissions, sorry, that got dark). We're highly selective in our chosen partnerships with a focus on smaller brands with respectable business practices. Even our packaging is sustainable!
Oh, and for every piece of art purchased, a tree is planted.
Seriously.
How to Shop DenXYZ
Sure, furniture fills a space, but accessories are how you make a room, set the mood, display your interests, curiosities and even rotate your style for the season. 
If you need a couch refresh, shop our pillows and throws. 
Looking for a statement piece? Art is a great start, or go for small pieces that make a big impact by browsing decor. 
Seeking the perfect gift? Vintage vases, unique candles and cozy throws are one of the many ways you can give something wildly unique and one-of-a-kind.
Throwing a get together? Tabletop is your one-stop shop. Trust us, your party guests will be asking, "Where did you get that?" 
We're not one size fits all, hence our name. The XYZ stands for generation X, Y and Z. Even if you're not making TikTok dances, you'll find something for your age group and aesthetic. We don't box ourselves in and shopping bundles is an easy way to work in themes and color palettes (while discovering how you decorate). 
Wait, There's More!
Like most things in life, decorating is a learn as you go experience.
If you don't know where to start, our Extra! Extra! blog showcases articles from interior designers, art columnists, #shelfie stylists and writers with knowledge of the biz. Find advice on anything - from decorating built-ins to throwing a dinner party; sprucing up for the holidays and even decor for your Zodiac sign.
On our social channels, we're showing off not only products but helpful videos to get those design wheels turning. Be it styling a coffee table or ever-changing trends; we're not here to simply sell you a product and vanish into thin air, we're your new design best friends.
Now to the fun stuff...let's get shopping!