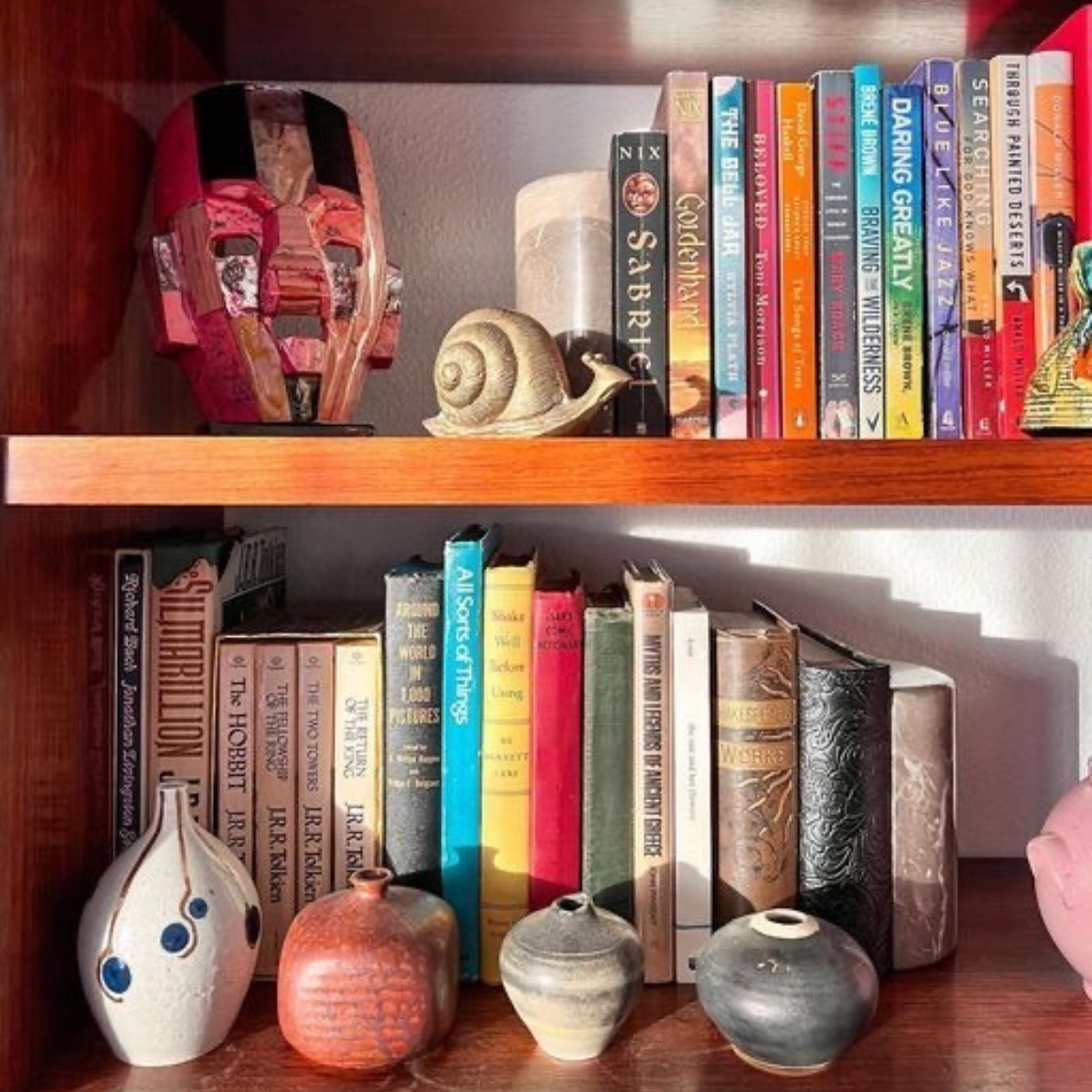 A Q&A With Three of Instagram's Vintage Sellers
If you're here, reading this, with a love of unique home decor, there's a good chance you've shopped secondhand on Instagram. The niche market is booming with grids full of more treasures than imaginable, and the people behind the accounts somehow manage to navigate DMs, money transfers, photographs, sourcing, and shipping to keep the small businesses up and running. It's an alluring, admirable dance they do, truly—which is why I tapped a couple of my favorites to chat. 
I asked each of these vintage slingers about the ups and downs of Instagram selling, the future of antique shopping, and more. Keep reading for their wisdom—it just might help you score your next find. 
Meet the Sellers 
Amber Petersen
Instagram: @willabirdfinds
Location: British Columbia, Canada 
The shop's vibe: Eclectic and pre-loved goods with a focus on bundles or "drops." For each drop, she curates items—from art to trinkets to textiles and more—that fit a certain theme and come from all different time periods. A recent drop was called Surf N Turf, "where under-the-sea meets country-kitsch." 
Favorite find: Two pink 1940s Japanese kitsch cockatoo wall planters
Rachel Brown
Instagram: @little.frog.vintage
Location: Spokane, Washington
The shop's vibe: Rich colors, weird fun. "I hesitate to call it one specific thing!" Brown says. "It's a one of a kind home-brew mix of Hollywood regency, English cottage, and mid-century modern with lots of rich color. I believe in breaking the mold and going with exactly what you love."
Favorite find: An antique librarian chair
Zoë Mazgay (and her mom, Kelly)
Instagram: @kisswinkvintage
Location: Columbus, Ohio
The vibe: Funky mid-century. "We try to go for anything that's a bright color or funky shape!" Mazgay says. "Which usually comes in items from the '60s and '70s."
Favorite find: a Memphic Milano clock for $3 (valued around $900-$1200)
Q: Vintage reselling seems to be on the rise. Why do you think so and what do you see for its future?  
Amber: Shoppers are looking for sustainable, nostalgic options and ways to express themselves with eclectic pieces that aren't mass-produced. Vintage is also often higher quality and can stand the test of time. I really hope it keeps up in popularity, as I think it's helping people to curate more timeless decors, and to love and cherish what they own more. But what happens when these mass-produced eras (2010s-2020s) become "vintage"? Will it still be as special? It will be interesting to see.
Brown: The popularity has exploded. I can see both sides of the case here: Yes, it does dilute the pool of goods. Yes, it does somewhat mess with the value of items that are "hot," like swung vases, basket walls, and brass candlesticks. But on the flip side, there is always enough vintage and gorgeous secondhand loveliness to go around. And if the shops fade but the habits of shopping secondhand stick, then I call that a win.
Mazgay: There are so many little things that have created this current boom. People are starting to care about climate change more and more, so they want to shop secondhand. It's also readily available unlike a lot of brand new home decor—buying a new table takes like eight months. I think it will continue to rise, and I truly hope it does. We, as humans, have so much STUFF! If we can keep reusing it and delaying its time in a landfill, that's a huge win. And also, the world will never run out of inventory because as every year passes, a new year is considered vintage.
Q: Why does Instagram work as a selling platform? Or does it?
Amber: It does and it doesn't. I don't see the new algorithms pushing reels being very effective for sellers. But the standard feed and stories work perfectly for creating clear visuals and making personal connections with your customers. Also the new-ish features for setting alerts and reminders are helpful. Once you get a following, Instagram is awesome. But it is a constant struggle for your items to be seen.
Brown: Instagram has made it pretty clear that small businesses aren't a priority. Many shops have had security issues and lost accounts with no resolution, which is disheartening. And we all know the woes of the algorithm! It's still an amazing place to share our mutual love of vintage and make wonderful long-lasting connections with resellers and customers alike. But I do feel like the glory days of selling on Instagram are on the backslide.
Mazgay: We don't focus on Instagram as a selling platform, but instead use it to drive customers to our Etsy. However, we do think it is a great way to sell if you can manage it! 
Q: No need to give up all your secrets, but any tips for scoring good stuff?
Amber: Estate sales are good, but more importantly *private* estate sales. These are almost all initiated by customers who ask me to come by and check out their relative's home that they're downsizing. I think being excited and passionate about what I do and expressing that to customers often leads to these private invites. But it's also just about having a very keen eye in thrift stores. I can't count the amount of times I've walked up to the checkout with, for example, a huge footstool that was literally right in the front door as I walked in. So many people in line are always so amazed. I think people just need to slow down and take everything in.
Brown: Takeaway number one is patience. Literally anything your heart desires is out there, waiting to be found secondhand for a good price, but you gotta play the long game. The total thrill of finding your dream find, however dusty or grungy it might be in the moment, is so worth it. Also, consistency is key. Who cares if the gals at Goodwill know you by name. Going in as often as you can guarantees that you won't miss the goods! Estate sales are glorious because of their intimacy. A whole life's trappings displayed and waiting. Memories maybe never meant to be shared suddenly unearthed. It's an honor to be able to partake in such a thing. 
Zoe: Go everywhere, all the time! Go as often as you can afford and don't be afraid to go to places that don't seem very clean. And always take a buddy for an extra pair of eyes (and safety!).
Q: How hard is it to not keep all of your treasures? 
Amber: I have "seller brain" most of the time, and sometimes I don't even realize until after I sell something that I wanted to keep it. It's probably a good thing or I would become more of a hoarder than I already am! I also have a rule of when I decide to keep something, I have to sell something I've held onto previously.
Brown: It's not as hard as it used to be. For one, I like to implement a tactic that I call decorative storage; items that I love, have listed, and haven't sold might just hang around on a shelf in my living room being admired every day until they sell. But over time, I have found a lot of satisfaction in being hyper-selective. The collection that my husband and I have spent so long curating makes me giddy with delight because every single piece is something we adore. What a treat that is!
Mazgay: Many things live with us for at least a few weeks before going out into the world. It can be hard to part with them, but we know how much joy it has brought to us, so we are happy to send it to someone else to get some joy out of it, too.
**This interview has been edited for clarity.
By Kayla Blanton: Jewel tones, brass, and amber glass make Kayla Blanton swoon. Those touches, plus lots of art, animal print, and road-trip gathered trinkets make up her 1920s Cape Cod in Cincinnati. You can read her work in Bustle, Prevention, Everyday Health, and more and follow her treasure hunting adventures @theweekendantiquer on Instagram.