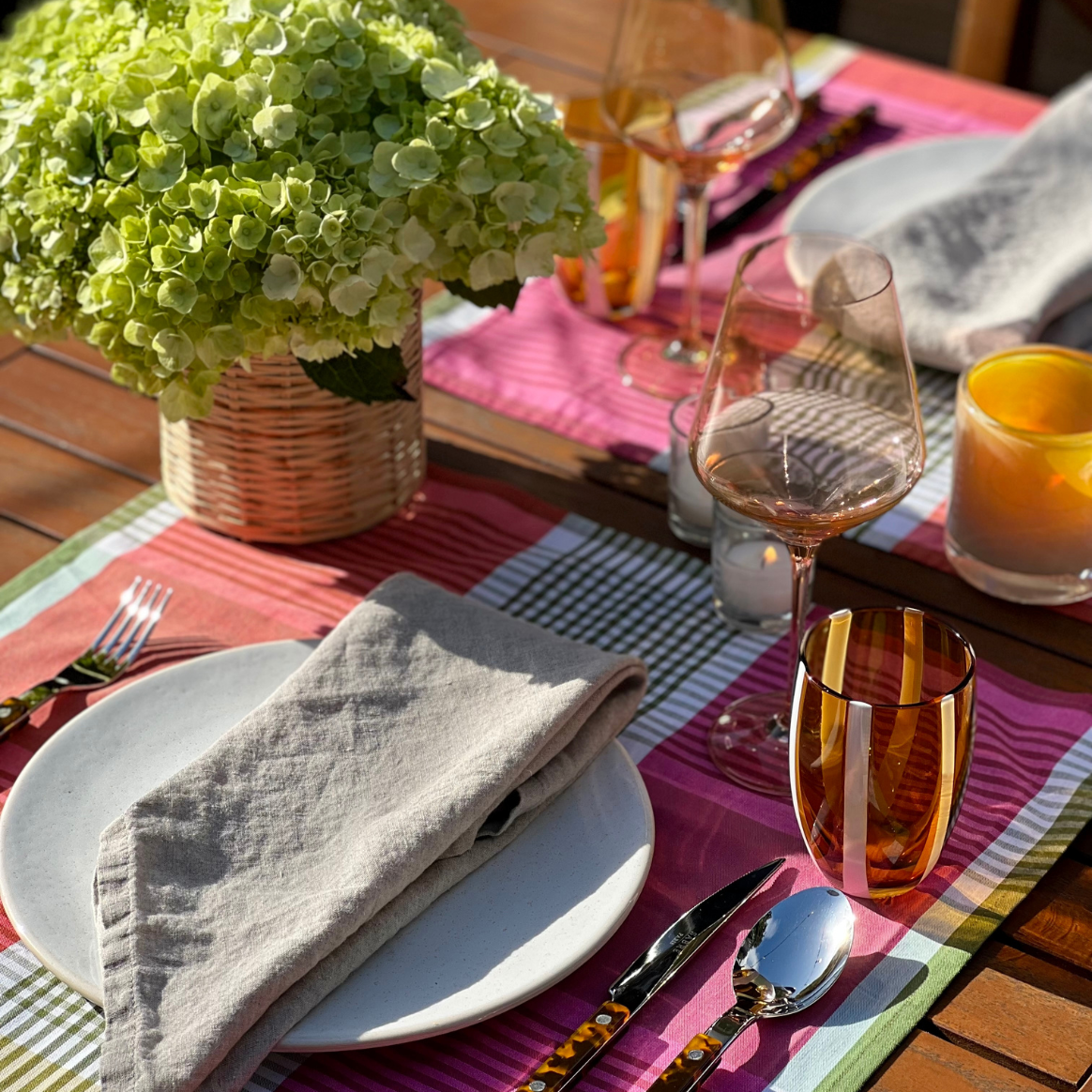 Tipsy Tables Are More Fun
By: Emory Rakestraw
It's funny how things change. As a kid, I loathed setting the table. Yet, as an adult, half of my explore page is filled with gorgeous tablescapes. I peruse linens, ponder decorative plates and gladly host any get together so I can practice my skills (and shop). While this interest didn't fully take shape until my late twenties, some #tablescapers have been perfecting the art for years.
Enter: Kate Clay, founder of The Tipsy Tabletop - as a child, a turquoise, plastic wine glass sparked her love for all things tabletop. During Covid, she leaned on the hobby as a respite and passion turned into inspiration. While tipsy tables are, of course, more fun (seriously, how amazing is her slogan?) Kate had to start from somewhere. So, I sat down with her to get the inside scoop on her creative process, envy-worthy collection and expert knowledge on crafting the perfect tablescape.
From A Plastic Wine Glass To...
Kate didn't just go from a plastic wine glass to a vast collection of Ginori Plates. Her love for all things tabletop evolved with time and travel, "One of my friends once told me, 'You're one of the best consumers out there.' A lot of my pieces are items I've collected over the years. My mom always loved nice linens and when I'd travel, I'd pick up a tablecloth or something like that," says Kate. "As a kid, my turquoise, plastic wine glass kind of became part of who I am, that's really how it all started. It began with vintage Murano glassware, linens were next and it just grew from there."
Her collection includes Bordallo Pinheiro Cabbage Plates, Sabre Paris flatware, La Double J linens and the Perle and Gessato Tumbler. Yet, the next evolution in her hobby was an unexpected surprise from unfortunate circumstances.
A Tipsy Table is Born
"Like a lot of people, I was laid off during Covid and was trying to fill my days with something that was a little more productive, I missed being creative," says Kate. "Being home all the time, setting the table became a natural hobby for me and it started off as something I did for myself. I was nervous creating the Instagram account, I'm pretty introverted, but everyone was so supportive and I think one of the most surprising things was how many amazing people I've met on Instagram. Everyone is so nice and encouraging and that was a lovely surprise."
Kate's tables are quintessentially colorful. She's a sucker for stripes and isn't scared to mix and match patterns. Her centerpieces range from delicate, clear glass vases dashed with florals to a Grecian bust planter. With imagination that seems to know no bounds (and a collection to boot) Kate can break the rules because she 'knows' them, but what if you're just getting started?
Let's Set The Table
While, yes, tablescaping can be as simple as plates and placemats, those who enjoy it view it as art, because it is! A well decorated table can set the mood of an event, tie in colors and details, and lend an elegance and curation to even the simplest of dinner parties. It helps to start with a clear vision - but if you're new here - try picking out a color, theme or even flower and build from there.
"I think if someone is starting out it can be pretty overwhelming. Pick a color you like and you can mix and match from there," says Kate." A white plate might seem boring, but it's a great thing to have because you can change the way it looks depending on what you pair it with. If you like navy, do a navy floral tablecloth and mix it in with a different pattern in the napkin. You can mix stripes with florals to go a little bolder, but pick one theme and work your way out. Remember, you can always change how it looks with florals."
After you've completed the basic steps of building your tablescape, throw in one element of fun! You can even use Kate's as an example - an unexpected bust statue. Adding one item of visual interest will set the table, and also speak to your personal style. And before your guests arrive, sit at your newly decorated table to make sure the florals won't obstruct views or conversation.
For Kate, a lot of her trial and error comes before a dinner party is even scheduled, "It's kind of funny, I have an office studio where I keep most of my stuff and sometimes I put a napkin on the floor and I add things in my office before I get to the table," she says. "I'll set something down and be like, 'Oh wow!' sometimes it's unintentional accidents that make great tables. I rarely remove stuff, I like a full table, I want it to look real and not like I added stuff for the picture. I want to keep my tables approachable. I hope when people look at them they're like, 'I can do that.' 
Finding Your Style
For someone like myself, my interior style is a mix of boho, grandmillennial and eclectic - my tables seem to be no different. I like to bring in bohemian elements through rattan placemats and greenery, grandmillennial through Chinoiserie and monogram, and add in eccentricity through runners, florals and centerpieces. So, ask yourself, what is my interior style? How can I translate that into tabletop design?
For Kate, her home reflects the colorful and fearless elements transposed in her table design, "Our house is Midcentury modern built in the 60's. It's very bright, I have never shied away from color. I like bold art, colorful accents, candles and pillows," she says. "I've also always liked stripes, I'm preppy at heart and since my account is Tipsy Tabletop, I love good glassware."
In her recent tablescape, Kate started with our Gessato tumbler, large cone candle and Roda Branca dinner plates. Adding in wicker elements, potted plants and tortoise serveware (jealous) a palette of amber, blue, yellow and green took shape.
On the flip side, with the same items, Kate also styled another tablescape featuring a plaid, pink tablecloth, light pink wine glasses and votive candles swirled throughout the table.
The lesson? A neutral base is the best place to start, be it white plates, clear glassware and elements of amber or beige. Add color where you see fit, and don't shy away from a bold tablecloth if you're pairing it with more muted serveware, or even a wild plate while keeping the rest simple. Bonus - you also get more bang for your buck with neutral items. 
For Kate, she's going to continue serving drinks and #servinglewks through Tipsy Tabletop. Want some inspiration? Make sure to give her a follow and dare to set your own tipsy table this summer! 
Get the Look
By Emory Rakestraw: Emory is a freelance writer based in North Carolina. She grew up watching her mom refurbish antique furniture and an interest in interiors has grown into artwork, including a monthly art column for a regional magazine. A southerner at heart, she appreciates a good tablescape and the art that is hosting. Emory serves as the Editor in Chief of DenXYZ.