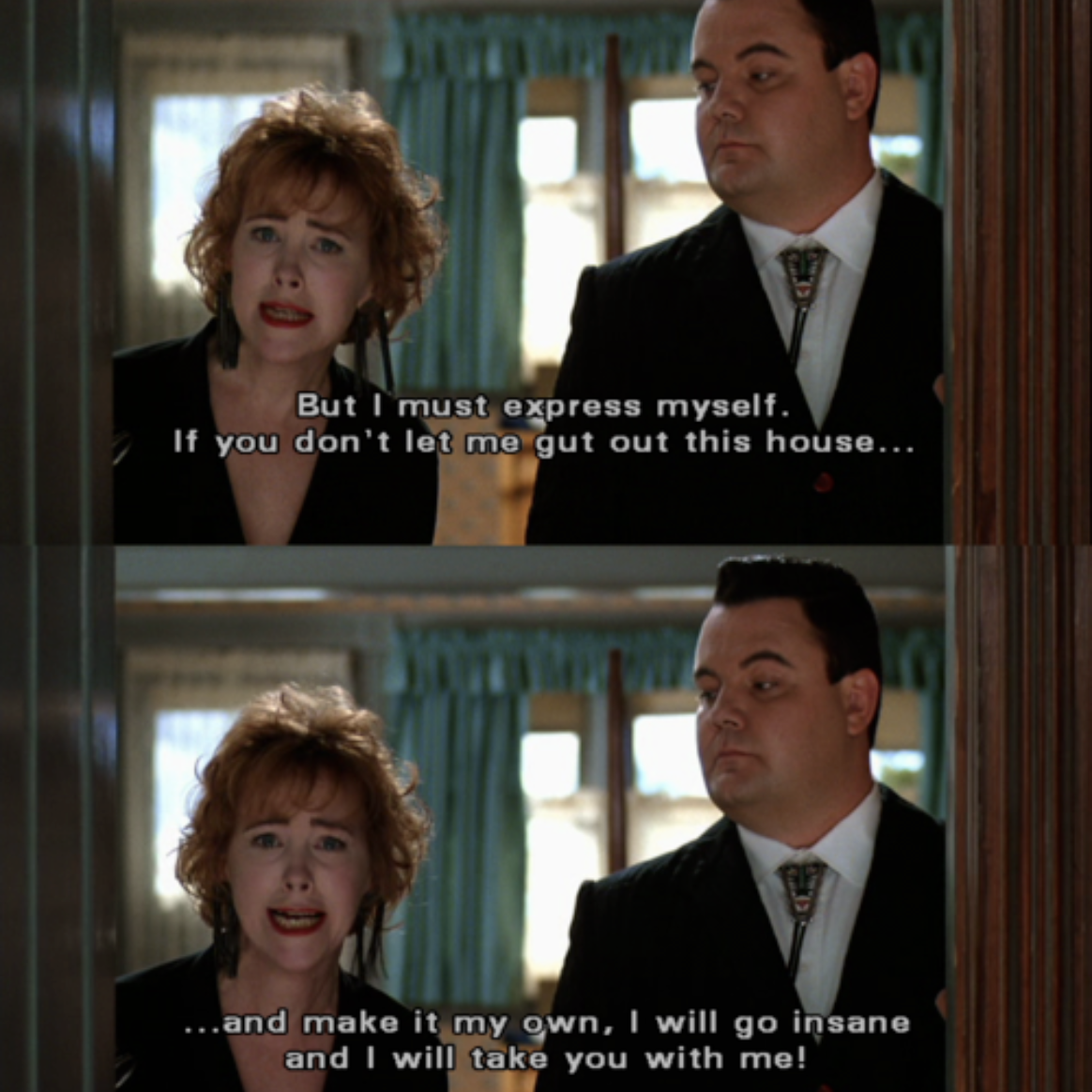 The DenXYZ Decor You Need Based On Your Favorite Halloween Movie
By: Taylor Maple
Outside my office window, there's one leaf that's beginning to turn red even as all of its neighbors cling stubbornly to the lush green of summer. As soon as its flash of color caught my eye, I was convinced to follow its lead. Who cares that it's still too hot for sweaters? I officially declare summer dead. With that being said, it's time to pivot to spooky season. Join me, won't you?  
But before you unearth the chrome skull trinkets that have followed you to every apartment since college (just me?), take a step back. The season for Halloween decor always flies by, so think about how you can truly make the most of these fleeting few weeks while curating items that will stick around long after it passes. Perhaps even hone the vibe you're after by thinking of which Halloween movies feel most like fall to you. 
When I flipped on my first scary movie of the season, I started thinking about why certain films exude such a quintessentially fall mood. And it got me wondering — how do those staples guide the seasonal decor I choose?
Hocus Pocus
Cozy, warm, with a healthy dose of edgy flair — that's what this dish is giving, and it's the tone that made Hocus Pocus an annual rewatch for so many. (It's also the perfect time to whip this film out for a rewatch, especially given the sequel you can now follow it up with when you're done). Place this dish on your mantle, serve movie snacks on it, or use it as a tabletop catch-all.
Halloweentown
Growing up, when Halloweentown played on the Disney Channel, watching it felt like going on a fall field trip — warm, bubbly, and fun. This ceramic ashtray will bring some of those homey seasonal tones into your space and blend seamlessly with various styles of decor.
Practical Magic
In the mood for a bit of romance, family drama, and sisterly love? Commiserate with Sandra and Nicole, grab some tissues, and wrap yourself in this gorgeous mohair throw that will keep you snug on even the chilliest nights.
Harry Potter
The Harry Potter films aren't explicitly Halloween movies, but in my book, they have all the ingredients of a good October jaunt. Witches and wizards? Check. Giant spiders? Check. Floating candles? Check. These candles will transport you right into the Great Hall, even if they don't float. Pair with chic candlesticks (maybe some from our own awesome selection) to set the perfect mood.
The Witch
Dark, unique, full of twists and turns, and from a time before our own? Fans of The Witch, meet this vintage pitcher. OK, maybe I'm hamming it up here, but this item is the perfect way tobring a bit of dark elegance into the room. Fill with greenery or moodier warm tones like deep purples or maroons for the colder months before swapping in bright florals when spring arrives.
Beetlejuice
"If you don't let me gut out this house and make it my own, I will go insane, and I will take you with me," said Catherine O'Hara in Beetlejuice, solidifying herself as an interior design icon. I can't think of a better way to channel her unflinching spirit than lighting up one of these bold chrome candlesticks?
Psycho
What says "Halloween" more than a hidden face and something that isn't what it seems? I'll avoid spoiling anything in case you're 60 years late to watching this classic, but let's just say… the pillow fits. This twist on timeless aesthetics evokes Old Hollywood in a way that will elevate your fall styling and continue to serve looks (ha) in any season.
Halloween
Fans of Halloween know that the film strikes a balance between timeless and daring, all while remaining effortlessly cool — just like this cast iron bowl. Serve movie snacks in it, use it as a jewelry dish or catch-all, or give it a home on a bookshelf or countertop to be viewed as a piece of art.
By Taylor Maple: Taylor Maple is a writer and communications specialist who is finding her design footing one thoughtful purchase at a time. She has published work for West Virginia Living Magazine, Bustle, ABC News, Pittsburgh Magazine, and others. When she's not working, you can usually find Taylor enjoying a road trip, singing along at a concert, or cooking a recipe that is much too ambitious for her tiny kitchen.