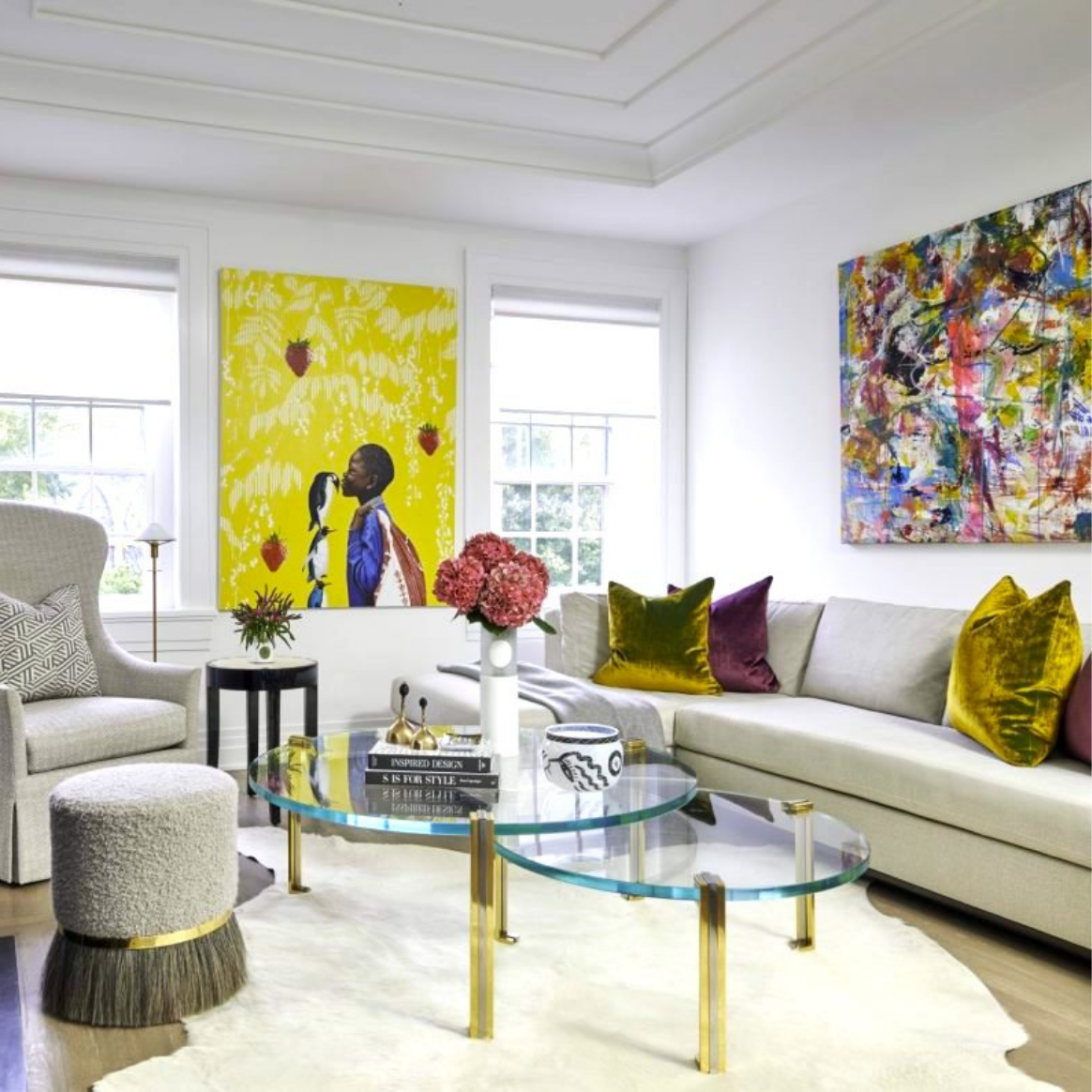 By: Sarah Lyon
Here at DenXYZ, we're all about making pillows a major priority when designing a space. Why? We believe that gorgeous throw pillows can truly take an already well decorated room to the next level. After all, as our founder Susan says, you'll want to think of them like artwork for the sofa! Pillows make a space feel more vibrant and alive and can instantly take your average piece of seating from blah to beautiful. 
Make A Plush Statement
Houston-based designer Benjamin Johnston agrees. "Pillows and other accessory elements are ideal for weaving charm and personality into a home," he notes. And they're a safe way to have a little more fun in a space, too, he adds. "Many homeowners are hesitant to make a bold statement with the foundational pieces in a room like sofas, however they love using pillows, art, and other decor for a welcome dose of color, pattern, and delight." 
The pillows available on DenXYZ's site were hand curated by the company's founders and have a custom quality to them while still being available to consumers in just a click. Gone are the days where only design professionals have access to stunning fabrics; here, we're all about making these options accessible to all of our customers. And Johnston happens to be a fan of our offerings, too! "The collection includes so many finishing-touch pieces that serve up a final layer of oomph to any area of the home," he says of DenXYZ's products. 
If you're a bit anxious about committing to a set of pillows and calling it a day, note that this type of accessory actually offers a ton of flexibility. Many design enthusiasts enjoy swapping out their pillows over time—pillow covers are easy to store and introduce seasonally, if you like to shake things up throughout the year. "Pillows have the power to make a big impact," Johnston shares. "They're also the perfect way to experiment with bold patterns and hues because you can easily swap them out as the seasons change or your style evolves." 
Play With Style
Don't be afraid to play with colors and patterns. "Variety is key," Los Angeles designer Julia Newman notes. "Although you want them to be coordinated, pillows can be a variety of sizes and textures." 
Also don't be afraid to pile on those pillows, Johnston says, "At the end of the day, the ideal number of pillows is the number that brings you maximum joy (as long as you still have room to sit down), and the same goes for pillow configuration," he explains. "It's all about playing with scale, color, and pattern to find a beautiful and functional mix that works for you. Don't overthink it! Pillows are meant to be fun!" 
We all know that in life, it isn't just what's on the outside that counts—and that holds true with regard to pillows, too! "Pillows are a fabulous way to layer in color and pattern but they're also meant to be used and enjoyed," Johnston shares. "I source high-quality pillows that support the space's overall design aesthetic while maintaining their fullness over time with minimal upkeep from my clients. I never want anyone to fret over how a sad, under-stuffed pillow may be impacting a room's design." 
DenXYZ's Pillow Philosophy
Our collection of custom pillows are designed with a careful eye to up-cycling materials, quality production, and design punch. We collaborate with workrooms and furniture manufacturers to acquire unused high-end fabric pieces. We cull through hundreds of sample cuttings and choose the most textural, colorful, and timeless options. The fabric is sent to our workroom partners where our pillows are custom made with removable covers and high quality down/feather inserts. Quality designer pillows are an investment, and we hope that you will love your DenXYZ pillows for many years to come. 
If you've chosen your perfect pillows but aren't ready to pause the design process just yet, note that our offerings—like every item on the DenXYZ site—are designed to pair perfectly with all of the other products for sale. Whether you're feeling ultra mod, glam, neutral, or somewhere in between, we're here to help. Check out our custom bundles if you spot a pair of pillows you love but need a little inspo when it comes to other accents. Thank us later the next time you host a get together and all of the design compliments roll in; it can be our little secret!

By Sarah Lyon: Sarah Lyon is a New York City-based freelance writer who contributes to a number of national design and lifestyle publications like Architectural Digest, Apartment Therapy, MyDomaine, the Wall Street Journal, and more. Sarah also works with designers to help them style spaces for photo shoots. Find more shelfies on her Instagram page, @sarahlyon9