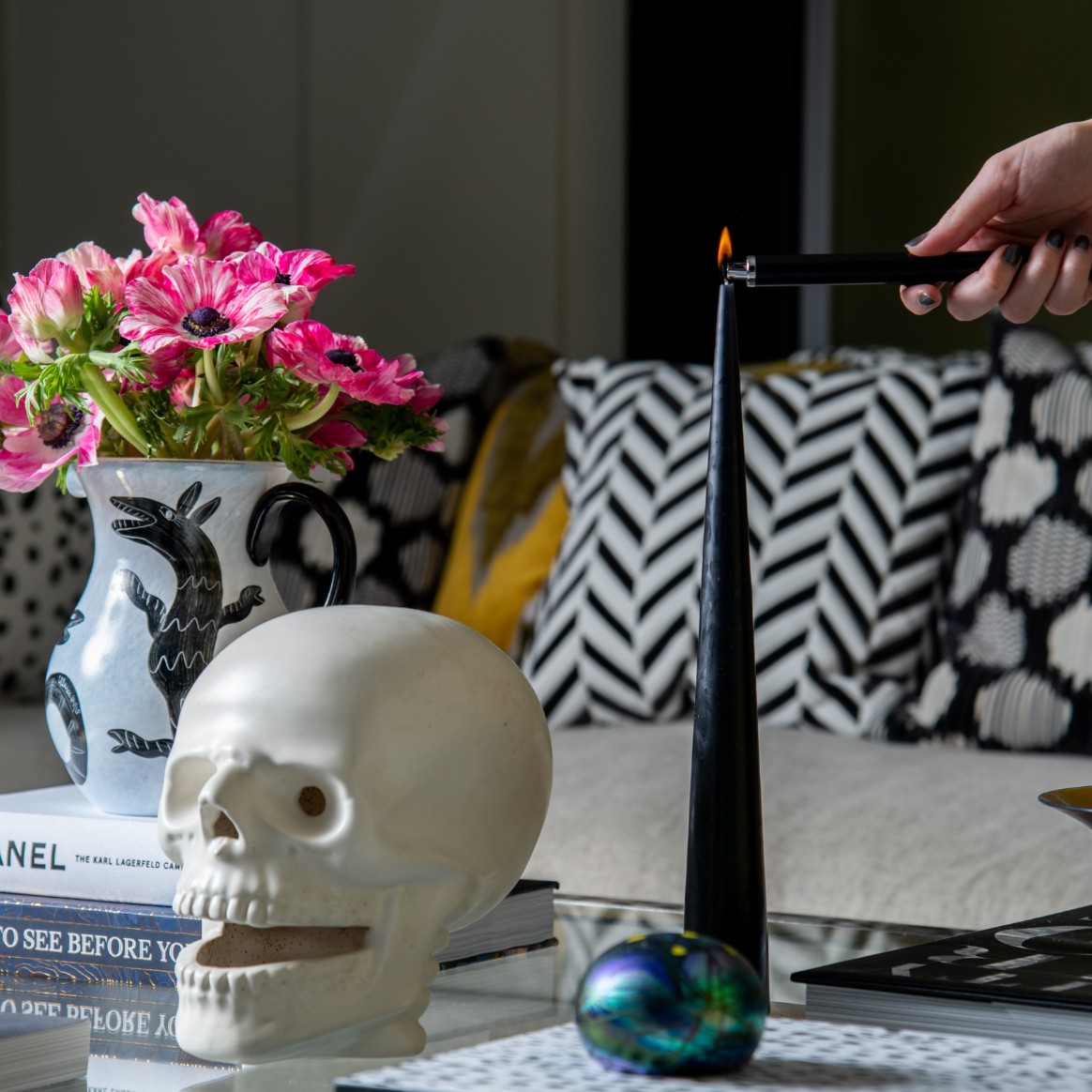 Non-cheesy Ways to Decorate for Halloween
By: Sarah Lyon
If you love all things fall and Halloween but have had enough of the cheesy decor lining most store shelves, we feel you. I've been in a similar boat. For starters, I struggle with buying decorative items specifically for fall knowing that I'll only be able to display them for a few weeks out of the year. After all, I live in New York City, and storage space is extra precious. 
On another note, I struggle with all of the bright orange Halloween decor out there, as I'm definitely more of a neutrals gal. 
So what's a gal to do when she's feeling autumnal but doesn't want to pick up fall decor at the department store? Fear not, I've got you covered. Keep reading for non-cheesy Halloween decor that you'll actually be excited to display.
Fill Some Chic Bowls
Grab some stylish wooden bowls and set them out on your coffee table, console table, and dining table. Fill them with whatever your heart desires: pinecones, tiny gourds, or wrapped Halloween candy. Every time your friends stop by, they'll feel like they're trick-or-treating! Bowls like these are great because when the season is over, they'll still come in handy as you entertain. You can always bust them out during your next backyard potluck or use them for everyday dining. 
If you don't have room in your cabinets for an entire set of bowls and need to opt for something smaller, we love this cast iron footed bowl (hello, major cauldron vibes!). Fill it with candy corn or another favorite Halloween treat. 
Light Some Candles
It wouldn't be Halloween without some candles (you've gotta recreate that haunted mansion look at home!). We like these because they can be used year round but subtly have witchy, Halloween vibes thanks to the orange and green hues in particular. Cluster these on your mantel or use them as a centerpiece the next time you host friends for dinner. 
Or Hang Faux Candles From the Ceiling
Take a cue from this hack that home influencer Mallory Fletchall implemented in her own apartment. For the past several years, Fletchall has recreated this enchanting Halloween display in her home and we couldn't love it more. The end result has us wanting to curl up and read Harry Potter. 
Set Out White Pumpkins
Don't be afraid to nix the orange, says Kaitlin Madden, designer and co-founder of The Finish. "If your home decor is modern or neutral, choose decorations that are the same," she notes. "For example, go for Halloween decor that's only black. Don't include orange, and stick to simple items like paper bats or skulls."
Image by Liz Marie VIA Pinterest
Embrace your inner Coastal Grandmother here! "If you go for more of a coastal look, we love white pumpkins with pampas grass wreaths for the front porch," Madden shares. As a bonus, white pumpkins will transition into Thanksgiving season perfectly. 
Make a Floral Display
Grab a pitcher or vase and fill it to the brim with seasonal florals. Trader Joe's often sells festive pumpkin trees closer to October; these would look perfect in a unique vase. Even if you can't make it to the pumpkin patch as an adult, you can most certainly pretend you did with branches like these. 
Grab Some Cobwebs
Grab a stretchy spider web from the party store and use it to add a spooky touch to the mirror above your mantel. This is one of the cheapest Halloween decorating solutions out there; a pack of these webs will run you just a couple of dollars. It's a great last minute hack if you decide to host a Halloween gathering spur of the moment. Easy peasy!
By Sarah Lyon: Sarah Lyon is a New York City-based freelance writer who contributes to a number of national design and lifestyle publications like Architectural Digest, Apartment Therapy, MyDomaine, the Wall Street Journal, and more. Sarah also works with designers to help them style spaces for photo shoots. Find more shelfies on her Instagram page, @sarahlyon9