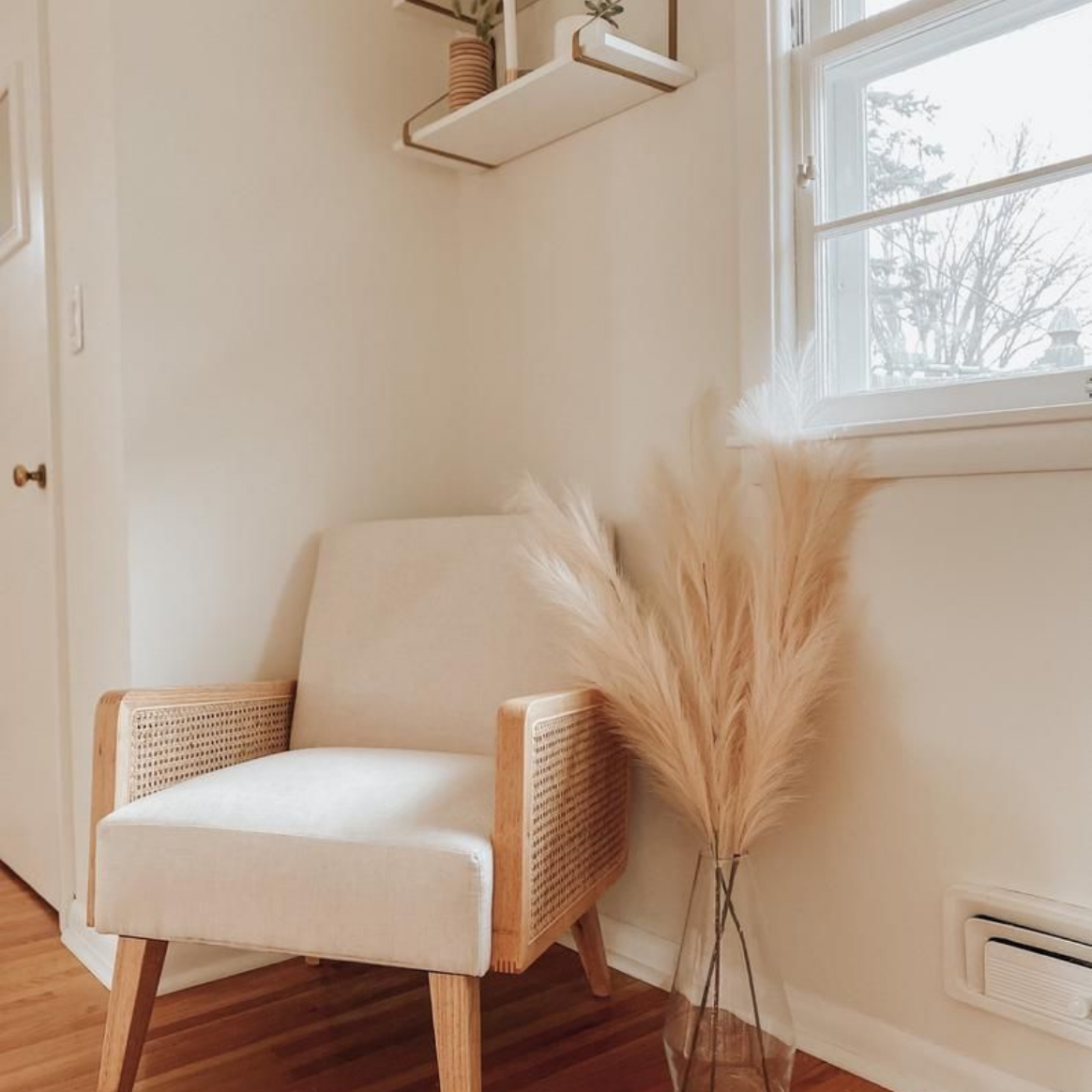 Why the Neutral Boho Design Aesthetic Can Kindly See Its Way Out
By: Kayla Blanton
A Pinterest search for 'boho living room' results in a deep scroll of identical looking photos: white, cream, or brown leather sofas excessively adorned in tasseled, textured pillows; bright (I mean bright) white walls with minimal, neutral art; at least one large hanging basket arrangement; and usually a rattan or wicker chair styled next to a bundle of pampas grass. 
If that room sounds familiar, it's probably because you've seen it dozens of times before on Instagram, TikTok, Facebook...really everywhere. At this point, neutral boho is so homogeneous and oversaturated that it's nearly impossible to make it original. 
Seriously, think about it. Can these overexposed interiors make for an aesthetically pleasing Instagram? Sure. But at this point, they don't encourage brave, bold design choices, nor do they add elements of the unexpected. Plus, there are so many other, more creative ways to accomplish a breezy, clean vibe without uh, bringing outdoor furniture inside. There, I said it.
Before you go clutching your peacock chairs and getting defensive, hear me out. This isn't to discredit all things boho. There's nothing necessarily wrong with any of them. It's when whole interiors repeat themselves that the issue arises—it's cookie cutter, lazy and quite frankly, boring. A home should be a direct reflection of the person who lives there, and when it looks like hundreds of others, what's the point? 
For all of those reasons and in favor of more eclectic, risk-taking design, we must stand firm in our belief that it's time to say goodbye to boho, or at least begin swapping out some predictable elements for more innovative ones. If you're interested in experimenting but aren't sure how, here are some tips to get you started.
Incorporate Original Art
While it's fun to pick up prints from HomeGoods and Etsy, splurging on original art will immediately elevate any home—especially if it's custom matted and framed. And you actually don't have to buy from a wildly popular artist whose pieces are thousands of dollars. There are so many talented, underrated creatives you can support. Browse locally and browse online. Luckily, you've come to the right place for unique artwork that fits with many different aesthetics and design choices!
Style with Antiques 
Target's home decor section and its ever-changing adorable end caps can really suck you in, especially when it comes to bits and bobs for styling. However, the next time you go to grab that catchall dish or vase, think of how many other people might have it and consider the one-of-a-kind item you could thrift or find antiquing. Although they're small, those pieces make a huge difference in the feeling of a home. Even sourcing family heirlooms, Grandma's China or those quirky lamps your mom left sitting in the attic can add a personal touch to the overall feel of your decor.
Experiment with Color
Even if you're a die-hard neutrals fan, there's no harm in adding a little color. Try it out in less permanent places like throw blankets, art, and accent pieces. Over time, if you find you like it, move on to walls, wallpaper, bedding, and even furniture.
Embrace Your Weird 
Everybody has a weird side, and tapping into that can make your home stand out. Maybe start by mixing something unexpected (i.e. an antique trinket) with something sophisticated (i.e. a vase of flowers) and see how you feel about the contrast. Ask yourself what style you gravitate towards most, use Pinterest as a launching point to browse various design elements. Over time, the algorithm will have you figured out and plus, creating a virtual, unique space teaches you how to add these 'you' elements into your home. 
Don't Get Discouraged
An eclectic home curator rarely ever gets it 'right' on the first try, and that's OK. The excitement exists in the journey, which includes shuffling things around and searching for new ones to complete your vision. Even if you don't have a solid aesthetic in mind, it will come as you learn to mix, match, embrace your eclectic side and experiment.  Just give it time, but don't be scared to try!
Just like every other design trend, boho had its peak, and it's time for a new zeitgeist to prevail. In 2022, we expect to see a burst of bold, colorful interiors with personality, pattern, and one-of-a-kind vintage finds—so why not get a head start?
Blog cover photo: VIA Pinterest
By Kayla Blanton: Jewel tones, brass, and amber glass make Kayla Blanton swoon. Those touches, plus lots of art, animal print, and road trip-gathered trinkets make up her 1920s Cape Cod in Cincinnati. You can read her work in Bustle, Prevention, Everyday Health, and more, and follow her treasure hunting adventures @theweekendantiquer on Instagram.