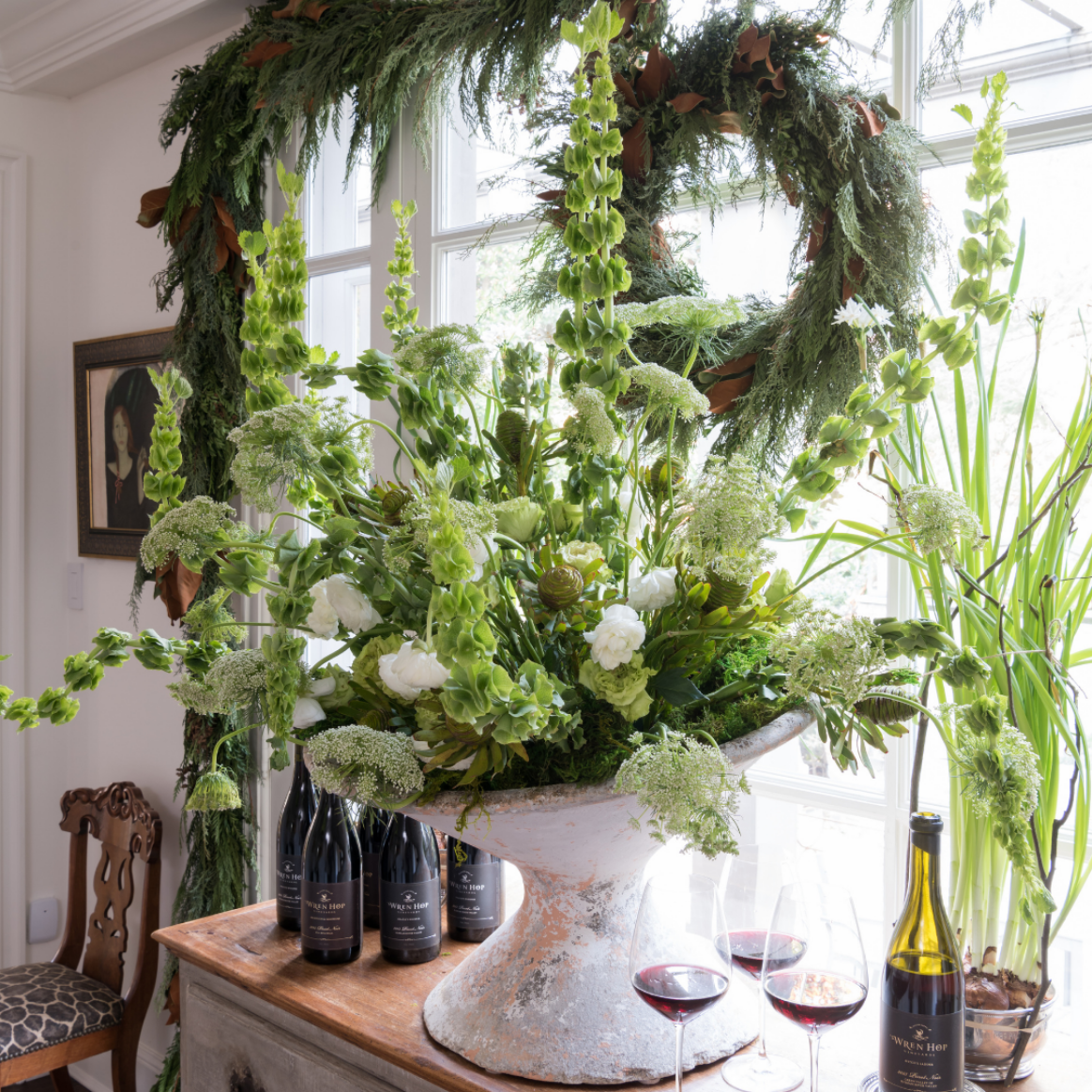 Three Veteran Hostesses Share Their Top Entertaining Tips
By: Emory Rakestraw
As a child, I first became enchanted with the art of entertaining from hours spent staring at my mother's China cabinet. I marveled at the strategically placed built-in lights shimmering on ivory plates and crystal glassware, which led to imaginative scenes of hosting my own dinner parties with a guest-list that didn't include my stuffed animals and barbies. 
Throughout my twenties, I began to decorate and place a theme on my own get-togethers, even without the finesse (or finances) that include damask tablecloths and Lalique tumblers. Over the years, I've learned and studied, making do with what was accessible while practicing through trial, error and some VERY fun parties. Even when things went awry, I'd often take a step back and see my friends laughing, and feel a sense of satisfaction - the remembrance that this is what it's all about.
While everyone has their own methods for planning and throwing a get-together (big or small) you can't beat expert advice. We've asked three veteran hostesses for their top tips when it comes time to throw the ultimate soiree. Through any season or special occasion, our in-depth guide will take your entertaining to the next level.
Susan: Planning, Theme and Mood
Susan is the Co-Founder of DenXYZ
Before you decorate the table or fold a napkin, consider what theme you want to evoke. For Susan, a former brand consultant and interior designer, even a theme of 'holiday' can be too broad. The mastery (and ease) comes in nailing down a central mood and incorporating it from beginning to end,
"From the front door you want to set the stage. This can be done in the form of flowers, candles and decorations. Also, a theme doesn't have to be seasonal, it can be based around a color, a region, even a type of food," she says.
One color theme that comes to mind is the classic 'white party.' While self-explanatory, throwing a color-themed get-together adds inventiveness to a typical celebration.
For one such Holiday party, Susan included lush evergreen wreaths draped over the hearth where crisp white stockings were hung. Stunning white cakes with thick, snow-like icing were topped in seasonal décor of pinecones, frozen berries and sprigs of rosemary. At the intersection of crisp meets cozy, guests certainly felt as if they were dashing through the [designer] snow. The takeaway – find a theme and build around that.
Yet, Susan didn't go from party idea to perfect cakes. For large get-togethers she likes to start her planning early, for smaller dinner parties she lends more flexibility to the process and sometimes even decides the menu the moment she goes to the grocery store,
"For big events I like to plan the themes and send out invitations a couple of weeks ahead. Don't be afraid to be spontaneous, though. If you are cooking a big meal (by yourself) I'd suggest to have a cooking timeline ready the morning of the event to keep yourself on track," she says.
If you're unsure where to begin, start with a theme and desired date. Plan out the party flow including cocktail hour, main course and possible nightcap. For first-time entertainers, make a list of supplies you will need and order in advance any missing items like vases, candles (non-scented around food) and serveware.
Elegant (and sometimes forgotten) touches like a curated playlist, seating cards and printed menus can also set the mood. If able, setting the table the day before will allow you plenty of time to arrange placements to perfection. Hold off on buying florals until the day before which gives them time to open (unless you've hired a florist) and stock up on overlooked items like ice!
Sure, this might sound like a lot, but Susan suggests, "Do enough ahead of time to make things look effortless. Take as many shortcuts as you can but keep things pretty. You can ask someone to bring dessert or even (shh) cheat with using a store-bought cake, just make sure it looks spectacular in the end. Your guests will never have to know."
Now that we've planned the overall party…it's time to dive into details.
Sarah Eilers: Centerpieces and Serveware 
Sarah Eilers is a Houston-based interior designer and founding partner of Lucas / Eilers Design Associates
As an interior designer, Sarah invigorates an eclectic style meshing traditional elements with contemporary touches. When it comes time to host, her mastery is no different, "Bring out your collections to decorate the table and don't be afraid to mix and match China patterns and crystal," she notes.
Chinoiserie appetizer plates create a stunning focal point juxtaposed by rich red linens and birch branches in tall glass vases, which Sarah recommends over traditional florals. Another tip, "Remember to keep the arrangements either tall or short so your guests can see each other."
For a horizontal yet stunning centerpiece (that allows guests to carry on conversation), turn to nature through long leaf branches of eucalyptus, fluff up the middle with sage bundles and intertwine the two around tall taper candles in dramatic holders. Add color with tucked-in florals like Ranunculus and Forget Me Nots. Feel free to throw in bright florals for spring.
While your centerpiece might be the life of the party – don't forget plates and glassware. Sarah, on occasion, even uses decorative paper plates, which yes, can be fancy. All in all, don't be afraid to mix vintage and modern touches. Traditional china and neutral linens can be decorative when paired with multi-colored glassware and even tangerine branches and palm leaves for a spring soiree. Lean into your personal style and don't be afraid to mix things up – trust us!
Ronda Carman: Food and Beverage
Owner of Ronda Carman Fine Fabrics and author of Entertaining at Home: Inspiration from Celebrated Hosts
Even if you have the theme and tablescape down, another agenda to conquer is what you'll serve guests. For Ronda, food is also a stunning centerpiece that adds artful touches, "Food can and should be part of the design. Beautiful platters create 'wow' moments," she says. One trending way comes in the form of charcuterie platters.
Start by adding structure through honey displayed in mini mason jars and various dipping sauces in petite glass vessels. For cured meats, try a quarter fold (fold a slice directly in half horizontally, then in half vertically) and add motion through non-linear placement, sometimes called a 'salami river.' Cheeses can include an entire wheel of brie mixed with triangular cuts of gouda and shaved off, thick slices of Manchego. For color, opt for fresh berries, dried apricots, and nuts.
While your guests can't solely rely on charcuterie, Ronda suggests for the main course, "Make it easy and make it pretty. It's ok to pick up food from your favorite restaurant or deli. Plate everything on fabulous dishes and you are good to go."
In her upcoming book, The Art of Pantry Cooking: Meals for Family and Friends, Ronda shares recipes that are both simple and decorative. Luckily, her Instagram is filled with delightful dishes one can test out before the book's release March 29th.
For color, her Chicken Marbella is a crowd-pleasing option with green olives and roasted prunes, making it as pretty as a centerpiece. Her Hasselback Caprese Chicken with Pesto includes the reds and greens we love, while still hearty enough to serve as a main course. If you're pressed for time, her Pappardelle with Beef Ragu is cooked in an instant pot – leaving you plenty of breathing room before guests arrive.
While you might be tempted to open up your entire bar cart, Ronda suggests otherwise, "Forget stocking the bar cart with endless supplies. Decide on one or two festive options. Prep everything ahead of time and let guests serve themselves."
Options can include two signature cocktails alongside a choice of red, white or bubbly vino. You can even opt for eye-pleasing ease in the form of apple cider mimosas, a classic old fashioned or Danielle's Summer Sangria (all featured in Entertaining at Home). For large batch cocktails, grab a decorative glass pitcher and throw in fresh berries, orange peels or frozen fruit and you're good to go! 
Time To Party
While this might seem like a lot to take in – remember that hosting is an art, and art takes practice!
Start simple, plan around a theme and make a checklist for any must-have items like serveware, glassware and centerpieces. Don't be scared to stay true to your natural style, pick out florals you love, opt for decorative branches or even jazz it up with a patterned tablecloth. Also, don't be ashamed if you are re-plating take-out. The point is, entertain! The more you do it, the better and more relaxed you will become. Your friends won't care if things aren't perfect. 
Remember, it might not be seamless the first, second or even third time around – but as you go along practicing and finessing your skills, you'll soon transform into a veteran host with your own advice to give! And, who doesn't love a good party?
By Emory Rakestraw: Emory is a freelance writer based in coastal North Carolina. She grew up watching her mom refurbish antique furniture and an interest in interiors has grown into artwork, including a monthly art column for a regional magazine. A southerner at heart, she appreciates a good tablescape and the art that is hosting. Emory serves as the Editor in Chief of DenXYZ.