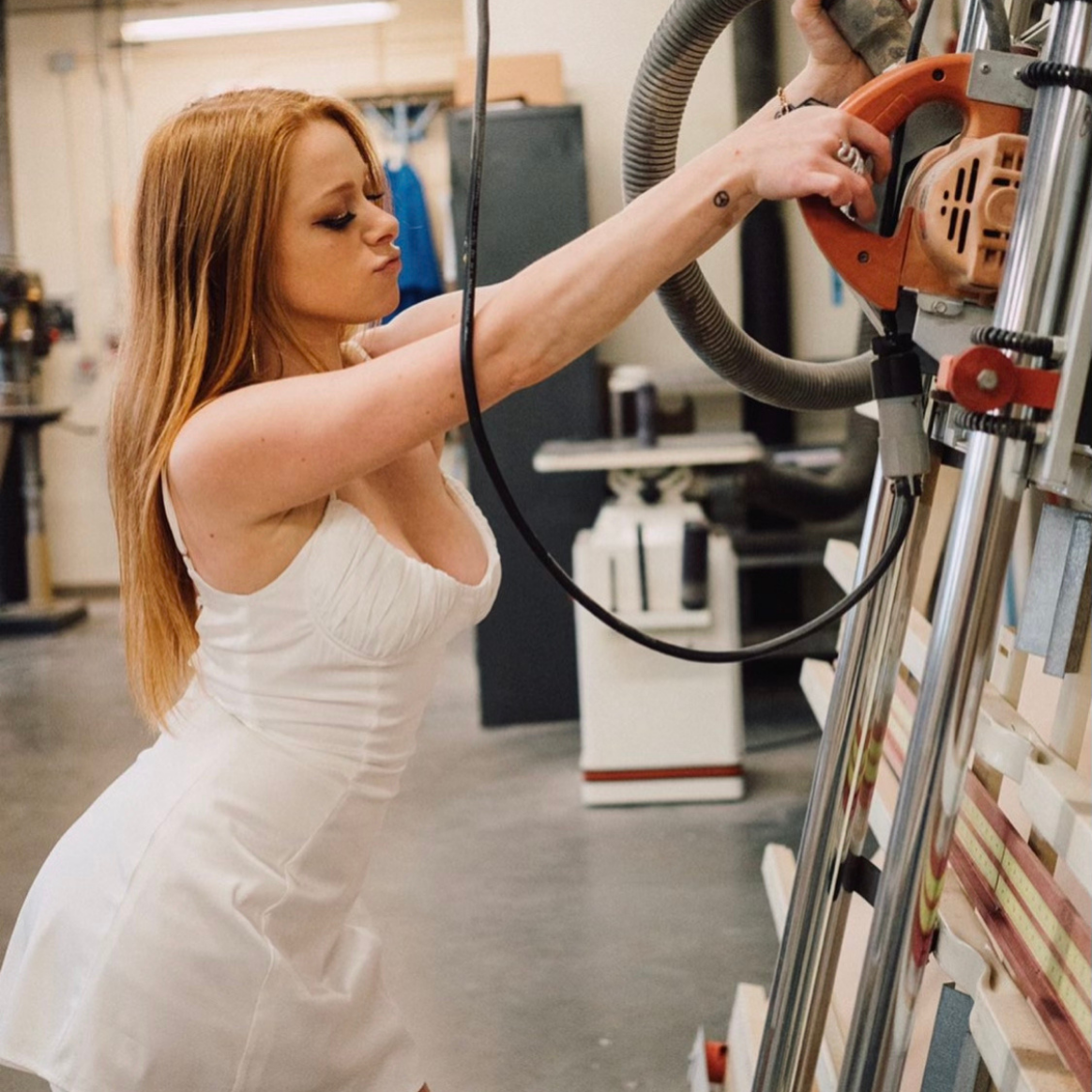 Lia Eisenstadt: The Cat's Meow
By: Angelica Frey
Lia Eisenstadt might be known for her maximalist art that combines illustration, sculpture, and lightwork (remember her eye artwork on DenXYZ) but it wasn't until well into college that she discovered her preferred medium, having trained as an illustrator since childhood.
Sculpted 
"All I thought about sculpture was clay ceramics, which was fun, but it wasn't really a way to express myself," she told DenXYZ.
Yet, while studying at the University of Delaware, she familiarized herself with the method, and completing her first sculpture was, "One of the best feelings in [my] life."
The sculpture was a reconstruction of a Chinese-takeout box made of plastic and wood, with a giant snake weaving through the box and electric luminescent wires running through it, "Making it was like a religious experience, it was life-changing," she said.
The snake is one of the mythological-like characters and tropes she deploys in her mixed-media works, which combine plywood, acrylic, and resin. In her art, cats, eyes, snakes, masks and flames abound.
"I've always loved cats, -- all animals-- but with my art, it's almost like I absorb these creatures and just put them into my own specific language, like hieroglyphics almost," she said. "It's like each creature has its meaning to me." 
Other sources of inspiration involve graffiti and tattoo line work. "I think with graffiti. I was really exposed to it just growing up in the city and seeing it all the time," she said. "I don't have what it takes to be a graffiti artist. It's a very specific skill, but I've always loved it. It's nasty at times, it is destruction of property, but you know, we've all seen beautiful murals and even fun tags, and of course, it brings color to a dull, urban landscape." 
Regarding tattoos, she likes the combination of a bold style paired with crisp linework. She actually sees her artworks as material renditions of tattoos: the main reason is that both tattoos and her work lack a background. 
"I don't really like my creatures existing in a space that I create for them but more so a space that I put them in, if that makes sense," she said. "I like them to be, you know, in their own world and put them into their own space and tattoos are exactly like that."
Meow
In the case of the cats, she created a set of four for DenXYZ.
"I wanted each one to have a very specific color scheme," she said. The yellow one has crying eyes on it, a nod to the first commission she created for DenXYZ, "The eye has kind of almost emoji-like sparkles on it. Just a playful take on my sadness-- like when you're really sad and you're sending your friend that weeping-eye emoji and something about that." 
The pink cat has an electrocuted rat painted on it. She has admiration for the critter, which is known for its intelligence, "The rat came from a series I did about the retribution of man but it was starring little street rats that get persecuted by pigeons, and of course, the rat is the cat's arch-nemesis."
One of the two turquoise cats has a flame-like motif, while another, true to her art, has her signature snake, "I love the cliché of flames. I think anytime I was angry, I'd always put flames all over my car. It's so on the nose but so visually fun. I also just love the movement," she said. "I think a lot of these things do come from movement. I mean it is a lot of my work is very tongue in cheek but also it's just fun to work with those kinds of dreams just because they're so forgiving and natural shapes." 
She identifies as a pop surrealist, that art style that combines cartoonish and lowbrow elements with surrealist tropes.
"I feel like I'm much more in pop right now than I am surreal," she admits. "I think I am much more into that strictly pop range, and definitely lowbrow surrealism overall as a genre I identify with and I think that that's like where my art started. I'd say I still fall in there, but I don't know...I find it hard to categorize myself sometimes."
Lia's cat series will soon debut on DenXYZ, stay tuned and make sure to follow her Instagram for new work! 
By Angelica Frey: Angelica Frey's aesthetic combines classicizes decadence with maximalist prints and a bold color palette. For the time being, though, her Brooklyn apartment is mostly white with yellow, turquoise, and pink accents. You can read her work in New York Magazine, The Guardian, WSJ, and ArtNews. She's always looking for more designers and creatives to talk to @angelica_frey_writes