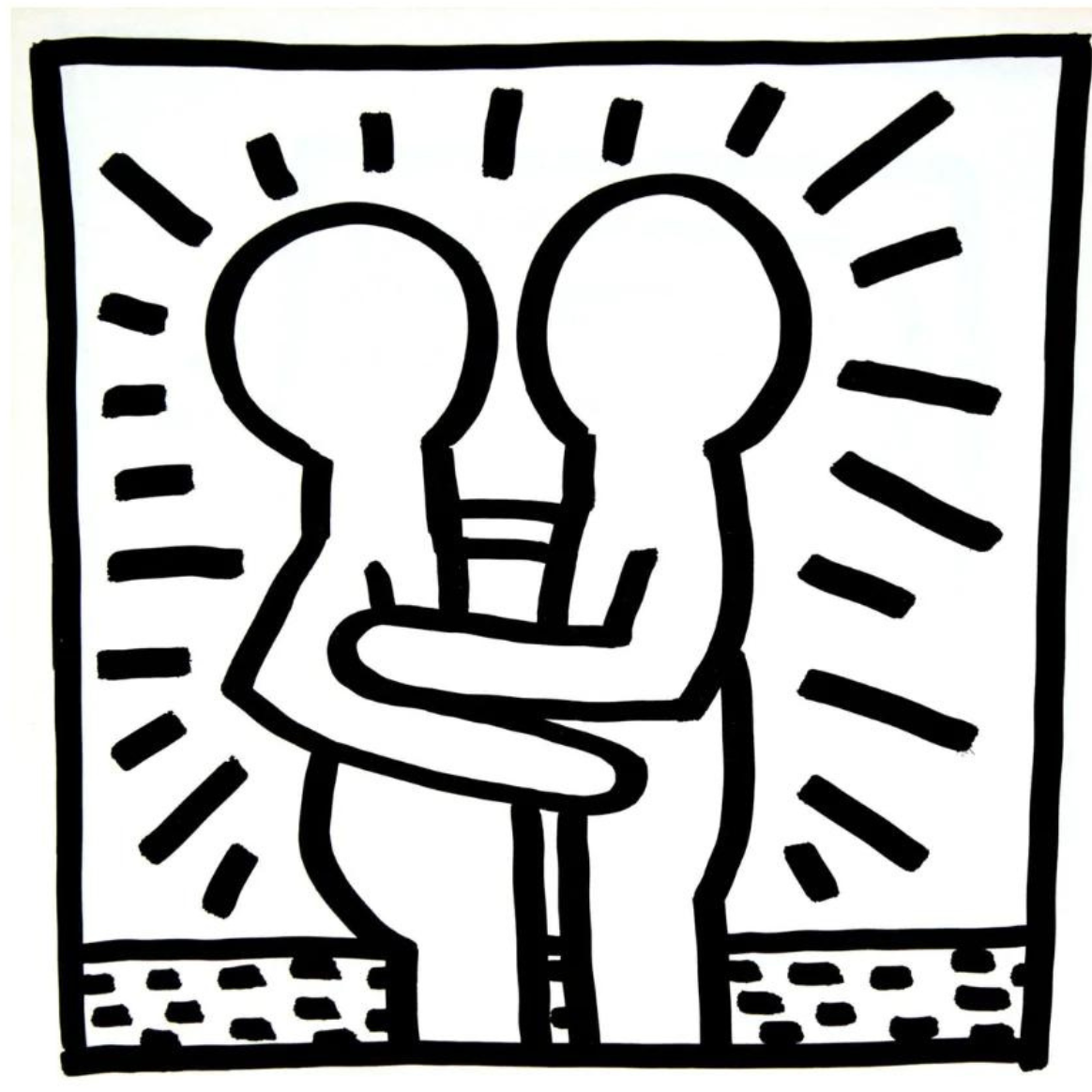 A Vibrant History: Keith Haring
By: Angelica Frey
Bright color, thick linework, perpetual kinetic energy: these are the trademarks of American artist Keith Haring. Sure, his artwork is emblematic and representative of 1980s New York, but its legacy makes it timeless: in line with the art of Andy Warhol and Jean-Michel Basquiat, he wanted to make art accessible. Because of this, he threaded the line between artistic and commercial, galleries and public spaces, and made the lowbrow highbrow.
After a brief stint as a commercial-art student, he transferred to SVA in New York. In New York City, he became acquainted with an art scene that developed outside the gallery and museum circuit. What he most wanted was to communicate with wider audiences. His outsider status, however, was short-lived. In 1982, he held his first major solo exhibition at the Tony Shafrazi Gallery in SoHo, and, in the course of his lifetime, his work was featured in more than 100 solo and group exhibitions and, since his death, his work appeared in more than 150 exhibitions around the world. 
Childlike, Not Childish
There's something childlike and spontaneous about Keith Haring's art: the art-supply brand Canson proposes Keith-Haring-style art springs for children's art classes. That's not surprising, as his early influences are Dr. Seuss and Walt Disney. In addition, his tag is a radiant baby, a crawling child emitting light.
Underneath the highly saturated palette and seemingly joyful nature of the work, though, his work deals with social and political issues. His figures have no facial features, no gender, and no specified race or religion.
"We are all different, all individuals, all changing and all contributing to the 'whole' as individuals, not as groups or products of 'mass-identity', 'anti-individual' or 'stereotyped' groups of humans with the same goals, ideas, and needs," he wrote in his journal.
His figures are frequently seen dancing or embracing, which expresses joy, lust for life and evokes togetherness and connection. By contrast, figures with a hole in the stomach symbolize emptiness.
When he was diagnosed with AIDS, Haring did not let his diagnosis slow down his output: rather, he depicted sex acts, phallic drawings, and awareness messaging: his Ignorance=Fear artwork has the famed "see no evil, hear no evil, speak no evil" monkey adapted to the sociological context, and to Haring's trademark color palette.
Art for Public Consumption
In 1980, he noticed the unused advertising panels covered with matte black paper in a subway station and began to draw on them in white chalk throughout the subway system: he'd create up to forty drawings a day between 1980 and 1985. 
Between 1982 and 1989, Haring produced more than 50 murals. New York City is home to "Crack is Wack," a 1986 work located at the intersection of 128th street and 2nd avenue. While initially executed independently, it was immediately put under the protection and jurisdiction of the City Department of Parks.
We The Youth, a commemoration of the bicentennial of the United States Constitution, covers the west façade of a row house in Point Breeze in Philadelphia, PA; it features dancing figures in a variety of colors, either solid colors or patterns, filling the space.
Haring's work also adorned religious spaces: the City of Pisa requested a mural on the exterior of their Church of Sant'Antonio. Known as Tuttomondo, it combines religious and secular imagery, and visions from heaven and hell. More than 12 public artworks adorn dozens of charities, hospitals, daycare centers, and orphanages.
Fast Food & Fast Art
Haring wanted his art to be accessible to as many people as possible. In 1986, he opened his first Pop Shop at 292 Lafayette Street, in the neighborhood of SoHo. He described the endeavor as his "version of fast food and fast art" in a small retail space with limited inventory on display.
"The use of commercial projects has enabled me to reach millions of people whom I would not have reached by remaining an unknown artist. I assumed, after all, that the point of making art was to communicate and contribute to culture," he stated.
A Tokyo outpost followed in 1988. Eventually, the store closed in 2005: SoHo had, by that time, been completely gentrified, so rent had increased to a point where Haring's estate thought the money required had better be invested in other ventures. The ceiling, which Haring himself painted, was donated to New York's Historical Society, and now graces its' entrance. 
Worry not, though: Pop Shop merch is still available online. And if you, like us, feel inspired by his work or feel a pull to something that is both unspoken yet meaningful, you can add a Keith Haring piece to your wall.
By Angelica Frey: Angelica Frey's aesthetic combines classicizes decadence with maximalist prints and a bold color palette. For the time being, though, her Brooklyn apartment is mostly white with yellow, turquoise, and pink accents. You can read her work in New York Magazine, The Guardian, WSJ, and ArtNews. She's always looking for more designers and creatives to talk to @angelica_frey_writes