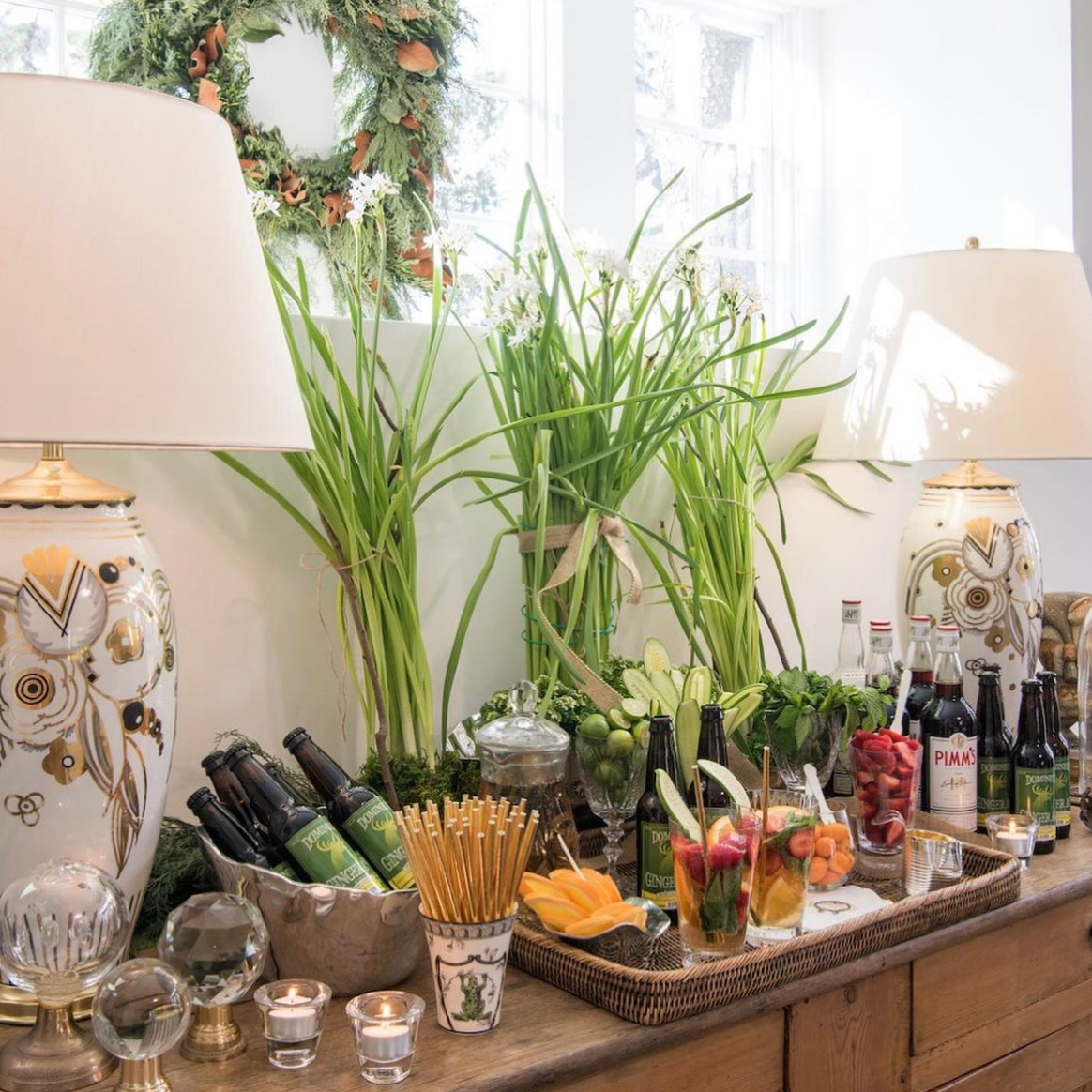 How to Style the Perfect Holiday Bar Cart
By: Taylor Maple
Nothing says "holiday season" like a good cocktail (or mocktail!) to sip on as you sit in the window and watch the falling snow. There's something that feels particularly chic about wandering up to your home bar (perhaps wearing a luxurious robe) and pouring a fizzy concoction into a glistening gold-rimmed glass. But to accurately pull off the vibe, you can't be yanking mixers out of a musty cabinet or reaching over dirty dishes to find your shaker.
It is a truth universally acknowledged that an amateur mixologist with an interior design habit must be in want of the perfect bar cart, especially during the winter holidays. Here are some tips, along with some Instagram inspiration, to help you decorate your home bar both beautifully and practically this holiday hosting season!
Prioritize Your Favorite Bottles
First things first — if you have an extensive bottle collection and you want this bar station to look carefully cultivated, you'll probably have to make some sacrifices. Take a look at what you've got on hand and decide what will be used the most this winter. If you're a big mule fan, make sure your vodka has a place front and center. If you'll be making apple cider margaritas (my new favorite), the tequila should have a home. Bonus points if the bottles are pretty. Meanwhile, the rarely used booze can be stashed in a cupboard and brought out when called upon. 
Play With Levels & Height
It's not exactly a groundbreaking secret that drawing the eye to different heights creates visual interest — and bars and bar carts are a perfect way to play with this concept. For the table top, stagger decorative trees or totem candles around your bottles. If your drink station has shelves or has asymmetrically structured levels like the one pictured, that's a great opportunity to display your favorite glassware and show off the festive pitchers you'll break out for a large batch.
Mix Materials & Textures
For an eclectic look, mix silvers and golds, add faux greenery to act as a contrast against your wood or metal framework, and lay out a vintage tea towel or two to clean up the eventual spill while lending softness to the display. 
Don't Limit Yourself to Red & Green
Shades of red and green might be a holiday staple, but they don't have to define your decor. Get playful with pink and purple decor, or have a moody winter by incorporating blacks and maroons into your stems, greenery, and other baubles. 
Leave Yourself Room to Work
Even the most beautiful bar cart is rendered useless if it's not functional — there's nothing stylish about fumbling through an overdecorated tabletop while desperately searching for a secondary location to sweep your tools off to, especially if you're tending bar for watchful guests. Cultivate your bar station thoughtfully enough that your muddlers and strainers are close by, your glasses are ready to be filled, you have a good chunk of surface on which to work, and the potential for broken glass is minimal. If you need a little more flare, utilize the wall space above your bar and hang a seasonal print. After that, it's time for your drinks to speak for themselves.
There you have it! You're now ready to make a hot toddy or holiday punch in style...just in time for the holidays (or Friendsgiving). Cheers!
By Taylor Maple: Taylor Maple is a writer and communications specialist who is finding her design footing one thoughtful purchase at a time. She has published work for West Virginia Living Magazine, Bustle, ABC News, Pittsburgh Magazine, and others. When she's not working, you can usually find Taylor enjoying a road trip, singing along at a concert, or cooking a recipe that is much too ambitious for her tiny kitchen.