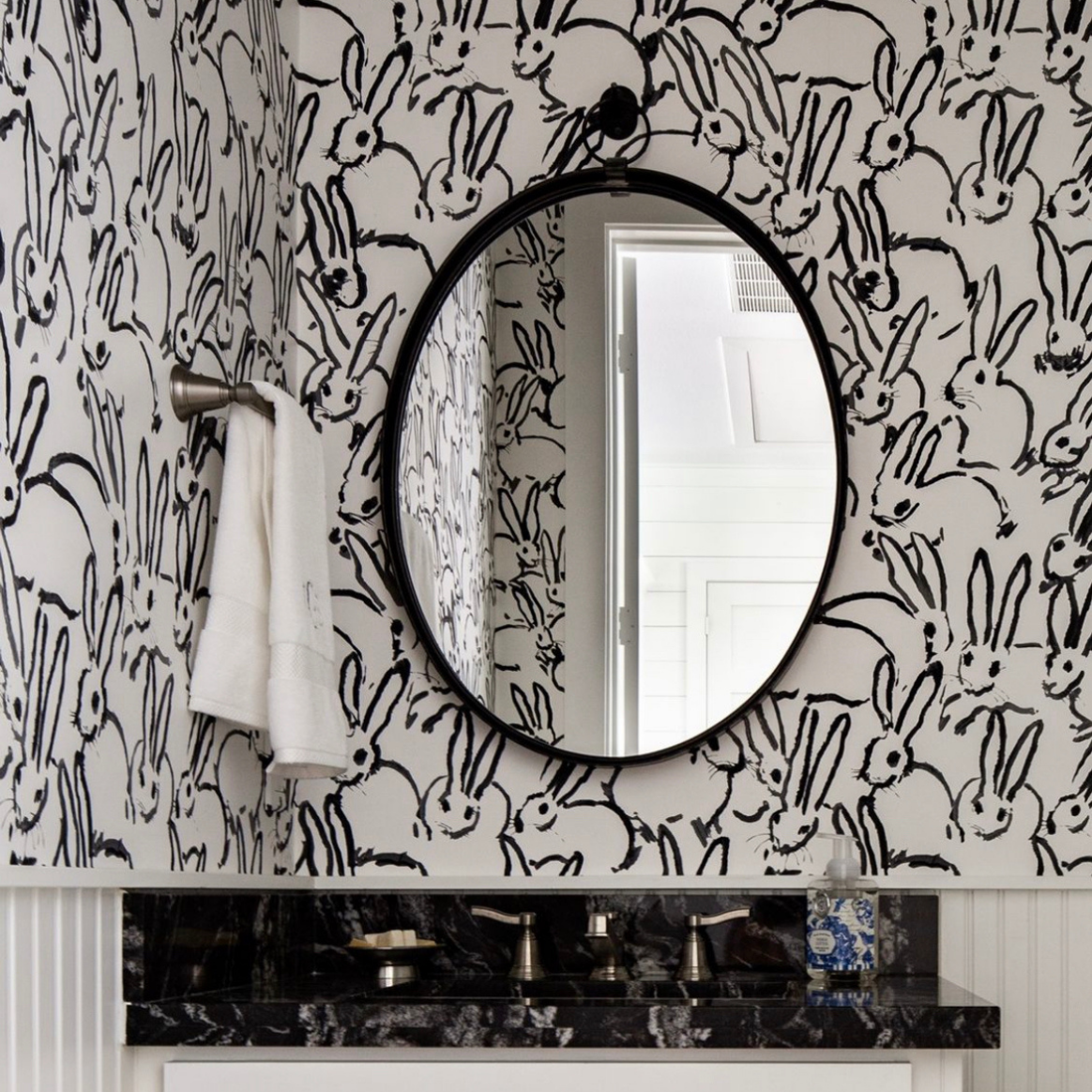 How To: Incorporating Wallpaper in 2022
By: Leah Groth
Wallpaper has been around forever, literally. Invented by Chinese court official Tsai Lun, The Wallpaper Book by Geneviève Brunet dates it back to 105 B.C.E. Initially a form of artwork and usually hand-painted by artists, wallpaper has evolved drastically over the years. At one point, everyone and your grandmother covered every inch of wall and even the ceiling with it. After the maximalist design boom of the 1960s carried through to the 1980s, it quieted down, almost completely. Wallpaper suddenly became the redheaded stepchild of interior design, a symbol of outdatedness. 
However, after several years of cycling through paint trends -- bright walls, accent walls, all-white, taupe, and grays included -- wallpaper has come back in a major way, and not just in super traditional homes. Design trends such as maximalism and grandmillennial (modern-day granny chic) quickly embraced unique wall coverings and made space in the industry for bold and daring new patterns displayed in uber-unique ways.
Wallpaper is once again an art form, with designers utilizing it as the base of a space, and then layering with patterns, texture, and even as a juxtaposition for artwork. The old rules of wallpaper need not apply in 2022. 
Just Look Up
Wallpaper was once reserved for the wall. However, it is now becoming a fixture on ceilings. Why is it such a great idea? Not only does it add dimension to a space, but it is oh-so unexpected. Also, it frees up your walls for the amazing artwork you are collecting. 
A Backdrop for Artwork
Wallpaper can also serve as a backdrop for your art collection. Think of it as the updated version of a gallery wall, adding an extra oomph to your pieces. Try and choose wallpaper that somehow complements or ties in your curated art collection, either via color or pattern. If you are using a vivid (or dare we say fierce) design, opt for artwork that harnesses the power of words.  
Making A Big Impact In A Small Space
Some people shy away from attention-grabbing colors and patterns in small spaces (like powder rooms) in fear it might overwhelm or overdecorate a space. However, when Miley Cyrus unveiled her maximalist technicolor home to Architectural Digest -- complete with Gucci tiger wallpaper -- she made a great case for using a powerful, over-the-top print in a powder room. Not only can it transform a room that seems like an afterthought, but wallpapering a tiny space will likely cost a lot less than a bigger one. 
Pattern on Pattern
Don't be afraid to mix patterns. This bathroom features larger-than-life Gucci heron wallpaper, juxtapositioned against black and white geometric tiles. While they don't exactly match, the design impact is, well, Gucci. 
Double the Pattern, Double the Fun
Why choose one wallpaper pattern when you can have two? This double-the-fun combination features a Thibaut textured sisal grasscloth paper on the ceiling paired with their "Margate" on the walls.You can't deny the rich texture, dimension and huge design punch this technique lends. 
Make a Statement with Shelves
Shelfies had a big moment a few years back. But instead of simply highlighting all the knick knacks and artsy collectables known to man, you can maximize the impact by papering the back of shelves. This technique offers a huge design bang for the buck, and is a relatively easy DIY project with the help of peel and stick wallpaper. 
Matchy, Matchy
The layered look of this nook, which features matching Schumacher wallpaper and upholstery, is next level genius. And yes, that ceiling is mirrored. 
Are you ready to go off the walls? We're confident this trend will carry through 2022 and maybe beyond! Who doesn't love to have a little fun and experiment with whimsical design trends?
By Leah Groth: Wallpapered ceilings, framed Hermes scarves, and colorful coffee table books are just a few of the design elements you will find in Leah Groth's 100-year-old Pennsylvania colonial. When she isn't writing for publications such as Apartment Therapy, Forbes, Health, CBS Essentials, MyDomaine, and Reader's Digest, she is deciding which interior design project to tackle next.