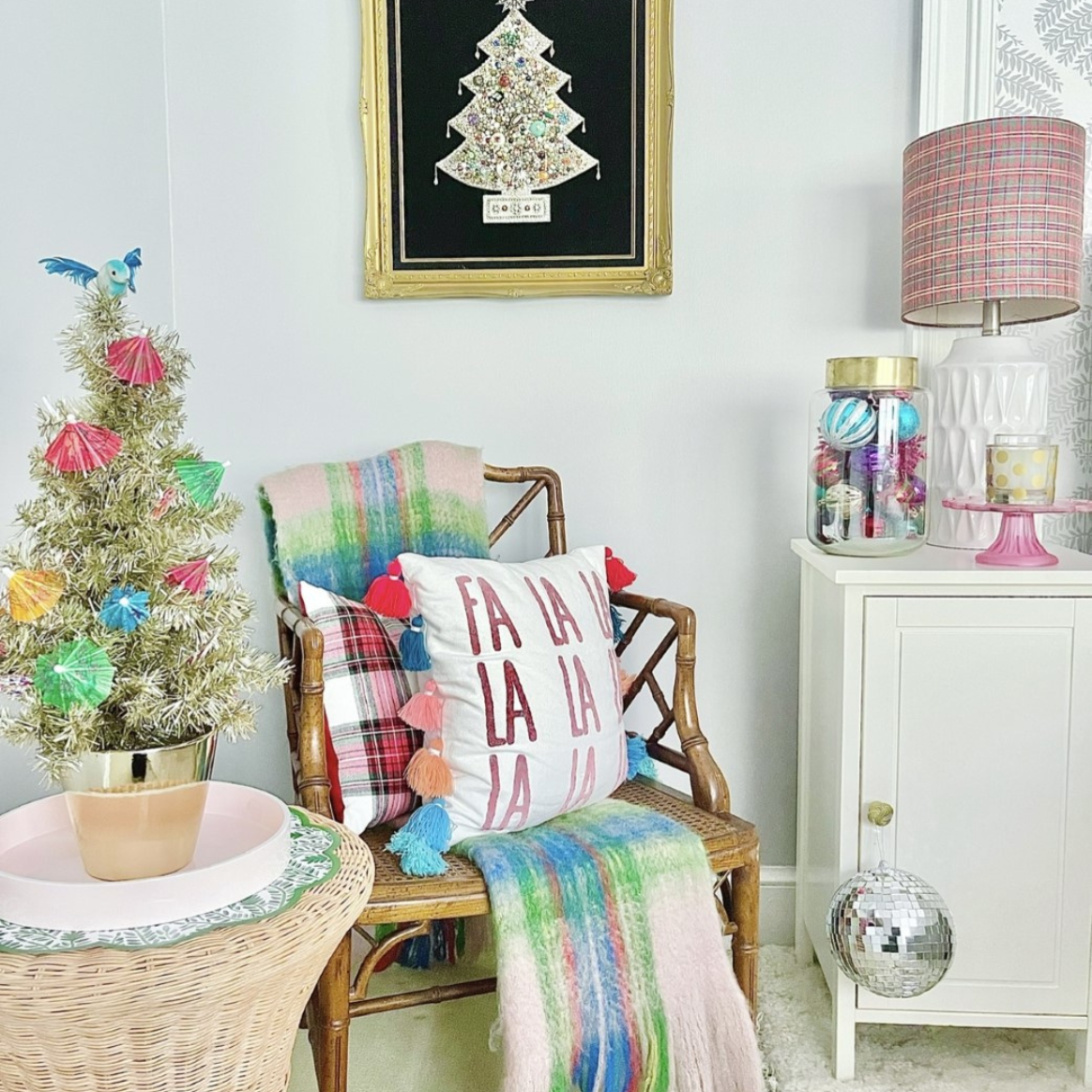 10 Home Influencers Share Their Holiday Decorating Hacks
By: Sarah Lyon
If the idea of holiday decorating has you feeling majorly #stressed, sit back and chill for a sec. We polled 10 home design influencers to gather their go to tips for when it comes to decking the halls in style while staying sane. No matter whether you're a DIYer, a buyer, like to go big with ornaments, or prefer a simple holiday arrangement, you'll want to keep reading. 
Repurpose Kids' Photos on the Tree
Why not give the little ones in your life some extra special attention this season by incorporating their pics on the Christmas tree?
Image courtesy of Xin Lu
"I love to make a new handmade ornament each year with my kids' photos from that year," says Xin Lu of @athomewithxin. "I love to hang these in the tree and see how much they've grown every year." When your kids grow older, they'll be able to look back on these sentimental pieces from holidays past. 
Go Green
Don't forget about live plants when it comes time to deck the halls. "Instead of faux greenery, I try to incorporate real plants such as natural magnolia leaf garlands and beautiful poinsettias tucked in seasonal vases," says Valerie Darden of @brextoncoleinteriors.
Best of all, you can source pretty vessels to display your greenery in—Darden is partial to simple glass or mercury glass pieces. Shop our fave vases here! 
Time Your Purchases Strategically
You'll score stunning pieces by tackling your holiday decor shopping ahead of time. "The good stuff always goes fast, so if you want the best selection of gorgeous decorations, start before anyone else is thinking of it," says Katelyn Sailor of @katelynsailor.
"It may feel weird to be buying a Christmas tree before Halloween, but by mid-November, most of the best faux trees are sold out!" Vanessa Chaverri-Gratz of @thegratzlife agrees and says that there's nothing wrong with completing your Christmas decoration shopping between July and September. "If you look hard enough, you'll find that thrift stores, antique shops, and even outlets will start selling last year's stock at the end of the summer months to ensure they have room for the inventory to come," she explains. "This trick has allowed me to take my time while shopping, save money and ultimately enjoy the season without the stress of trying to snag decor at the same time the rest of world is, too!" 
And in addition, Sailor notes, you can save major cash by shopping post-holiday sales the day after Christmas. "It may seem sad to purchase things that won't be used for another year, but you'll thank yourself when you open that box next year to find beautiful holiday decor you got for a great price," she comments. "Just beware, while holiday decor will get discounted deeper and deeper as time goes on, the good stuff goes quick!" 
Add Fragrance to Your Home
Even if you don't plan to purchase a live Christmas tree, you can fake that magical evergreen scent with candles, plug-in fragrances, or diffusers. "This year, I'm getting my holiday spirits through scents," notes Imani Keal of @imaniathome.
Brigette Muller of @hummusbiird is a fellow fragrance lover this time of year. "If you want to keep your holiday decor minimal, just go big on the scents," she says. "I burn holiday candles throughout the season, switch over to pine-scented soap, and even do a little seasonal simmer pot when I'm really feeling in the spirit. A festive-smelling home makes all the difference." 

DIY Your Own Ornaments
Why not get your DIY on this season?
Image courtesy of Marie Taylor
"My decorating hack for decking the halls would be DIY decorations, like decoupage ornaments," says Marie Taylor of @this.dear.casa. "It's a great way to use extra wallpaper, wrapping paper, paper napkins etc. Plus, it's an easy way to coordinate with a color palette."
Image courtesy of Marie Taylor
You could even host a crafting party for your nearest and dearest—set out the DIY supplies and blast those holiday tunes. 
Or Invest in Special Pieces
Maybe you're not much of a DIYer…in which case, you'll want to focus your efforts on ornaments that will stand the test of time so that you don't have to replace your collection every year (which just results in waste and more money spent!).
"I invest in ornaments I know I will keep forever; these are what I call my foundation ornaments," says Heldy Ham of @lavenderrosehome. "I have collected gold glass and silver mercury glass ornaments through the years. I find they are the perfect jumping off point for any color palette or theme. I incorporate color with inexpensive glass ornaments, ribbons, and stems from craft stores." 
Pick a Color Palette
Andrea Heinrichs of @love_in_1000_square_feet likes to decorate her tree in a "timeless, neutral color palette…to act as the foundation for my tree from year to year." She then can add in ornaments as she pleases.
Heinrichs explains, "I am easily able to create a new theme with the addition of a few new ornaments and trimmings in a different color each year without breaking the bank or putting a strain on the limited storage that comes with living in a smaller home." 

Think Outside the Box
Who says that your holiday decor has to be holiday specific? There are a lot of everyday items that will shine this season, too, Sara Raak of @sararaak says.
Image courtesy of Sara Raak
"Why not add a Christmas tree to your bar area during a party and adorn it with cocktail umbrellas and drink stirrers? Dare to be different!" 
By Sarah Lyon: Sarah Lyon is a New York City-based freelance writer who contributes to a number of national design and lifestyle publications like Architectural Digest, Apartment Therapy, MyDomaine, the Wall Street Journal, and more. Sarah also works with designers to help them style spaces for photo shoots. Find more shelfies on her Instagram page, @sarahlyon9