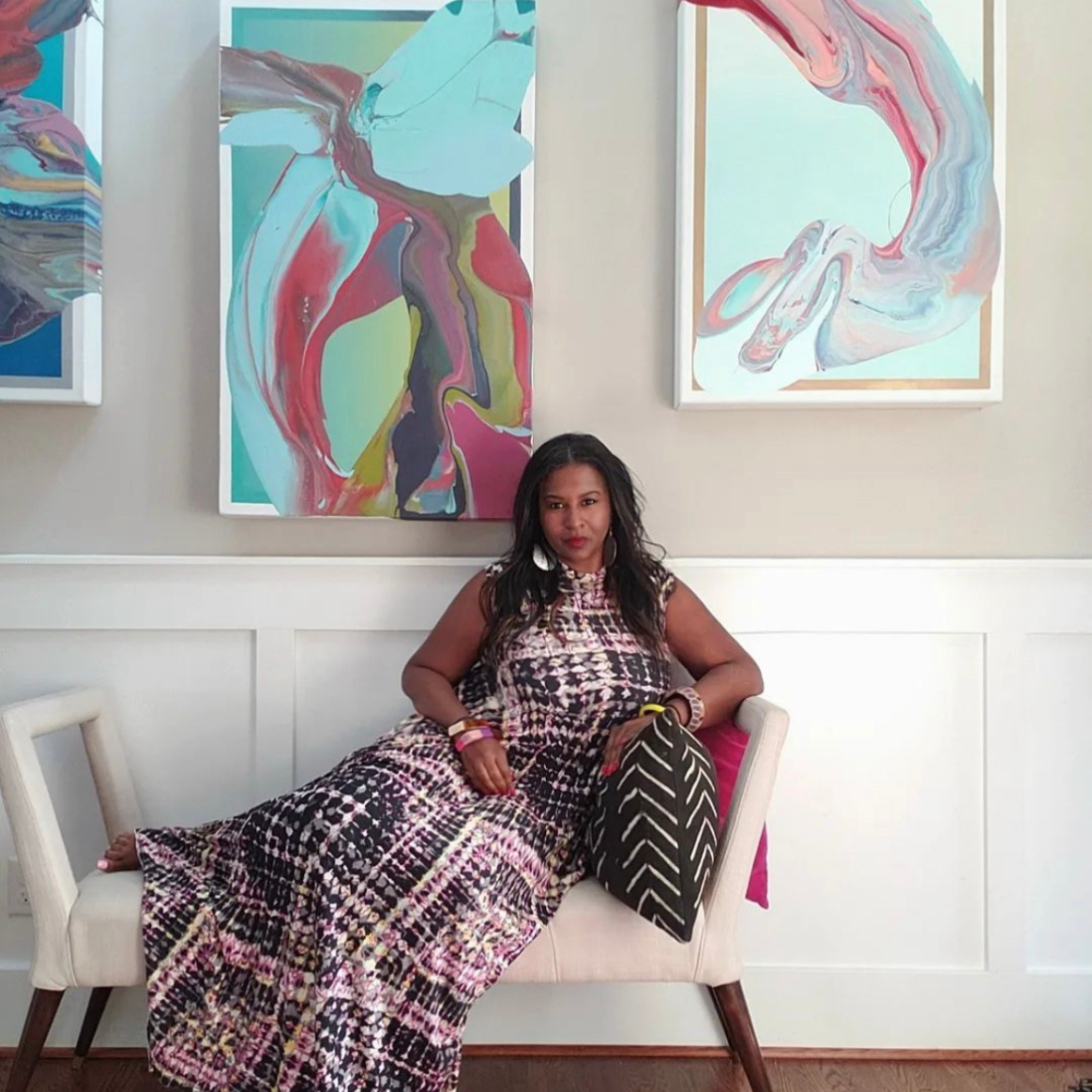 High-Low Design, Explained
By: Kayla Blanton
Deep pockets and design don't have to be inextricably linked. And the home of Seana, also known as @BellyBaila on Instagram, is proof of that. If you were to step into her dining room (or scroll her profile), around the table you'd find a set of simple, high-back chairs from Facebook Marketplace juxtaposed with a towering rattan throne at its head. In her bedroom, gorgeous vintage Henderson night stands flank an affordable headboard and frame. Both scenes are examples of what Seana calls a "high-low mix," that, when applied to her personal style, becomes her self-titled "Glamohemian" aesthetic.
"I call my style 'Glamohemian' which speaks to the contrast between chic, glamorous design elements (the high) and earthier, more bohemian pieces (often the low)," she explains. In other words, the high-low strategy isn't just about saving money, but about striking a visual balance that can be achieved in no other way. "It helps to create a layered, multi-dimensional space," she adds. Plus, it emboldens her to experiment without fear of making a super expensive mistake.
But of course, the perk of spending less overall is not to be ignored. Seana loves that a high-low approach makes design more accessible to all, and she can't resist a good steal—especially in the form of a thrifted vintage mirror or chair. She's also had luck finding pieces like nightstands, foot stools, and bits and bobs like vases second hand. "Mixing high and low helps you to stretch your budget," she explains."It enables you to be frugal on many of the basics while investing in a handful of unique statement pieces to take your space to the next level." 
One of those statement pieces, for Seana, is art. Her home is filled with unique pieces from local artists and beyond. She also won't skimp on a sofa, which is pretty understandable. "It has to be attractive as well as comfortable and well made," she says. 
You would never look at a home like Seana's and think it looks cheap or cobbled together. Despite originating from so many different places, her style is seamless, which is where her eye for design comes into play. And lucky for us, she was kind enough to share some tips for achieving that sought-after harmonious feeling.
Seana's High-Low Design Tips
Take it slow. Rome wasn't built in a day and neither was your space. "When you have more time it allows you to find better bargains and more unique pieces," she says.
Set a focal point (or two). It's easy to get overwhelmed by the number of spaces calling for your touch, particularly if you're a new homeowner on a budget. That's why Seana suggests focusing on one or two main areas. "These may be the places you spend the most time or the places that visitors see first," she explains. "Really prioritize a couple of spaces in your home to make special and find ways to save and gradually get to the rest."
Don't fall prey to trends. Just like the high-low aesthetic, incorporating trends is all about balance. "Although it can be tempting, be mindful of spending a lot of money on trendy items that you are likely to tire of," Seana says. "Invest in pieces you are likely to love for the long haul. These can still be unique or edgy, but be careful about just chasing the latest trend."
Frequent FBMP and consignment shops. It takes patience, but waiting for your perfect piece (in the right price range) can turn into an exhilarating game. "Take your time to find the right thing," Seana advises. And once you do, "don't hesitate to pull the trigger," she adds. "It may not be there tomorrow."
By Kayla Blanton: Jewel tones, brass, and amber glass make Kayla Blanton swoon. Those touches, plus lots of art, animal print, and road-trip gathered trinkets make up her 1920s Cape Cod in Cincinnati. You can read her work in Bustle, Prevention, Everyday Health, and more and follow her treasure hunting adventures @theweekendantiquer on Instagram.