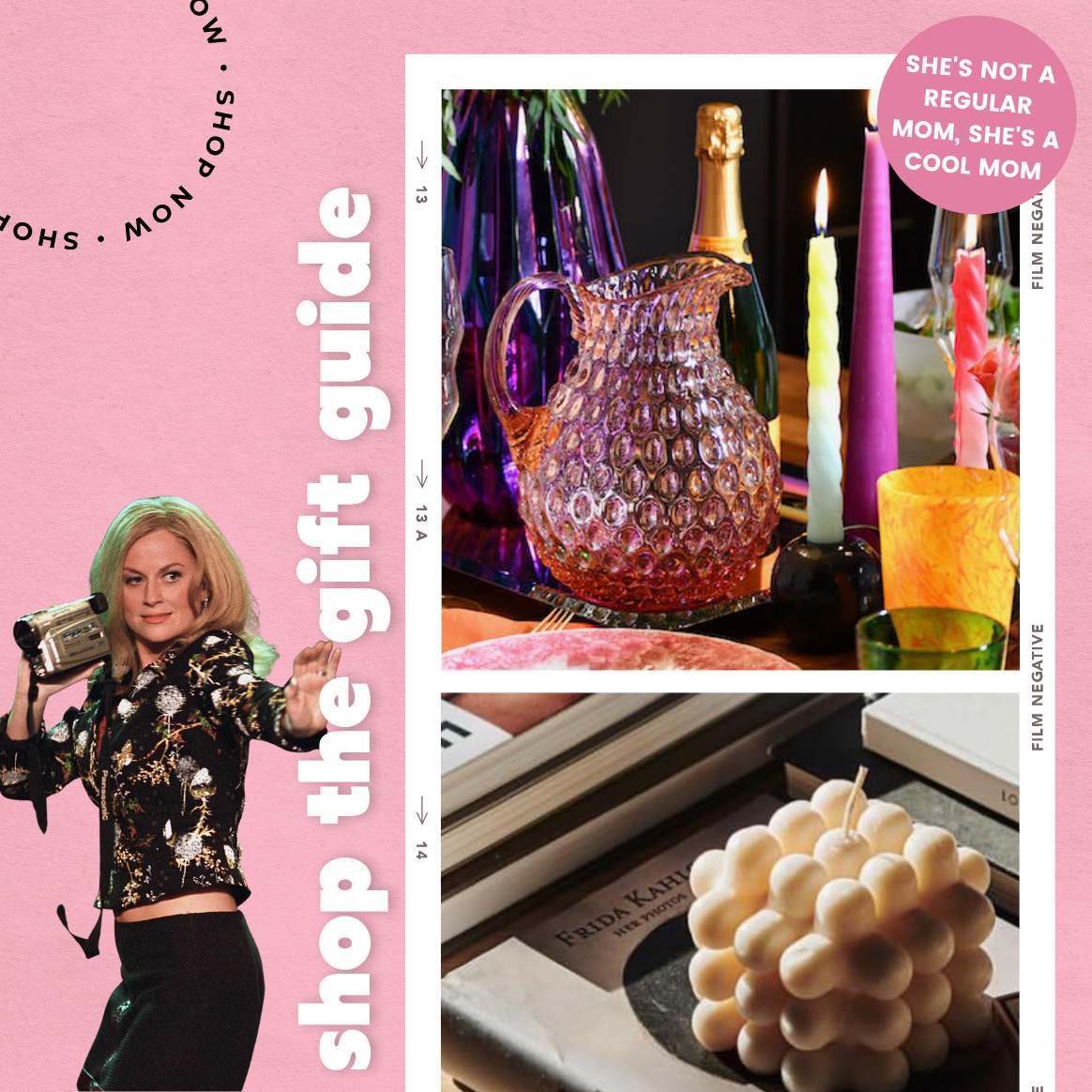 Gift Guide: She's Not a Regular Mom, She's a Cool Mom
By: Sarah Lyon
My mom does it all: She's a BFF, on-call nurse, dating coach, and career adviser, all in one—and I couldn't be more grateful for her love and support! But because moms have a tendency to put everyone else first, it's not often they treat themselves to pretty little things throughout the year. So basically, this means that their holiday gifts should be extra special! But there's no need to panic: We've done all of the gift research for you. Read on for 10 of our favorite picks for the cool mom in your life. 
Help Mom embrace ~cozy szn~ with a warm blanket that looks ultra chic and will complement any style of decor. This luxe throw will make her evenings spent reading on the sofa and curled up with a cup of tea all the more peaceful. 
This retro-style pitcher will be the talk of Mom's next dinner party. It comes in eight different colors, so there's truly an option to fit every style and personality. Oh, and as a bonus, it'll look super cute displayed on her open kitchen shelving when it isn't in use, too!
She may not be prepping after school refreshments these days, but the whimsical mama will still fall hard for these adorable snack bowls. We can guarantee she'll be begging to bust them out the next time she hosts a get together. Seriously, is there anything cuter than a black and white animal design? 
Mom was always great about allocating shelf space to display your soccer trophies and school awards, but now that everyone's grown, it's time for her to embrace her personal style and opt for more adult looking accents! These blue agate bookends will help her do just that and are the perfect mix of pretty and practical. 
If Mom's living room decor has seen better days, help her bring new life to the space with a beautiful floral pillow like this one by designer Christian Lacroix. Place it atop a solid colored sofa or armchair, and boom, instant style. 
Winter is all about dreaming of tropical getaways and exciting trips to come. Honor one of Mom's favorite places with a coffee table book that is basically the next best thing as a plane ticket (or so we'd like to think!). 
Gifting someone a candle is not a cop out when it looks as cool as this one, we promise. If Mom is all about zen moments at home, this candle will help her get into the groove while making a sophisticated statement on her dresser or nightstand. 
Can one ever own too many trays? Nope, such a thing just isn't possible! Trays are so versatile and can be used for entertaining, decorating the coffee table, stashing perfumes, holding spaces and canisters in the kitchen...you name it. This burlwood piece is a showstopper that  shines in any room.
Cheese, please! We all know that Mom is the queen of prepping delectable appetizers and deserves a charcuterie board that's top of the line. This XL Acacia Round Board  is spacious enough to be piled high with goodies and comes in handy for winter entertaining. Pair it with a bottle of her fave wine and it's the perfect gift! 
Why not treat Mom to a new colorful set of tumblers that she can use to sip everything from green juice to iced coffee to wine (so basically all of the important beverages, in our view). It's up to you whether you purchase a set featuring six different hues or opt to buy all of the cups in a single color—we're sure that no matter what you decide, Mom will be appreciative! 
Last but not least, if you're looking to go big or go home, art is a curated gift that's perfect for the more free-spirited type. With hues of warm yellow, lush purple and cobalt blue, this gorgeous floral piece can tie a room together or add a pop of color where needed. Flowers die, but these don't.
By Sarah Lyon: Sarah Lyon is a New York City-based freelance writer who contributes to a number of national design and lifestyle publications like Architectural Digest, Apartment Therapy, MyDomaine, the Wall Street Journal, and more. Sarah also works with designers to help them style spaces for photo shoots. Find more shelfies on her Instagram page, @sarahlyon9