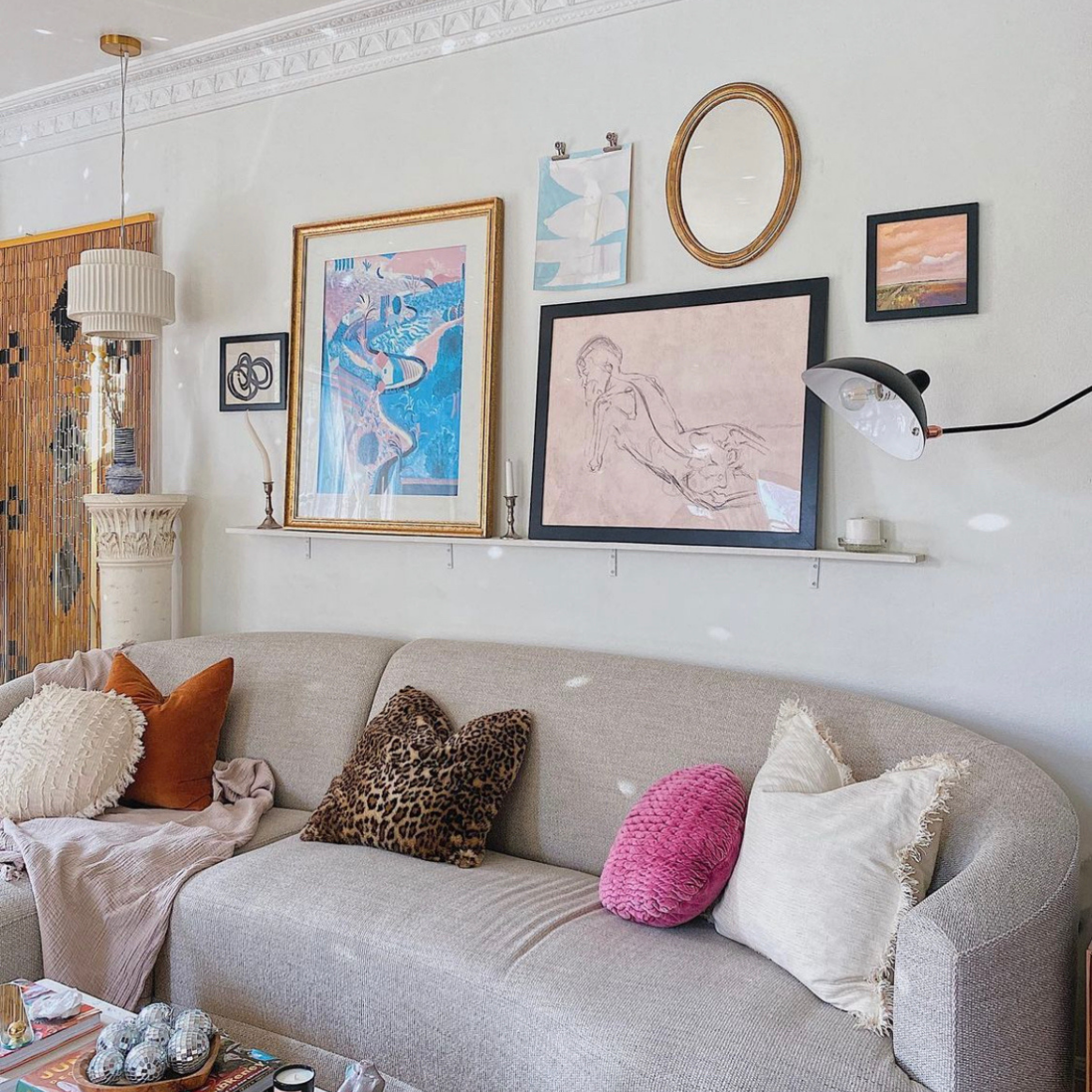 Gallery Wall Tips From the Pros
By: Sarah Lyon
When it comes to assembling the perfect gallery wall, it's safe to say that we could all use a little help from the experts! We did the legwork for you and spoke with 12 designers and home influencers, who weighed in on everything you need to keep in mind when it comes to key hardware tools, sourcing and arranging frames, and thinking outside the box to display a well-curated collection.
You can thank them once you assemble a magazine-worthy wall and the likes and comments start rolling in!
Prep Your Tools
"Go the extra mile and be fully equipped with the tools needed for a good hang: a stud finder, wall anchors, painters tape, drill, wire, hammer, and a patch kit." - designer Ashley Ross
"When it comes to gallery walls, my number one tip (and what I tell all of my friends repeatedly) is to get a laser level. It's like a non-negotiable for me at this point. To me, there are few things worse than art that is unintentionally crooked because you couldn't line up the nail or screw holes. I've found super affordable laser levels online and in my local hardware store, and they make a world of difference for all types of decor projects around the house." - Instagrammer Lowe Saddler 
Make a Game Plan 
"Gather all of the art first before you consider the frames and the gallery wall grid." - Ashley Ross
"For a cohesive look, pick a theme and start seven to 10 inches above the highest piece of furniture. Get a nice mixture of sizes and frames. It's good to have one large anchor piece to start with. Put it on the bottom left or right of your wall so it grounds the space but doesn't steal all the attention. " - Instagrammer Kelly Bach 
'I love creating a color story when it comes to curating an eye-catching gallery wall. I start by choosing my main piece of art and use the colors from that picture or painting as the inspiration for the rest of the wall. This way I can have fun with the subject matter and the pieces will work seamlessly together." - designer Danielle Chiprut 
"Mix up the orientations, horizontal and vertical. For a little extra bold look, add various shapes like a circle or oval." - designer Marie Cloud 
"The main thing to think about is ensuring that all your pieces share some kind of color theme or motif or subject. If you're still unsure, mock it up with some painters tape and play around with it." - designer Cerrissa Fitz 
Try This Frame Hack
"Thrift stores, estate sales, and garage sales are great places to find frames at a bargain. Look past the often dated art in them and focus on the frame and mat style. I often paint frames and mats to update them, which is a quick, easy DIY project." - Instagrammer Monica Benavidez 
Keep This in Mind When Hanging Photos
"If you're wanting to create a uniform gallery wall to display family pictures, I highly suggest using the same black and white filter on all pictures to give them a more cohesive and professional look." - Instagrammer Lidia Salazar 
Create a Well-Curated Setup 
"Gallery walls don't have to be all about art and frames. Get creative with vintage plates, candle sconces, tapestries, and mirrors to curate something beautiful." - Monica Benavidez 
"Add personal items, little mirrors, clock embroidery, a tapestry or a child's abstract drawing… not every item has to be professional artwork! You can frame a concert ticket or a record sleeve from one of your favorite bands. Get creative and use any special items that may be sitting around in boxes." - Kelly Bach 
'I love to add a 3D element when designing a gallery wall. Whether it is an animal bust, a woven wall basket or a chunky picture frame, these 3D elements add visual interest and whimsy to the composition." - Danielle Chiprut 
"Use an eclectic mix of pieces such as photos that you love to look at with art or prints from your favorite artist or something you may have thrifted. It's also fun to use interesting objects such as mementos from travels." - Instagrammer Tiffany Barino 
"Often, people think they need to purchase their gallery wall in one fell swoop. The result can make it feel contrived, or like it was purchased at a big box store. To get your gallery wall started, select a few 'core pieces' in an odd number—say, three or five. This will allow the collection to sit on its own while you organically discover those add-on pieces that speak to you down the road. A mix of pieces from different time periods, mediums, and frames will ensure your gallery wall feels fresh and sophisticated." - designer Katherine Thewlis 
"Take your time collecting pieces that mean a lot to you and make you happy! If you go for speed rather than quality you'll end up changing the gallery wall more often than not. You want to look at the wall and see pieces that spark joy." - Instagrammer Savvy Shields 
"I like to use large scale art. This allows you to appreciate each piece of art rather than having your gallery wall look cluttered with multiple pieces of tiny art. For a modern look, keep the frames the same using large matting, and arrange in a grid pattern. Add art lights (aka wall sconces) above each row for more visual interest and an added pop!" - designer Jade McNeil 
Ready to try your hand at a gallery wall? Make sure to browse our art section to find those core pieces that will help get you started! And bonus points - they already come framed!
By Sarah Lyon: Sarah Lyon is a New York City-based freelance writer who contributes to a number of national design and lifestyle publications like Architectural Digest, Apartment Therapy, MyDomaine, the Wall Street Journal, and more. Sarah also works with designers to help them style spaces for photo shoots. Find more shelfies on her Instagram page, @sarahlyon9