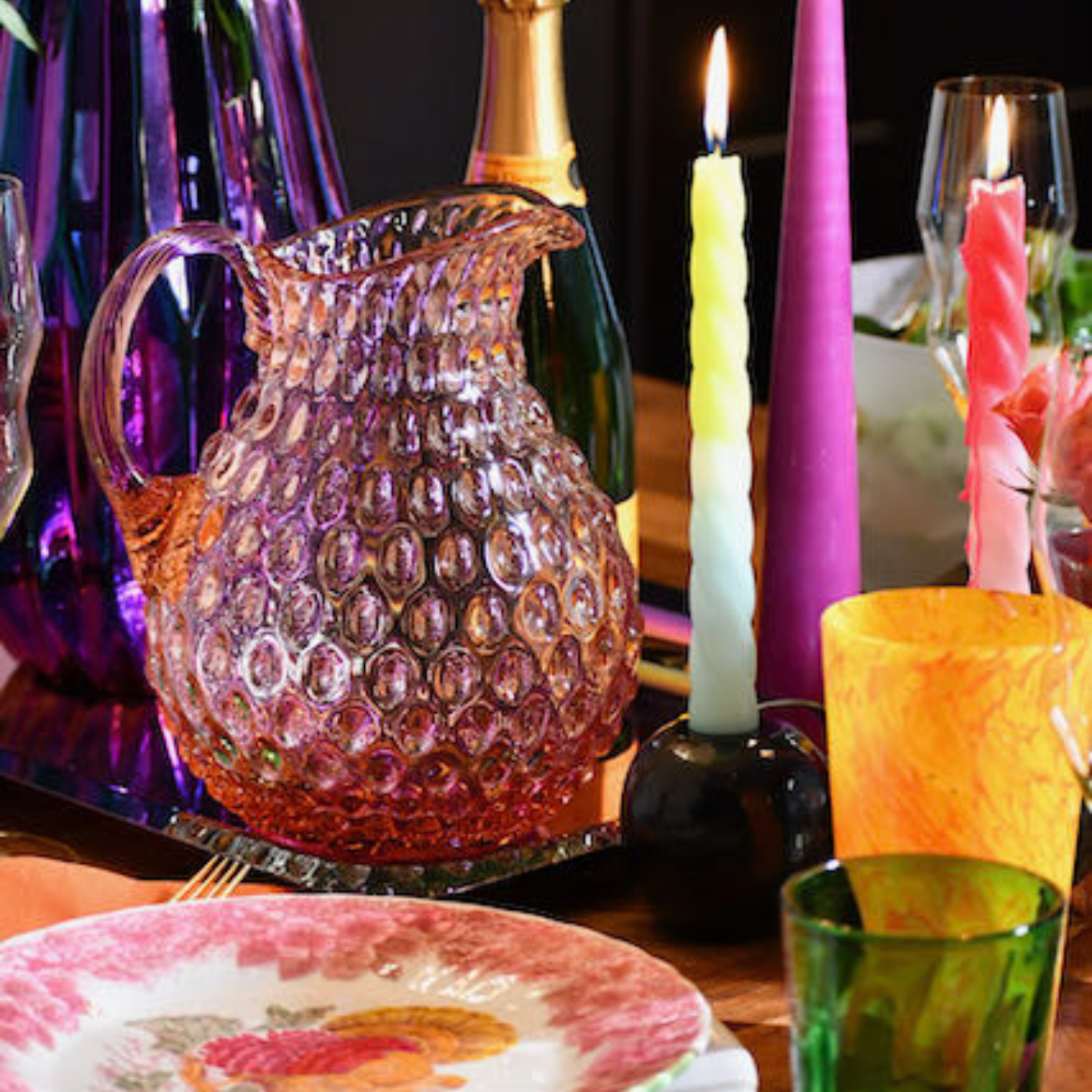 Everything You Need for a Perfect Friendsgiving (or Thanksgiving!)
By: Taylor Maple
The older I get, the more obsessed I become with becoming an outstanding host. If a friend so much as pops in for thirty seconds to drop off a book they borrowed, something in my soul says I need to have a snack tray and a vase of farmers market stems on the table when they get there. It's definitely not reasonable. It's not even practical! But it's where I've landed at 27 — I want my home to be a cozy reprieve for everyone, not just myself. That desire multiplies when folks visit for a special occasion, especially one for which a dreamy atmosphere is priority number one and a host can truly make or break the run of the evening.
Which brings me to Friendsgiving. For some, Friendsgiving is an amuse bouche before you head home to fight with your mom and rub elbows with high school classmates at a terrible bar over actual Thanksgiving. For others, it's the season's main celebration, with chosen family taking the mainstage. But regardless of the circumstances that bring a group of pals to the same table, the goal remains the same — eat, drink, and be merry.
Here are some essentials that will elevate you to extraordinary host status while keeping central the spirit of the holiday.
Fresh Flowers
A tabletop bouquet is a no-brainer for any dinner party, but really lean into the autumn tones of the holiday when selecting your stems for this one. Feeling bright and happy? Select some sunflowers, chrysanthemums, and warm colored roses.
Or opt for a moodier vibe — my personal favorite — with eucalyptus and shades of violet roses. Need a vessel for these gorgeous blooms? We've got options for every aesthetic.
Mood Lighting
On Friendsgiving — or any day, for that matter — you will be turning the overhead dining room lights on over my dead body. Give me dim. Give me the lighting department from the final season of Game of Thrones. Give me a room that requires me to lift a fork to eye level to identify if it's pie or potato. Yes, I'm exaggerating, but only a little!
Dim what you can, embrace your tabletop lamps, ditch the terrible string lights you've had since college (I'm talking to myself) in favor of classy black globe bulbs, and if you're lucky enough to have a working fireplace, fire that bad boy up. And while we're on this topic, might I suggest…
Taper Candles
Candles! The cornerstone of every holiday — where would we be without them? Our own selection of taper candles offers an amazing color palette for Friendsgiving. Pair them with thrifted candlesticks or some candle plate holders and you're in business. 
Champagne Vessels
Friendsgiving toasts are essential, and you'll need a glass to raise. Luckily, we've got you covered. Check out these exclusive DenXYZ Anneka Champagne flutes, which are sure to bring a modern sizzle to any tablescape you concoct. If you're leaning more old school, channel Daisy Buchanan with these decadent, vintage 1920s Champagne coupes.
Or if you're feeling really wild, thrift a mismatched glass for each guest, imbueing your celebration with a memorable, eclectic flair.
Heirlooms Old and New 
Friendsgiving is about being grateful — for the life you've lived so far, and the life you continue to build. Incorporate as many nods to that goal as you possibly can. Bake a cobbler in the ceramic dish your grandma lovingly passed down to you. Decorate with photos of trips you and your guests have taken together, or polaroids of parties from years past. Ask each guest to arrive ready with a story about how they became part of the group.
While you're at it, don't forget to create heirlooms that will come to define your own history. Serve appetizers on a platter you love so much that guests will recognize it at every party you host from here on out. Serve cocktails from a pitcher someone will one day pour drinks for their friends out of as they recount memories of your famous recipes. Lovingly cultivate every aspect of your Friendsgiving just as lovingly as you have the group you'll spend it with — and you can't go wrong.
By Taylor Maple: Taylor Maple is a writer and communications specialist who is finding her design footing one thoughtful purchase at a time. She has published work for West Virginia Living Magazine, Bustle, ABC News, Pittsburgh Magazine, and others. When she's not working, you can usually find Taylor enjoying a road trip, singing along at a concert, or cooking a recipe that is much too ambitious for her tiny kitchen.