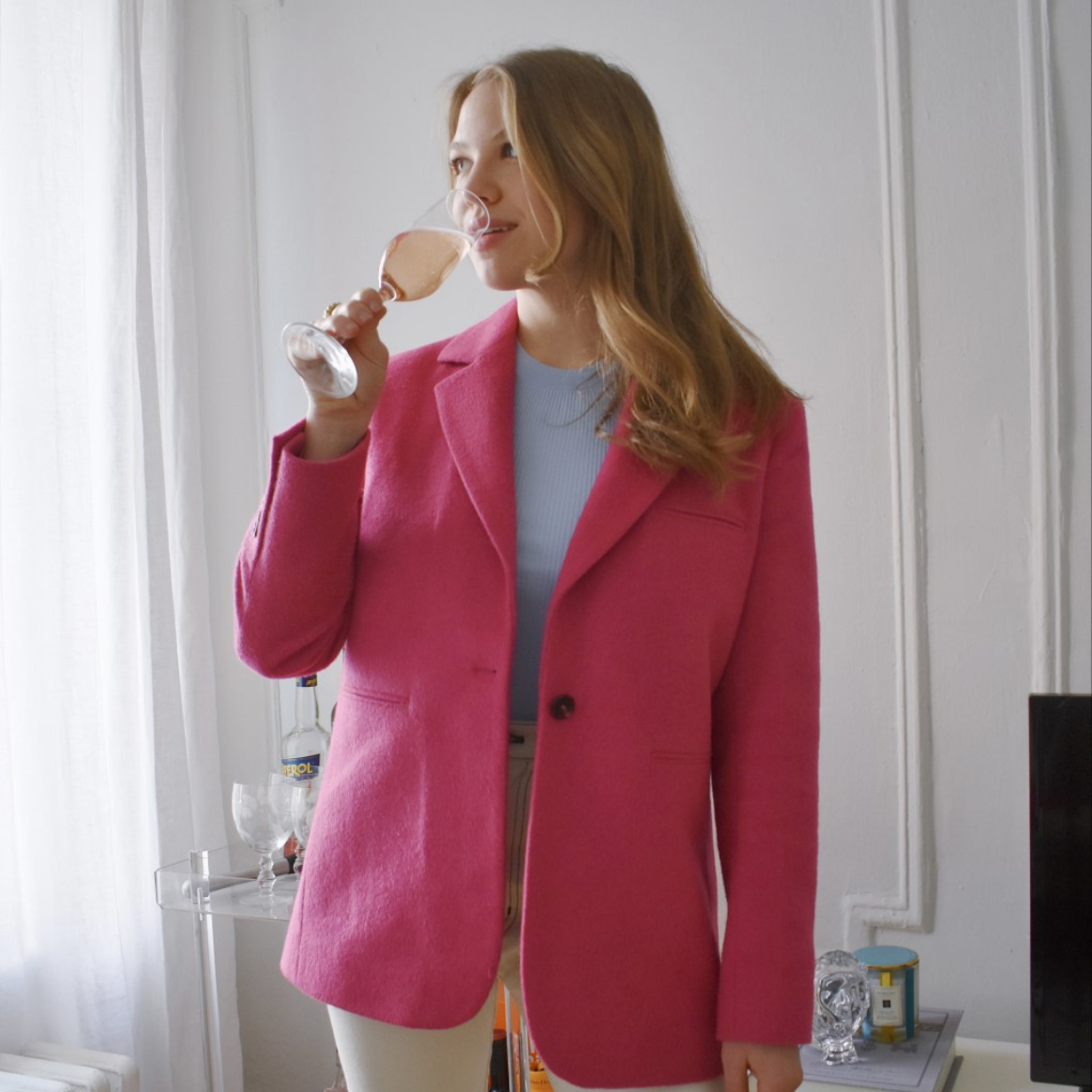 Frannie Acciardo Takes DenXYZ Inside Her NYC Apartment
By: Sarah Lyon
As a recent college grad living in the West Village, Frannie Acciardo has worked hard to make her first NYC apartment feel like home, outfitting her space with stylish touches like chic pastel pillows and mod lucite pieces. And because decorating an apartment from scratch—especially while maintaining a full-time job, blog, and getting to know the city—is certainly not easy, we spoke with Frannie about how she did it! 
Hint: Being patient and taking things one step at a time is key.
Q: You moved to NYC last year after your college graduation. How did you go about setting a vision for your apartment, and what kind of vibe did you want it to convey?
Frannie: "I remember when I moved, everyone I followed on Instagram at the time had the same white cloud couch and checkered rug and funky candles. While it works for them, that is so not who I am, so I took it into my own hands to create a unique space that would feel very true to me and unlike anyone else's space I'd already seen. I created so many mood boards and mocked up my space using the StreetEasy photos of the apartment (because I moved in sight unseen!) and then ordered things one at a time so I could slowly put something together that I'd be happy with.
At one point before I really got started, I was between a more classic look and a more fun/colorful vibe, and I went with the latter because I am 23 and figured there's no time like the present! At the end of the day, I just wanted my apartment to feel unique and very me, and I wanted it to be a space that I was happy to come home to. Somehow, I managed to accomplish that, and I am generally fairly pleased with my space." 
Q: How would you describe your design style? How has it changed over time? 
Frannie: The hardest question! I feel like it changes every day, even if my apartment doesn't. I am an extremely indecisive person, so one day I'll be inspired by neutral minimalism, and the next day I'm perusing the Jonathan Adler website and swooning over pops of color and eclectic art. Since this is my first apartment, I ended up just picking pieces that felt very "me," I guess I would describe that as girly Parisian glam? But, like, in a lowkey way? Does that even make sense?
Q: Moving to a new city is challenging, especially when you're in a place as big as New York and you're living alone! How have you worked to make your apartment feel like home? 
Frannie: My apartment feels so "me" in that I didn't copy anyone else's space or style to create it, so when I walk in the door, it feels like my home, because it was created just for me! It's not necessarily a tangible thing, but more so the love and authenticity that went into the decorating process. The littlest things make me feel at home, like, literally, my poodle salt and pepper shakers, for example.  I also have a lot of candles and blankets and books that I couldn't live without." 
Q: Have you done any DIYs in your apartment? If so, what?
Frannie: Yes! One of the very first things I did in my apartment, before even getting a couch, was DIYing my countertops with "marble" contact paper. My kitchen counters were literally gray, and it's already the darkest part of my apartment, so DIY-ing the counters with something prettier and brighter made a huge difference.
Q: Any tips for other people who are soon to be moving into their first post-grad place? 
Frannie: My biggest tip would be not to stress over how long it takes to feel "done" decorating. I lived in my apartment for an entire year before even hanging any art! Decorating is expensive and finding pieces you truly love doesn't happen overnight. Especially on a post-grad or entry-level salary, you might not have the means to decorate your dream apartment as fast as you'd like, which is normal. I feel like no one talks about that! It's also just kind of difficult, I've found, to logistically get everything done. For example, I barely know how to use a drill, and figuring out how to frame things can be confusing. By the time I finish work and blogging and managing my social life and going on my daily walk, it can be hard to also squeeze in time to figure out how I am going to frame and hang my naked Barbie photograph on a brick wall without a hammer drill! Maybe that's just a me problem, but the point is, don't feel like you need to rush!
Check out Frannie's lifestyle blog here and follow her on social media to learn more about her decorating process - including the iconic, naked Barbie photograph!
By Sarah Lyon: Sarah Lyon is a New York City-based freelance writer who contributes to a number of national design and lifestyle publications like Architectural Digest, Apartment Therapy, MyDomaine, the Wall Street Journal, and more. Sarah also works with designers to help them style spaces for photo shoots. Find more shelfies on her Instagram page, @sarahlyon9