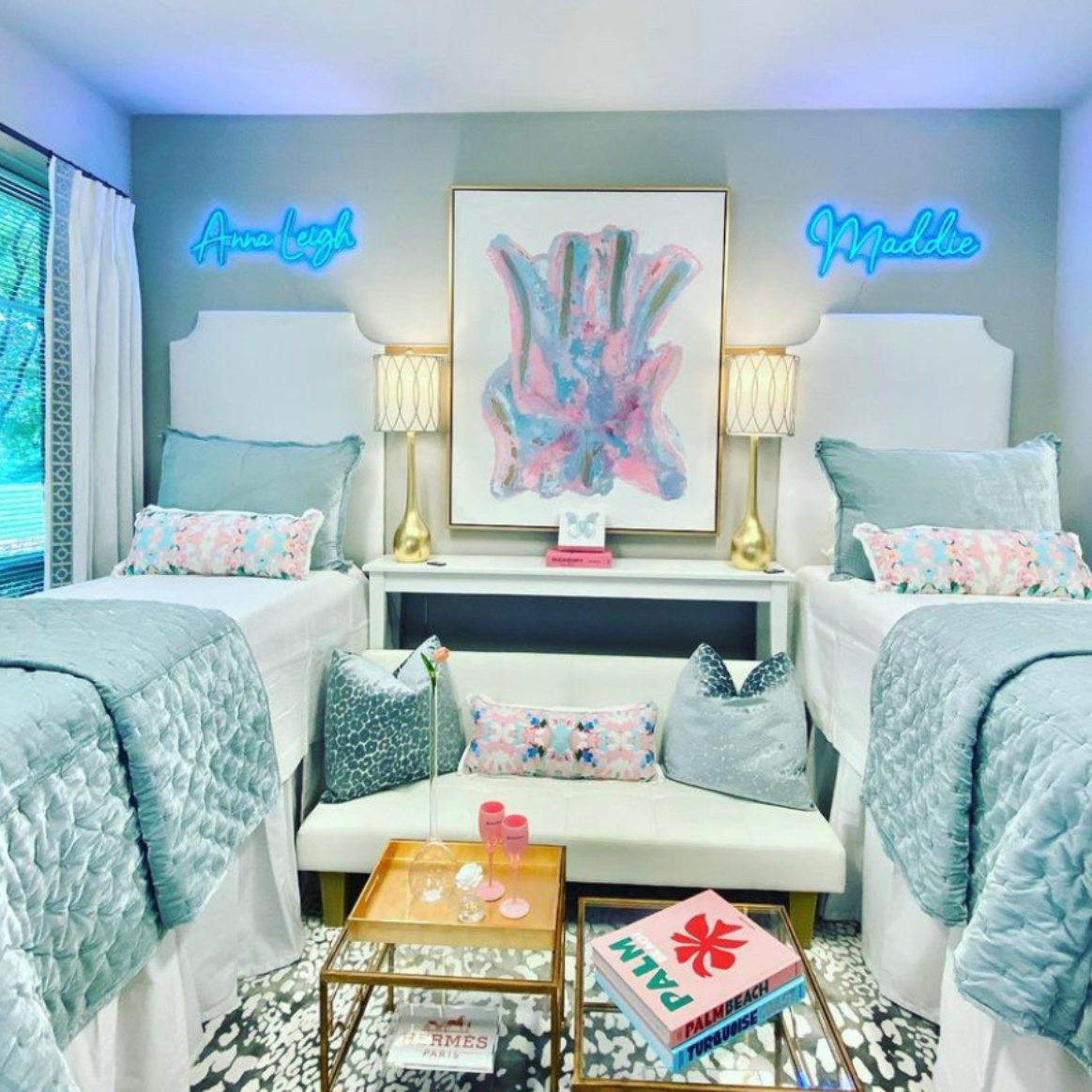 Personal Touches to Add to Your College Dorm or Apartment
By: Sarah Lyon
Believe it or not, it's almost time to head back to school…and for college students and their parents, this time of year means that dorm decor is top of mind. Whether you're moving into your freshman year room or are a seasoned student who's moving off campus, we have plenty of design tips for you.
For the parents of incoming freshman, we've got you covered! The idea of taking a dorm room from generic to gorgeous may seem ultra daunting, but in reality, there are a few simple steps you and your student can take to design a dreamy dorm that will be the envy of the whole class. Here's what you'll need to do to invoke some personality into a single or shared space. 
Incorporate

 Art
Every dorm needs a few art prints, but it can be difficult to find pieces that aren't 1) cheesy or 2) going to be gracing every other student's walls. We love these vintage dictionary prints because they are full of character and come pre-framed. Attach them to dorm room walls using Command strips and boom, instant color and sophistication. The taped up posters that you once had in your space could never.
Use Color
Let's face it, dorm rooms are just so bland. The above art prints will help add color to this cookie cutter, shoebox sized space, but you can't simply stop there. Small, vibrant accents will go a long way. A ceramic tray like this one is perfect for storing earrings and everyday jewelry on a desk or dresser.
Decorate With Books
As much as traditional textbooks are a staple of college life, sometimes it's nice to have the option to just escape from it all and flip through some more aesthetically pleasing books like this one (it's albeit just as heavy as that Intro to Chemistry text, though!). 
The Power of Pillows
Let's face it, lounging in bed is basically an integral part of the college experience. College students watch TV in bed, burn the midnight oil finishing papers from bed, and snack in bed on lazy weekend mornings. Make that bland twin XL sized bed feel a bit less blah by jazzing it up with decorative pillows that will really make a statement. For a pop of pattern, we're all about this snow leopard set or this classy Christian Lacroix number. 
For the upperclassmen: Personalizing your shared home so it's universally pleasing and chic 
Ok, upperclassmen, this section of our back to college post is for you! Maybe you're moving into an off-campus house with friends or sharing a suite with a handful of roommates. This means that in addition to furnishing and decorating a bedroom, you'll have common spaces to tackle, too. Here are a few tips for making these areas look stylish without overwhelming roommates who may have decor preferences of their own.
In the Living Room
Style your coffee table so that the living room is a fun, welcoming space to hang out, whether you're inviting classmates over for a study group or just binging Love Island with a group of your sorority sisters. To protect furniture that may not belong to you, keep a few stacks of coasters on hand (bonus points if they're cute and sassy like ours).
Set out a funky looking vase that you can fill with real flowers or a faux bouquet (we won't judge); blooms will make your space look so much more elevated than the average college apartment. Then place a colorful candle in the middle of the table to add visual interest as well as ~ambiance.~ This candle is almost too gorgeous to burn but don't worry, it's large enough that it will last a long time, so you can still appreciate its beauty! 
In the Kitchen
Your shared kitchen should be chic, not chaotic. Pick up some basics that will make your house the official hosting home of your friend group. A colorful pitcher is perfect for serving sangria and other delicious mixed drinks. It can also double as a vase!
Llama bowls will make sprinkling hot chili pepper atop your third pasta dinner of the week feel #gourmet. And every gal knows that a good charcuterie spread is the way to friends' (and suitors') hearts; take yours to the next level by investing in a marble board that will look pretty whether it's filled to the brim with treats or just leaning on your open shelving during the week. 
In the Entryway
Help everyone corral their belongings in style by designing an entryway space that is functional yet still worth 'gramming. An oversized tray gives everyone a space to drop their keys after dashing in the door. A fun alphabet print will add whimsy to your home as soon as you walk inside and subtly pays homage to the fact that this is a school apartment. Top off the look with a geometric candle that you can light as soon as you walk in the door to celebrate the fact that you are indeed home! 
By Sarah Lyon: Sarah Lyon is a New York City-based freelance writer who contributes to a number of national design and lifestyle publications like Architectural Digest, Apartment Therapy, MyDomaine, the Wall Street Journal, and more. Sarah also works with designers to help them style spaces for photo shoots. Find more shelfies on her Instagram page, @sarahlyon9