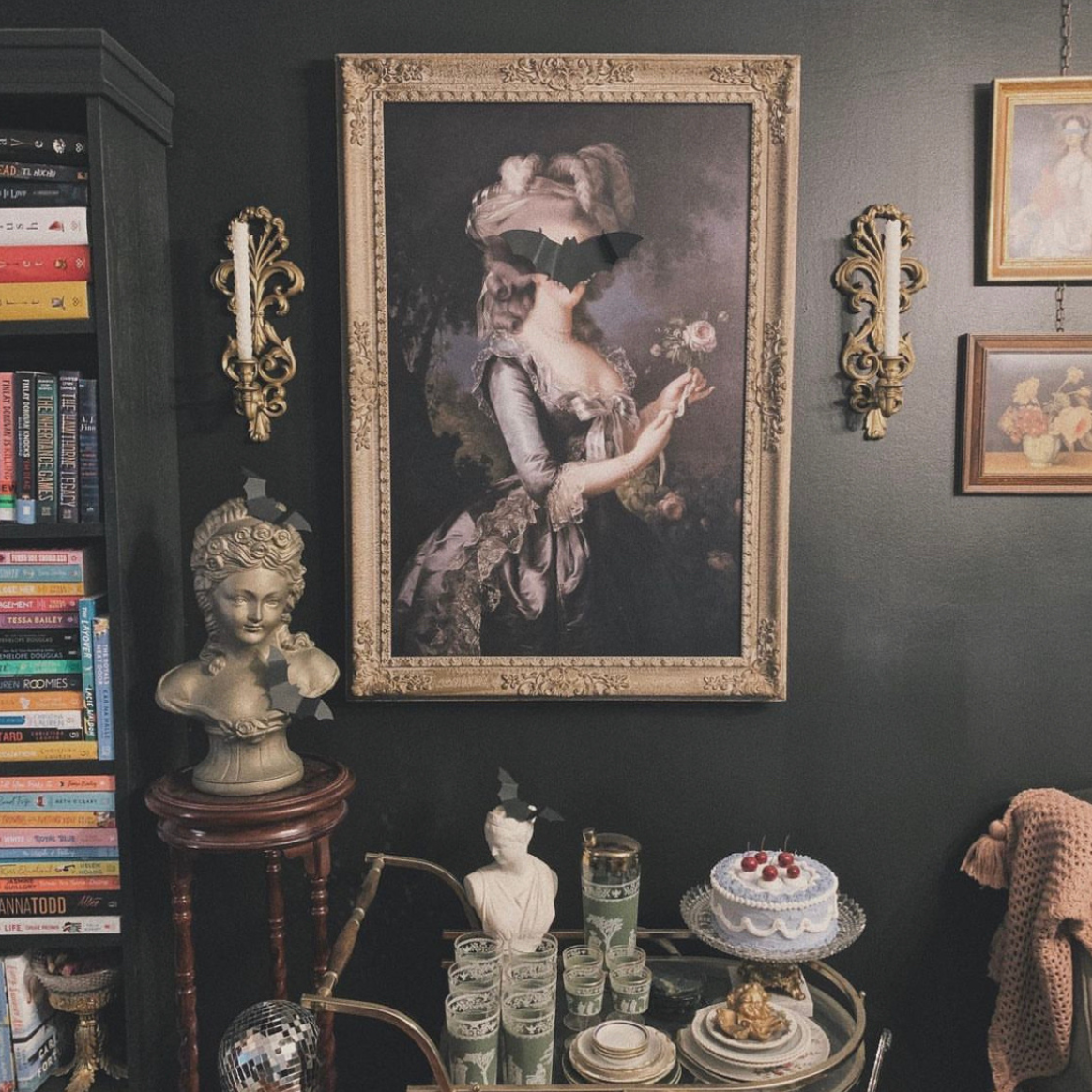 DIY Dark Academia: Your Bookish Fantasy Awaits
By: Kayla Blanton
If the new Hocus Pocus inspired you to study spell books in Salem, or you've always felt pulled to libraries' forbidden, dusty tall stacks, why resist? A dark academia-inspired living space will transport you there without the need to ever step outside (or risk being turned into a cat).
Although the Wednesday Addams and Lydia Deetzes of the world live the lifestyle all year long, the dark academia aesthetic thrives this time of year. And despite its mysterious, intriguing appeal, it's surprisingly easy to dig—and fall down—a magical rabbit hole of your own. It just takes a little imagination, and these tips will cushion the plunge.
Collect All the Books You Can Find—Then Collect More
The older and smellier, the better. The debate is still out on whether or not you actually have to read all the books you surround yourself with—it depends on who you ask. But the key to mastering the bookish fantasy is to go overboard with them, and don't limit storage to shelves. Stack them on the floor, tower them to make a side table, fill a fireplace with them, cover the coffee table. Dark academia isn't for minimalists—and certainly not when it comes to good, spooky stories.
Embrace Dark Paint
Whoever said black walls make a space feel smaller was not going for a dark academia vibe, that's for sure. Black or dark-colored walls actually make a space feel cozier, customized, and sophisticated. And nothing accomplishes the feeling of crawling into your own personal reading cave like being enveloped by darkness—and a warm blanket, of course.
Bring in Antique Furniture
No Hogwarts-esque reading nook is complete without a velvet wingback armchair of sorts. A Victorian chaise? Even better. And as fancy as that sounds, the price tags don't have to be. Facebook Marketplace is a chest full of treasures waiting to be discovered (and yes, sometimes cleaned)—especially when it comes to vintage seating. 
Bottles, Trinkets, and Sculptures Add Character
Every item you display should tell a story. Old amber glass bottles are equally great for potions (aka coffee syrups) and dried florals. Trinkets—everything from dolls to taxidermy to brass sculptures and antique boxes—are all their own special characters in your space's narrative.
Gallery Walls Everywhere
Creepy (or at least old) art is the cherry on top of a dark academia cake. Think: lone black-and-white portraits left homeless at antique malls, photographs gone unclaimed at estate sales, any type of strange typography or botanical charts—they can all come together to create a map of misfits on your wall to be explored by you and your guests, and inspire conversation for years beyond their own.
Just Say No to Overhead Lighting
Like witches and vampires cower at the sight of natural light—dark academia enthusiasts do, too. It's one thing to let a little sun through the windows, but overhead (particularly fluorescent) lighting is a sure-fire way to throw off the vibe. Instead, opt for lots and lots of candles, lamps, twinkle lights, and sconces to keep the thrill of the night alive long past moonfall.
By Kayla Blanton: Jewel tones, brass, and amber glass make Kayla Blanton swoon. Those touches, plus lots of art, animal print, and road-trip gathered trinkets make up her 1920s Cape Cod in Cincinnati. You can read her work in Bustle, Prevention, Everyday Health, and more and follow her treasure hunting adventures @theweekendantiquer on Instagram.