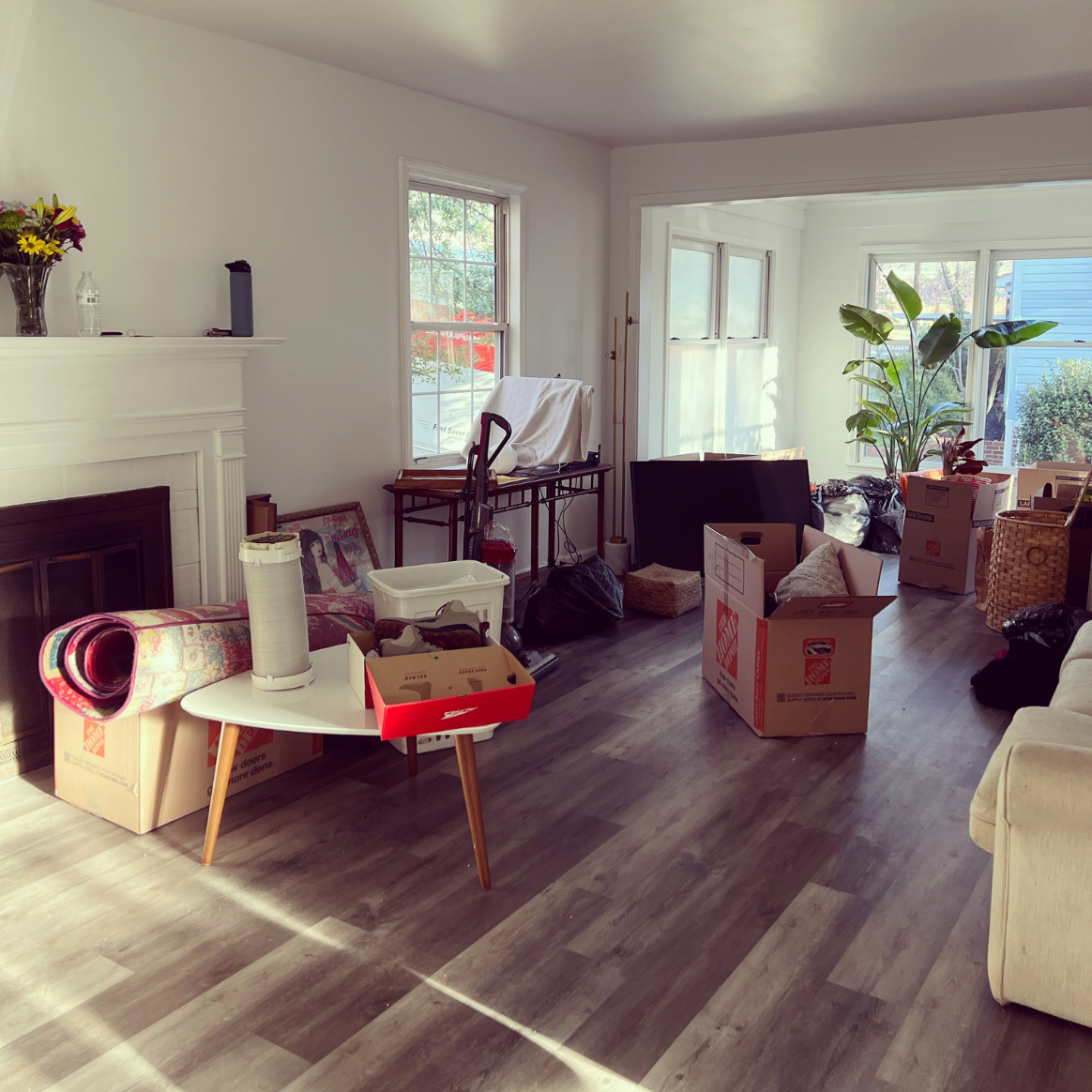 My DenXYZ First Home Must-Haves
By: Emory Rakestraw
My fiancé and I just moved from our 800-square-foot apartment into a four bedroom, three story home. As soon as we placed the first box in the sunroom (please enjoy the above, chaotic photo from the day-of), I was in a décor frenzy – ordering rugs and browsing vintage stores for large-scale items like a dining table (goodbye bar seating), settee, dressers and a hutch.
While decorating can be so fun, it can also be so overwhelming. I've had to practice patience and restraint sourcing furniture (#supplychain), which has lent me plenty of time to vision board and dream up ways to fill our space with carefully curated decor. You know, the often overlooked items that add so much zest to a home when styled right - think coffee table accents, odd corners filled with art, guest rooms and the like. 
For anyone seeking ways to add color, charm and character to their first (or current) home - I'm sharing my DenXYZ must-haves for our new place, along with my vision boards. Feel free to replicate or gain as much inspiration as your heart desires!
A Cute Coffee Table Set Up
I'll be honest, my coffee table décor has always been more of an afterthought. Now, with space to entertain, I want the focal point of my living room to possess spunk and character.
To start, the colorful ASSOULINE series lends a well-traveled vibe without having to leave the sofa or pronounce Ibiza, Ibitha. Because I'm a #materialgirl I will be stacking St. Moritz Chic and Ibiza Bohemia with Louis Vuitton: The Birth of Modern Luxury and FINALLY purchasing a tray. After I saw Ama Kwarteng's styling of our Extra Large Acrylic Black Tray in Coveteur, I've been itching to incorporate its sleek look while compacting items (goodbye, clutter).
Paired with the Dip-Dye Neon Candles for a splash of MORE color and Faceted Murano Aqua Glass Vase for petite, fresh blooms - who knew styling a coffee table could be so fun?
An Entryway Vibe
When you live in an 800-square-foot apartment, the entryway is normally just…your living room. While our new home doesn't have an official entryway, per se, it has plenty of odd nooks and crannies. Luckily, I have an antique console table that will serve as a catchall for walking in the door. 
From candles to matchbox holders; I love the trend of repurposing vintage ashtrays. For keys – I'm daring to be different and using the Big Blue Square Ashtray and tying in that beautiful, bright blue with Lithograph 2 and 3 hung above. To accessorize a bit more, the Lux Candle is great for filling a bit of space and honestly, you can never have too many candles. To keep with the vintage vibe, my current crush – the 1970s Amber Cut Glass Pitcher – pairs perfectly with bright white hydrangeas and pink lilies.
Dinner is Served
When I say I can't wait to host my first dinner party – I mean it! I absolutely love inviting everyone to gather 'round the table and validate my cooking skills. To start, it's time for grown-up dinnerware that looks just as pretty displayed in glass shelving as it does on the table!
Enter the Marumitsu Barbarie Gray Round Plate – the subtle detail adds style without being overbearing (or taking away from the lovely dish you just cooked). Paired with the Livia Matte Black Oval Platter for serving and the Trio of Spice Pinch Bowls because I'm #extra.
For large dinner parties, both the Augusta Diamond Weave Dinner Plate and Little Garden Salad Plate come in a set of six, these are so fun for spring soirees and date nights in. To keep things a bit neutral, the Perle Tumbler is versatile enough to pair with any tablescape or for everyday use.
You truly can't go wrong with the Modern Hobnail Pippin Pitcher, either. With so many colors to choose from – my favorites are green, aquamarine and smoke. I love the fact that when I'm not serving beverages I can fashion it as a vase and TBH, it might make its way on my mantle one day soon.
Guest Bedroom Who?
Our last guest bedroom was the pull-out couch in the living room…so, I have a lot of work to do in this arena. I believe that unless you're planning to host visitors every weekend – a guest room is great for experimenting with color and pattern. Go all out, girl!
Starting with I Got the Champagne hung above the bed – this immediately sets a relaxed yet fun atmosphere while allowing me to play off colors (I love that hunter green). Since the bedspread is white, I'll be adding texture through pillows and throws – the retro Eye Candy placed in front of Sweet Sixteen has been my dream for quite some time. If the guest bedroom sits idle - these pillows are easy to re-purpose for the sofa or breakfast nook.
I think when friends and family come to stay – their experience should be that of comfort, relaxation and a touch of luxe. Guests should never have to dig through your closet in search of a throw or extra pillow. Therefore, a cozy, high-quality throw is a must. The Cashmere Double Face Throw in Camel & Apricot is neutral enough to pair with anything while adding visual (and literal) warmth.
For the dresser, I am obsessed with our Large Cone Candle. I'll be adding both white and pink (are we sensing a theme). Since I find it necessary to place fresh blooms in each room - and it's such a nice touch – the Small Gold Log Vase is a miniature yet mighty complement for the nightstand.
There's Still So Much Left 
Like I said, decorating can be overwhelming. If you're in the same situation as I am (congrats on your first home!) start with central colors, or even a theme you want to bring to each room. Your home should always reflect your personal style, and authentic design is only achieved in honestly decorating YOUR way (and not what is trending on IG).
If you're still overwhelmed – I LOVE the curated bundles on our website. It's catered to various aesthetics including Uptown Glam, Rainbow Retro, Modern Classics and more. Look at it as a room in a box – which is also convenient when you're buried in less-fun boxes, unsure where to start.
I'm excited to share more of my first home design and décor, but for now, I can't wait to style these items and maybe, eventually, finish unpacking!
By Emory Rakestraw: Emory is a freelance writer based in North Carolina. She grew up watching her mom refurbish antique furniture and an interest in interiors has grown into artwork, including a monthly art column for a regional magazine. A southerner at heart, she appreciates a good tablescape and the art that is hosting. Emory serves as the Editor in Chief of DenXYZ.