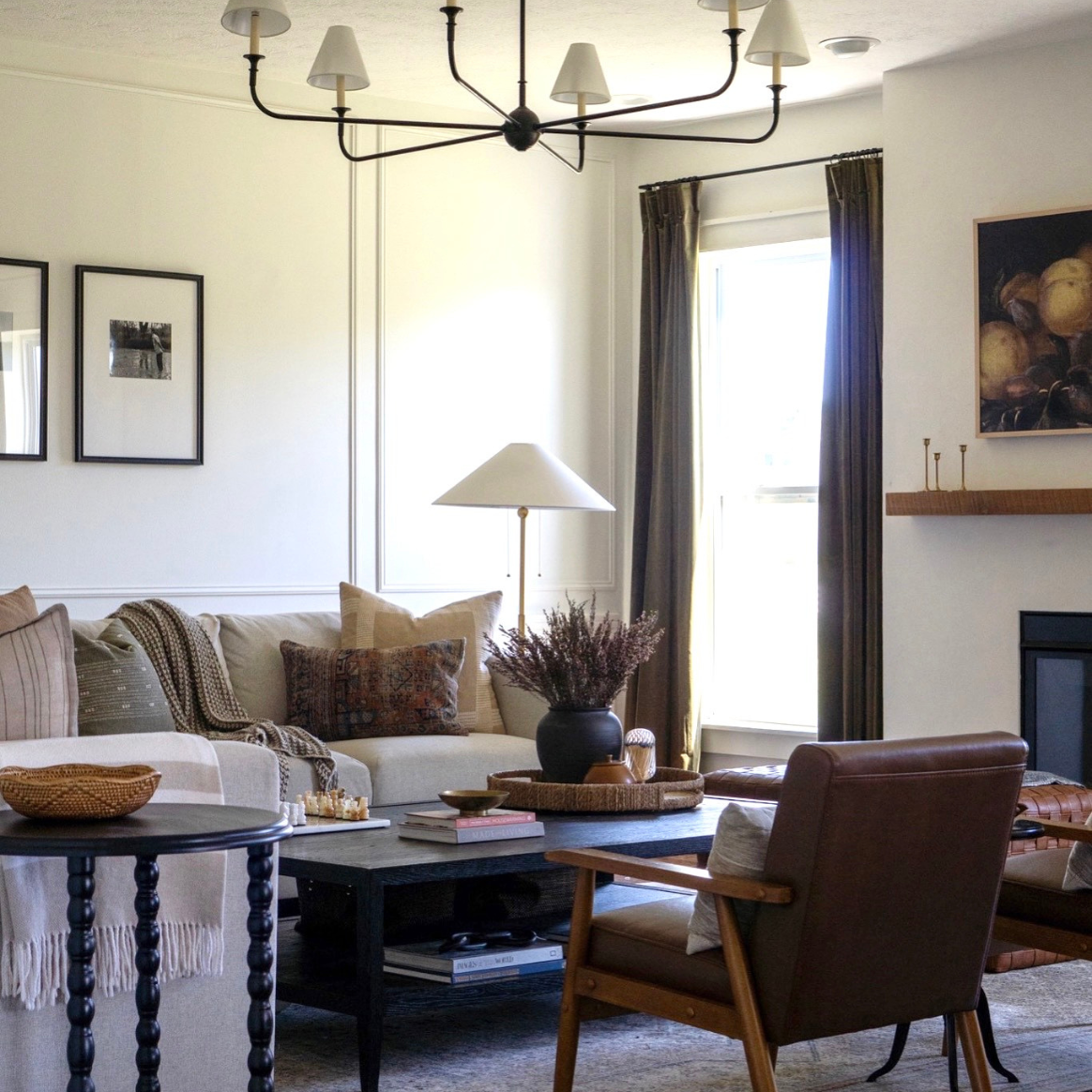 Decorating Advice From Every Generation
By: Heather Bien
Whether you're a tech-savvy Millennial yearning for simpler, vintage finds or a Baby Boomer eager to invest in timeless, quality pieces, it turns out that the way we style our homes might have more to do with our generational experiences than the latest trends. 
We asked design experts from every generation -  from Gen Z through the Silent Generation -  for their best decorating advice and the best part was the a-ha moment of seeing the themes fall in line with each generation's (positive!) reputation.
Gen Z Creates Cozy, Defined Spaces
Searching for comfortable and comforting spaces is the hallmark of Gen Z, born between 1996 to 2012. They value self care and want their homes to serve as a retreat away from the stressors of life and work — even if home is work. Which is probably why they're also waving goodbye to the open floor plan.
Rachel Valente, who shares her calming, neutral decor and DIY on Instagram, says her number one decor tip is to add a rug to differentiate spaces and define cozy, balanced vignettes within an open-concept room. 
Image courtesy of Rachel Valente
"Home interiors are slowly going back to compartmentalized, separate spaces, so having rugs helps to create distinct sections," explains Valente. Adding a rug is, of course, also a quick and easy way to transform the entire vibe of a room, she says.
Millennials Look for the Perfect Vintage Finds
Millennials, born 1981 to 1995 were the first generation to grow up steeped in technology. And maybe it's that constant connection to laptops and phones that has sent them running in the opposite direction. Millennials are the generation that love to scour antique shops and roadside secondhand shops, looking for that perfect vintage find. 
Amy Mings of Maison de Mings and a 2022 Better Homes & Gardens Stylemaker believes in always incorporating something vintage. "Vintage items help make each space feel unique and always spark conversation," says Mings.
Mixing old with new is also the motto of Jessica Akemon, a home decor influencer and woodworker. She always aims to include something old or personal in her decor. That can range from an old family book to a piece of furniture, or even a framed family recipe card with old sauce stains and memories of meaningful meals.
Image courtesy of Jessica Akemon
Akemon says, "Having personal charm included in every space is so important for meaningful balance, and makes for wonderful conversation pieces!"
Gen X Isn't Afraid to Experiment
Growing up in the 70s and 80s, Gen X, born between 1965 and 1980, was raised on independence from an early age. They're resourceful and confident in their decisions, which lends itself to a design process that's experimental and takes shape over time 
Ashlyn Goldberg, the interior stylist behind The Uncommon Collector, subscribes to that philosophy and believes in decorating slowly and letting a space evolve over time. She says, "Don't be afraid to experiment. Drag stuff around and see how that changes a room." But don't make rash decisions — let it simmer once you've changed it up. "Sometimes it takes a while to adjust to a change so observe how the space is used to see your changes are successful," explains Goldberg.
Enjoy the process of creating a layered, collecting space because that's half the fun. Goldberg adds, "It's an art, not a science, to decorate and style a home. Be authentic to yourself and find the joy in creating."
Baby Boomers Invest in Quality Pieces
With several decades of making their homes beautiful under their belt, the Baby Boomers, born 1946 to 1964, bring an appreciation for quality and a sense of personal style. They've said goodbye to flash-in-the-pan pieces and prefer to spend their dollars and their design energy on timeless items that they know they'll love for years to come.
Pamela O'Brien, Principal Designer at Pamela Hope Designs, appreciates quality and is willing to wait for just the right piece to create a beautiful home rather than waste money on interim items. She looks for pieces that can be loved and used for years. "It's a pleasure to just sit back and enjoy your well curated home rather than be constantly searching for the next bright, shiny object."
"I have learned to stick with the things I truly love for the "base" in my home which become my classics," vintage and design expert Marcie Millholland. She uses black and white in every room, usually in the form of white walls, a zebra rug, or white slipcovers, often complemented with classic blue and white chinoiserie, as well as stunning vintage pieces — rattan and faux bamboo being her favorites.
Image courtesy of Marcie Millholland
With those base items in place, she adds a touch of color or textiles, pulling in drapery and pillows that work within the room. Millholland draws these base pieces from room to room, even using them in bathrooms. She explains, "I even have a faux bamboo china cabinet in my closetless primary bath!""
The Silent Generation Still Loves Modern Lines
Born between 1927 and 1946, the Silent Generation is often known for their thrifty, practical ways, but that doesn't mean they don't have style. This is the generation that came of age when midcentury decor was in its heyday. They brought us the funky lines of the 60s and the extravagance of the 70s.
And Catherine Mitchell, great-aunt of Imani Keal, the design expert behind Imani at Home, is proof that style can keep evolving well into your 80s and beyond. "I love beautiful stuff. Whether it's household stuff or clothes, I just love it. That's why I don't go to the store anymore, I buy too much," says Mitchell. She adds, "I'm not particularly interested in older-looking furniture. I like the modern and streamlined look."
By Heather Bien: Heather Bien is a Washington, D.C.-based writer. You'll often find her making pitstops for roadside antique shops, drooling over original hardwood floors, or perfecting her latte recipe.