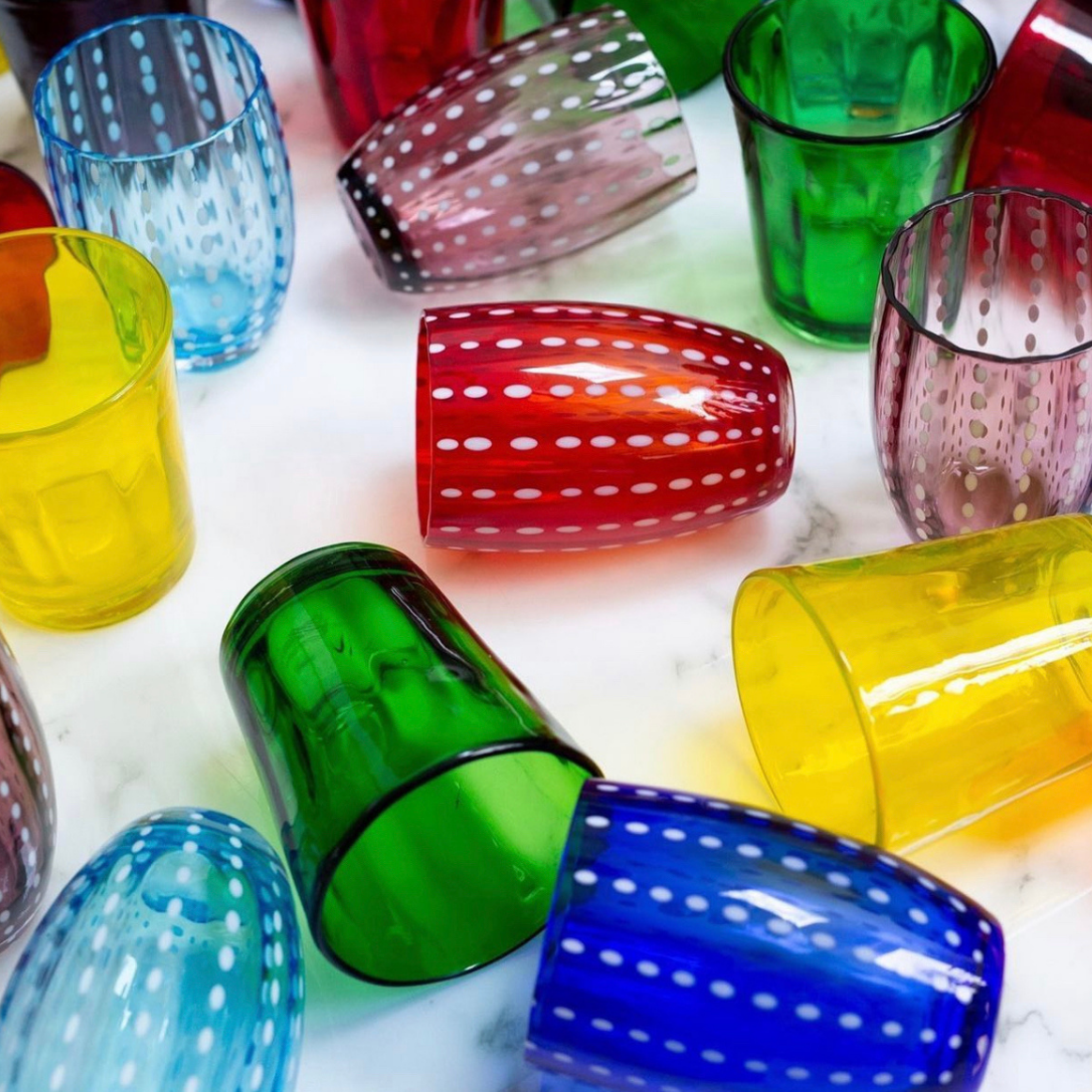 Creative Ways to Display Glassware
By: Sarah Lyon
I'll come out and admit it: I'm someone who has a bit of a glassware addiction. 
Whether I'm visiting flea markets, local retailers, or even just big box stores, I rarely come across a drinking vessel I don't like. I've scooped up tons of beauties over the years, and I firmly believe that sipping from a pretty glass elevates any beverage, be it a cocktail or just a simple iced coffee. 
Of course, keeping all of my pretty wine glasses behind closed cupboard doors would be super boring. A few months ago, I managed to score an amazing wooden storage cabinet on Facebook Marketplace, which features gorgeous glass shelves that allow me to admire my pretties at all times. But if you're not in the market for a large piece of furniture—or just don't have the space (trust me, I've been there)—you can still set up some super cool glassware displays in your own apartment. Below are some of my favorites. 
Sort by Color
This one's for all of my maximalist ladies. I love the idea of sorting glassware (and books) by color and displaying them together on one shelf in the living room. After all, who doesn't love to read while sipping their favorite bevvie? 
If you want to get this look in just a couple of clicks, we've gotchu covered. Our Madison Tumbler Set as well as our Bei Tumblers are super fun, colorful and are just begging to be a part of your bookshelf redesign. 
Create A Bit of Romance
I'm all about the idea of romanticizing one's life (TBH who isn't these days?), and setting up a cute at-home coffee station seems like the perfect way to do just that. If you're a mug collector (trust me, I'm one of those, too), this is also an excellent way to show off some of your go-to pieces. 
Just install some open shelving above the counter or table holding your coffee maker and get ready to start styling! During the pandemic I got in the habit of making myself a little afternoon iced coffee at home (RIP 2 pm Starbucks trips with coworkers!) and I would be all about adding a fun tumbler like this one to my coffee station. 
Add It to Your #Shelfie 
If you're lucky enough to have a tall curio cabinet, consider repurposing some of the shelves to hold glassware rather than trinkets. You can still include some books and decorative objects if you wish, but glassware takes up little visual space, so you don't need to worry about wine glasses and champagne flutes making your cabinet look cluttered. 
Speaking of champagne flutes, it's probably time to replace those dinky ones you've had for eight years. I love this set of six because 1) the citrine color is so swoony and 2) you can host a decent sized group of friends and ensure everyone has a matching glass (hey, it's the little things). 
Decorate Built-Ins
You can also jazz up simple built-in shelves in the kitchen by using them to display glassware! Sure, there's only so much storage space in any given kitchen, but you should aim to prioritize making your open shelving look nice and pretty. Food and Tupperware can be stored in drawers or cabinets, don't let it cramp your style. 
Some Quick Tips
Glassware isn't just for drinking out of! Your fave tumblers can also make for cute makeup brush storage or can be used as small vases. If you go antiquing and fall in love with a certain glass piece but cannot find its matching companion, don't sweat it—simply get creative and use the vessel to serve another purpose in your home.
Glassware always makes for a great gift. What on earth do you get your dad or that friend who has everything? A set of tumblers or champagne glasses, obviously! You can still touch on someone's personal style without risking disappointing that person in your life who's oh so picky. 
Nice glassware will elevate any social event in an instant. Gone are the days of sitting on someone's extra long twin bed sipping out of a Solo cup. We're adults now and deserve to have nice things! Your guests will notice your matching set of drinking glasses, we promise.
By Sarah Lyon: Sarah Lyon is a New York City-based freelance writer who contributes to a number of national design and lifestyle publications like Architectural Digest, Apartment Therapy, MyDomaine, the Wall Street Journal, and more. Sarah also works with designers to help them style spaces for photo shoots. Find more shelfies on her Instagram page, @sarahlyon9