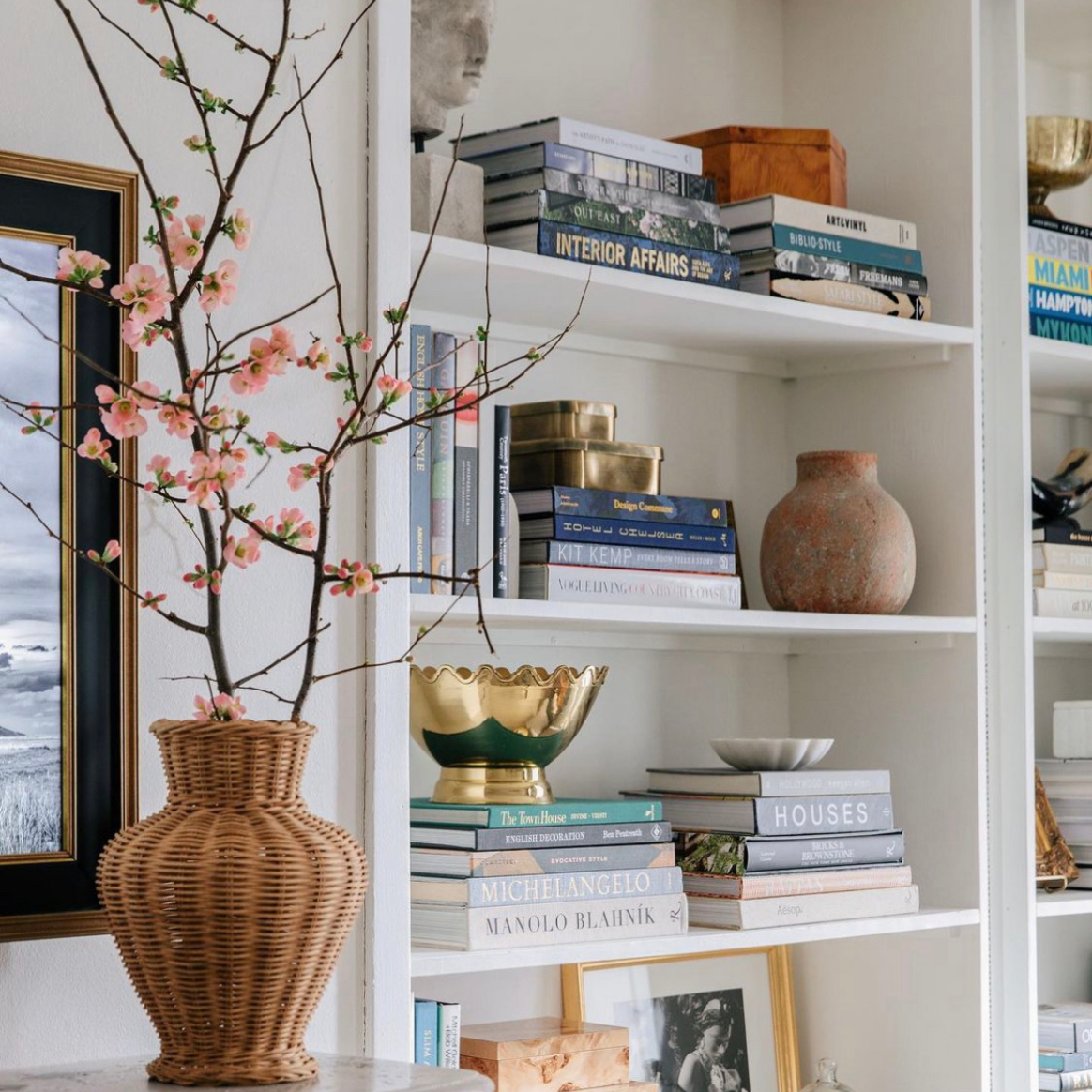 Beautiful Touches on a Budget
By: Sarah Lyon
Feeling stuck when it comes to designing a beautiful home while sticking to a budget? Don't worry—we're here to help by rounding up some of our favorite DenXYZ items that retail for less than $100 and can be styled in a multitude of different ways depending on your mood. Read on for our top picks and easy to implement suggestions. 
Plate It Up
Can one ever own enough little plates? In my opinion, the answer is no—items like these are not only fabulous for entertaining but make for excellent decor, too. Stock up on three or four to use as serving plates for appetizers and desserts when friends stop by; we're sure your guests will love the Instagram-worthy designs.
Then, rather than stashing these little plates behind kitchen cabinet doors when they're not in use, consider scattering them around your apartment. Get creative: Place one on your nightstand and use it to corral jewelry, then set another on your coffee table where it can hold matchbooks or loose change. Set the third in the bathroom where it can make a fabulous stand for a perfume bottle or two. 
Textured Accents
A well-styled home is one that incorporates plenty of accent pieces and textures. If you haven't already invested in one-of-a-kind, handmade pieces, this is your sign to scoop up a beautiful pottery bowl. It makes for a gorgeous fruit bowl on the kitchen island, but we won't judge if you use it to hold something a bit more fun—like bottles of nail polish or Polaroid pictures, perhaps?
Or, you simply opt to keep the bowl empty and use it as a styling object. Place it atop a stack of books on your built-ins or let it shine on a shelf all by itself if you prefer a more minimalist look. If you're looking for a decorative bowl that still gets your guests talking...look no further than the Alyson Fox Small Glass Footed Bowl.
Invest in One Wow-Worthy Item
A vase might just seem like...a vase. But, with or without flowers it adds a punch of design to any surface. While the Oily Folds Vase truly shines when holding fresh blooms, you'll get plenty of bang for your buck due to the fact the holographic finish changes depending on the light.
So, if you want your guests asking...is it purple? Is it green? Is it gold? This is the product for you. It's sleek enough to add as a dinner table centerpiece but can also standalone on a built-in shelf or bedside table.
Fancy Glassware That's Affordable
Iced coffee tastes better when it's presented in a fun glass, right? Same with a gin and tonic…and well, anything! Glasses add a sleek and sophisticated vibe to your abode while being functional enough to break out for your next dinner party. And if your kitchen cabinets are packed to the brim and could use some breathing room, fear not. You could still scoop up some adorable sets and split the vessels up around your home.
We love the Grey Bubbles tumbler for their aesthetic and ease of use. Add them to the bathroom to hold makeup brushes. Place one on your nightstand and use it as a vase, and keep the remaining cup on your desk and turn it into a chic pencil holder. 
Add Art Without the Cost
Sure, you could have mass-produced artwork that is mass-affordable, and if you're seeking large-scale pieces this can be an easy route. But, don't forget to also incorporate artwork that reflects your innate sense of style and design. 
These Vintage Dictionary Prints come with an assortment of designs - from a lobster to pop-art style ice cream cones - that are printed on vintage dictionary pages and come matted and pre-framed...which, saves a lot of time (trust). Adding in a few unique pieces here and there will allow your decor to speak for itself while lending a curated feel to your home.
Shine A Light on Overlooked Spaces
Coffee table design might not be at the forefront of your mind when it comes to wise spending, but in a room where you will spend so much time, a little investment can't hurt.
Using the Dali plate OR bowls from above, add in some colorful coffee table books as a base. Utilize your book of choice as a way to express your style, hobbies and experiences. You might have seen ASSOULINE books everywhere, and we have plenty to choose from. Coming in at just under $100, I promise it's worth it. And, once you up your coffee table collection, you can always re-purpose them on a bookshelf for the perfect #shelfie. 
There's no need to break the bank buying endless accessories when you can get creative with a few pieces that you love, and we hope you appreciate these fab finds as much as we do!
By Sarah Lyon: Sarah Lyon is a New York City-based freelance writer who contributes to a number of national design and lifestyle publications like Architectural Digest, Apartment Therapy, MyDomaine, the Wall Street Journal, and more. Sarah also works with designers to help them style spaces for photo shoots. Find more shelfies on her Instagram page, @sarahlyon9