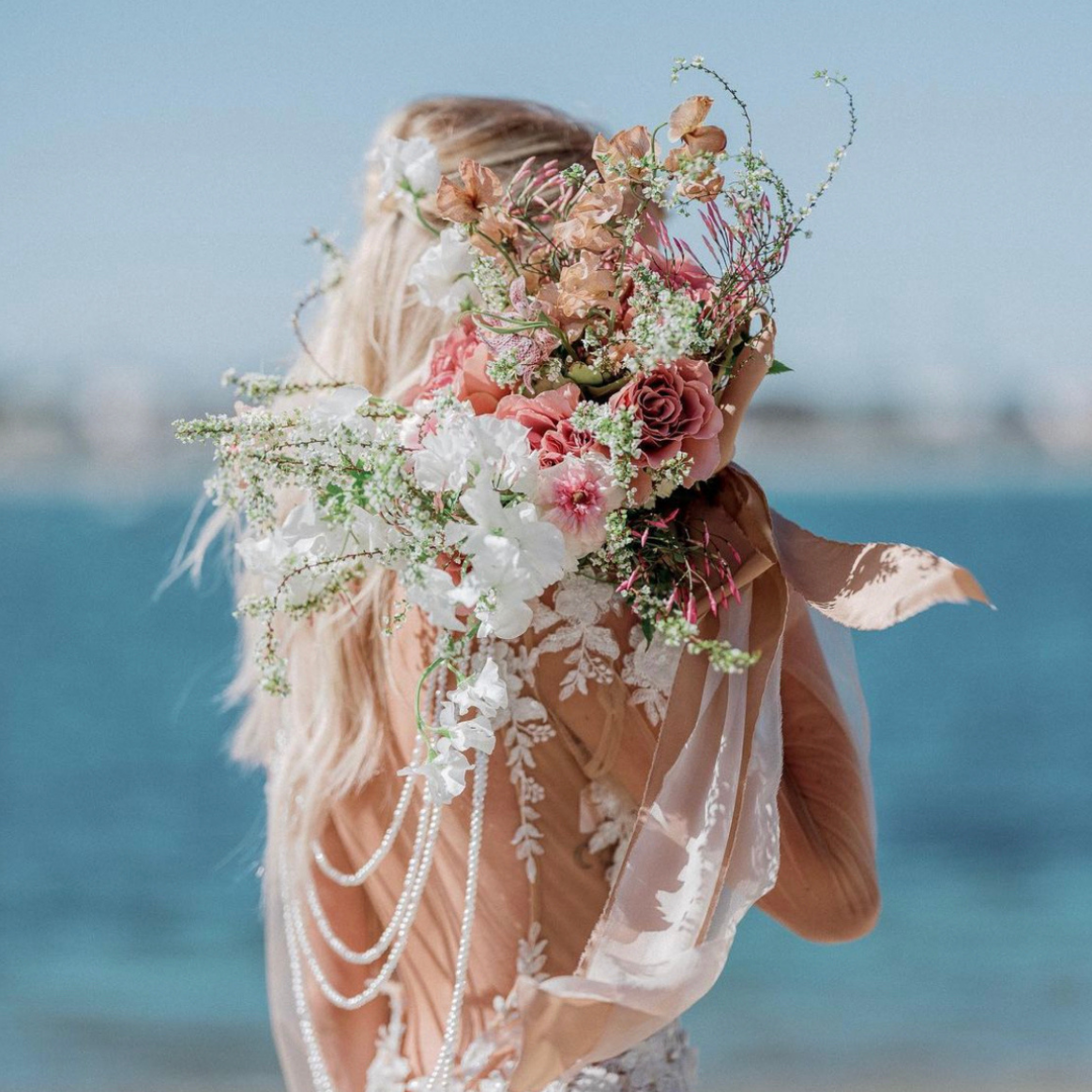 How to Build a Wedding Registry that Doesn't Suck
By: Caitlin Meuser
It is a truth universally acknowledged that a newly engaged woman in the midst of wedding planning must be in want of a Kitchen Aid Stand Mixer. And a Dyson vacuum cleaner. And an air fryer, a cast iron skillet, his and hers bathrobes, a 12-piece all-clad cookware set, a Dutch oven, a juicer, a blender, linen napkins, oh and don't forget the linen sheets.
As a soon-to-be-married woman, I must want all these items associated with domestic bliss. After all, don't I want a kitchen for entertaining? Don't I want a home for raising children, a bedroom for lounging, and a bathroom for taking long Epsom salt baths? Don't I want the perfect married life?
The wedding registry promises to delivery all of that to me and more, as long as I register for the Exact Right Things that Every Bride Must Want. The only problem is that I don't want these things. I don't cook (well). I don't live in a country house with a subway tiled kitchen that has endless storage space. I live in a small two-bedroom apartment in the city that doesn't have room in the master bedroom to fit a dresser next to the bed. Even if I did want these tokens of domesticity, I have no space to store them.
So, I've decided to do something radical with my wedding registry. I've decided to only register for the items that will bring me and my fiancé joy in our future married life. These items merge functionality with good design and reflect our relationship's unique style.
A Couple Who Snacks Together Stays Together
During quarantine, my fiancé and I started observing happy hour every evening at 5 o'clock sharp. Happy hour entailed a glass of red wine, a Netflix show playing in the background, and bags of various snack foods splayed across the coffee table. It was a time to be together and relax after a grueling day of Zoom calls. While we haven't kept up this nightly routine, we still enjoy some pre-dinner drinks and snacks on a Friday evening. I'd love to elevate our happy hours with these artisanal snack bowls. Instead of eating nuts right out of the bag, we can be civilized married folk and eat them out of these simple yet beautifully designed bowls. 
A Mug to Warm the Heart
We may not have that country house with subway tiles, but that doesn't mean we can't enjoy our morning coffees in a pair of handcrafted mugs that give off strong farmhouse vibes. Everyone needs that one perfect mug, and I can quickly see these mugs starring in our morning coffee routine (mine taken black, his taken with more milk than coffee). The textured glaze and the weighty construction of these mugs make them durable, timeless pieces that I would pass down to future generations.
Romantic Candlelit Dinner
I said that I don't cook (well), but when I do cook dinner, I like to create a relaxing dining experience. We're talking soft jazz playing in the background, candles lit, and lights dimmed. I do love a good tapered candle, but these sculptural candles are more objects d'art that would really elevate our romantic dinners. These candles are a luxury item I wouldn't necessarily buy myself, making them a perfect registry gift.
Breakfast in Bed
I've never had breakfast in bed, but I imagine that it's wonderful. Hot coffee, an omelet, and fresh fruit without having to leave the warmth of my bed? Sign me up. Every good breakfast in bed needs a sturdy tray, and hopefully this tray plants the idea in my future husband's brain. When its not transporting breakfast foods, this tray would also make a gorgeous natural accent on our coffee table.
There won't be any monogrammed towels on our registry, but I hope that these bespoke objects reflect our identity as a couple better than some thread on cotton.
By Caitlin Meuser: Caitlin Meuser is a New York City-based writer, and her favorite weekend activities include museum hopping and rearranging the furniture in her small apartment. She has a weakness for New England antique stores and vintage rugs. Caitlin studied art history and creative writing in college, and she currently works in publishing.