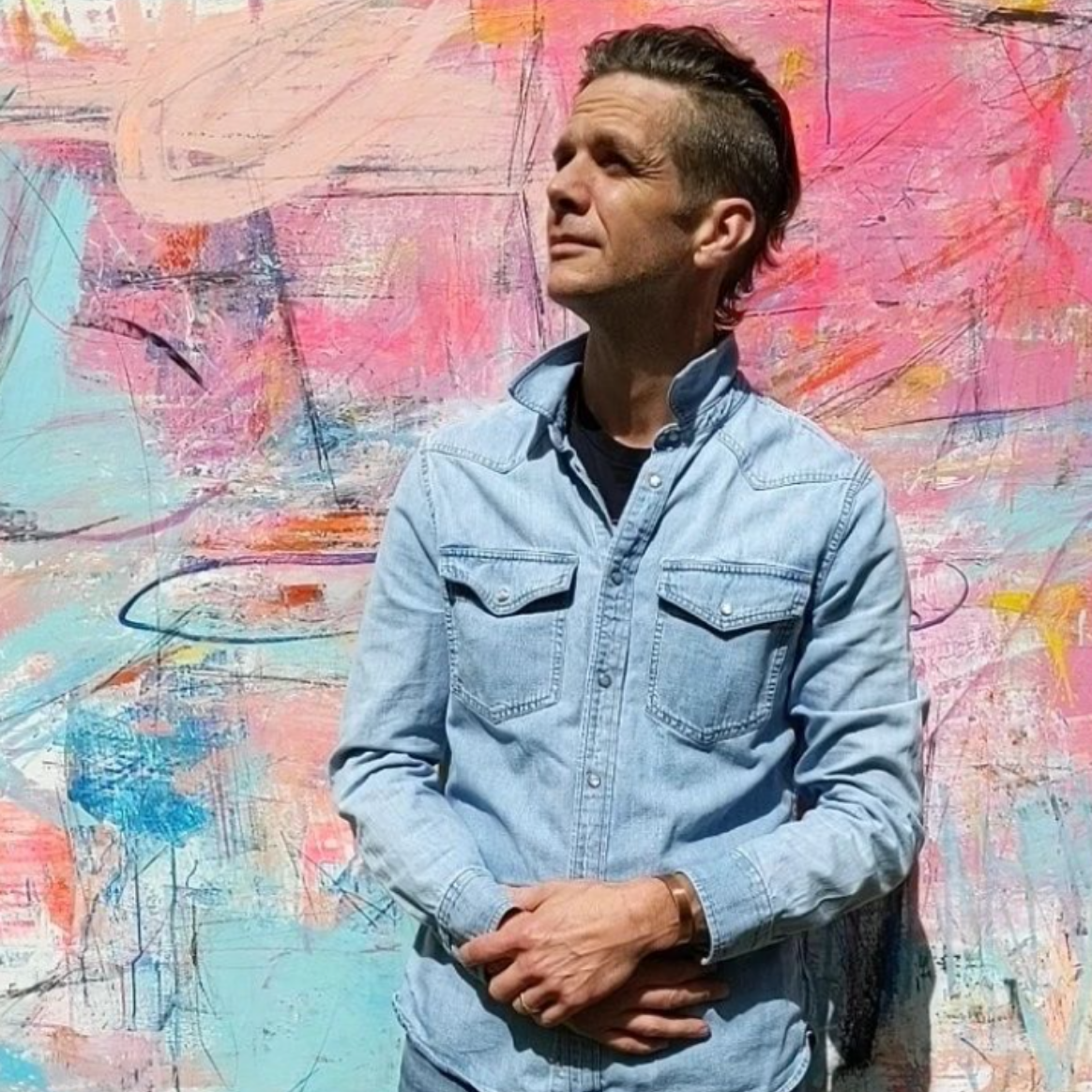 A Journey That Leads to the Sea
By: Angelica Frey
Joseph Conrad-Ferm swears by the yiddish word beshert, which, roughly, means destiny, in a 'when stars align' kind of way.
In particular, with regards to his own life, "Everything, just everything, just lined up," he says of his present life. After spending the past 18 years in Upstate New York, he and his family recently relocated to Cape Cod thanks to a job opening in the area.
On the Cape, the unique flora, nature, and expansiveness of the ocean infused Conrad-Ferm's artistic output with new sources of inspiration, which went alongside his own memories of spending time at Martha's Vineyard.
"When I'm in the studio and I'm creating, I almost feel like a kid but there's something magical and it's hard to put a finger on," he says. "This area has somehow opened up or unlocked access to a new set of ideas." 
Novelty, nostalgia, and the unique color palette of the area spawned a collaboration with DenXYZ. The oceanic and existential-themed Ebb and Flow, which references both the movements of the ocean and the way life combines chaos, grief, and beauty alike. 
Conrad-Ferm is billed as an abstract expressionist according to the West-Palm-Beach-based Paul Fisher Gallery. The definition of Abstract Expressionist, however, does feel limiting. Rather, he proceeds by eras. In fact, he came to making art in a roundabout way.
"What was I doing?" he mused about his early 20s. "I think it's what I wasn't doing. So in my early teens, and through my early 20s I had a severe problem with alcohol: that addiction took me to some places that I hope that I don't ever have to revisit. I've been sober for over 20 years now," he says. "Something happened in that first couple of months: I had wanted to paint through middle school, high school. I was in a couple of advanced painting classes through high school, which was great. But after high school, I just kind of went off the deep end. I wanted to paint but I couldn't. I had so many instances where I had a brush in my hand, and it physically pained me to not be able to do something on the canvas, so I kind of gave up on that."
Shortly after giving up alcohol, he tried to paint a picture to impress somebody, "While I was doing that, something clicked and I said oh my god, I can do this without the alcohol involved, and my spirit became a little bit clearer." 
His first paintings had a dark palette and were, in his own description, crude and rough, but in a cathartic way.
"I still have those paintings in my basement and even if I was offered seven figures, I wouldn't let go of them," he says.
In the past decade, you see his color palette shift: in 2012, there are dark yet bright colors of something akin to an abstract cityscape; by 2014, his paintings have more defined geometries and a lighter color palette; in 2019, he seamlessly combined swirling shapes, both in bright colors and in neutrals. In 2022, the color palette and mood of a quintessentially North-Atlantic landscape - muted blues, pinks, desaturated greens, and sand-colored neutrals - take precedence.
"The majority of the work that I've created over the last year, plus the ocean, is in there, and the trees, the seagrass, the tidal pools. It's in everything that I'm doing," he says. 
The ocean is also a daily presence in his life: he and his family live 8 minutes away from the beach. One day in late September last year, as the vacationers had mostly vacated the area, he just started swimming every day.
"I kept going back to the same beach every day. I did that through October, November, December, through January." He would not even skip days when the wind was blowing at 20mph, the outside temperature was 15 and the water at 34 degrees.
"We're planting our roots here and if I have the good fortune of taking my last breath here on Cape Cod, you know, I'll be a happy man, but in the interim, there's work to be done, there are paintings to create and there are relationships to be forged," he says.
"I feel like I have I'm in a unique position in that a few days a week I get to be in this role as a caregiver at the hospital. I get to interact with the community in a really special way and then I get to come home after that. And for me to be able to decompress in the studio is really a godsend. It's times like this that I think we need more beauty, we need more beautiful things."
Shop Joseph Conrad-Ferm's Art on DenXYZ
By Angelica Frey: Angelica Frey's aesthetic combines classicized decadence with maximalist prints and a bold color palette. For the time being, though, her Brooklyn apartment is mostly white with yellow, turquoise, and pink accents. You can read her work in New York Magazine, The Guardian, WSJ, and ArtNews. She's always looking for more designers and creatives to talk to @angelica_frey_writes