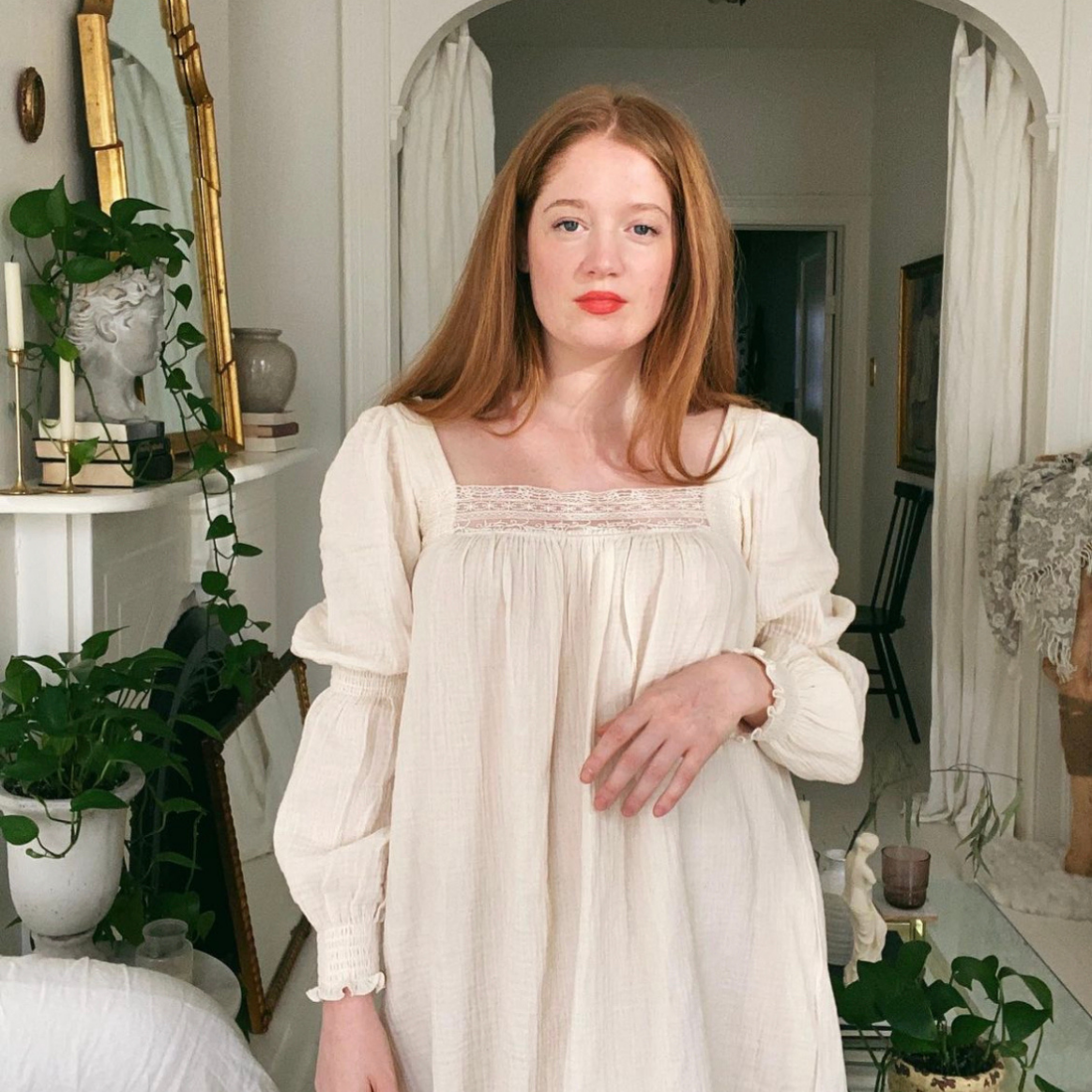 An Intuitive Rental Re-Design
By: Angelica Frey
If one were to pinpoint what best encompasses the style and aesthetic of Brigette Muller (aka Hummusbirrd) it's not her blend of Versailles-lite, Neoclassical, and Victorian aesthetic, it's mirrors.
No, not your average minimalist mirrors that decorate many entry-level apartments. She favors large ones complete with ornate, gilded frames. One might call the style "Grandmillennial," but there is nothing frumpy in her decor. It's light Academia stripped of any element of twee.
Mirror, Mirror On the Wall
"I grew up with mirrors in my home. My mom did it: more than decor I think she did it more as a way to make a space look bigger, to reflect light," she told DenXYZ.
Then, when she was in college, she found a circular mirror with a gilded frame on the side of the road. "It's been falling apart over the years but I just love it for some reason," she said. "It's so vintage looking -- there are like scrapes in it that just make your reflection beautiful. It's like having a filter in real life."
This mirror has accompanied her to every apartment she's lived in: from the temporary accommodations that would not last more than a year to her current Greenpoint apartment, which, in itself, is a lesson on how to make the most of a New York City rental.
She sources her furniture and appliances from a mixture of thrift stores, independent designers, investment buys (her couch!), and home stores.
Let's Talk Color
Her living room, which we often see on her Instagram and Tiktok, largely relies on a light, warm, muted color palette which encompasses the floors, upholstery, throws and even the mantelpiece. 
"Favoring neutrals, I think, is something I've matured, but I think that it starts with my own body and my physical style," she said. She describes herself as a pale redhead, which leads her to keep her personal color palette muted to maximize her natural coloring. "That has then overflowed into my surroundings because I want to feel like I match my surroundings.... I will say that, more recently, I'm getting more into the idea of color."
Color is usually limited to what she refers to as "layers," namely pillows and other accents that are necessary to make a room homey. So far, though, these color accents are limited to dark green (which is a nod to her lush indoor-plant collection) and dark gold, which matches with the frames of her mirrors.
Black, however, is discreetly creeping into her home decor.
"I think my style has matured and I'm starting to realize I can't just do whites, I need to have the black to anchor this space," she said. She has a couple of black wooden chairs, and she also painted the inner part of her mantelpiece black. Books, which she uses as decor accents, also add some black accents.
Why Renovate a Rental?
Built in 1928, her railroad apartment is a constant work in progress: last summer, she decided to repaint the white wooden floors in a warmer hue, which elicited a mixture of awe and sneer on TikTok. Now, however, she is investing in appliances.
"I am getting a brand new shower installed and I've gone back and forth on wanting to retile the entire bathroom. Then, I decided I'm just gonna keep it simple but I have this beautiful new shower fixture." Prior to that, she had a vintage sink installed in her kitchen, and also got a marble board to double as the base of a drying rack. 
A re-design to this degree might seem counterintuitive in the rental market of New York City, where the bones of the apartments are, most of the times, mediocre, and people tend to bounce from place to place every few years. Muller does not mind.
"My entire space is my sanctuary, and so, if there are things in it that I don't like, I will immediately be drawn to that and that's all I can focus on," she said. "So I just want to have every little thing be something that I love. And I know that that's kind of ridiculous for a rental but I really don't care because it brings me so much joy."
Between practicality and beauty, she chooses the latter. "That's what I care about: I have always been this way, I love when something looks good. That gives me a good feeling. When something doesn't work well it gives me a bad feeling," she said. "But if the thing that doesn't work well is beautiful, that outweighs the fact that it doesn't work so well."
Follow along with Muller's rental re-design on her Instagram and TikTok.
By Angelica Frey: Angelica Frey's aesthetic combines classicizes decadence with maximalist prints and a bold color palette. For the time being, though, her Brooklyn apartment is mostly white with yellow, turquoise, and pink accents. You can read her work in New York Magazine, The Guardian, WSJ, and ArtNews. She's always looking for more designers and creatives to talk to @angelica_frey_writes