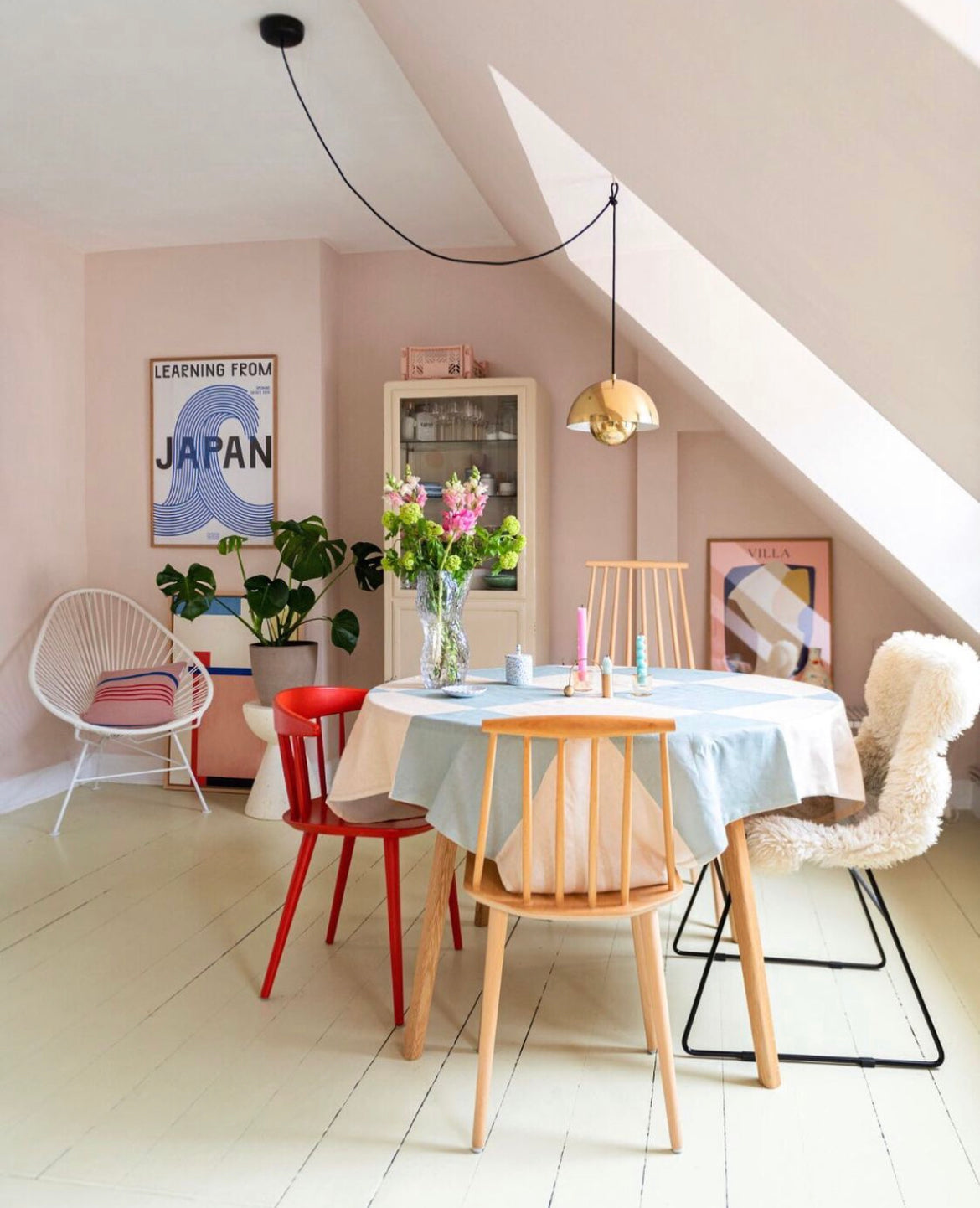 An Introduction to Danish Pastel
By: Angelica Frey
If you mainly associated Scandinavian decor with textures, wood, shades of white, warm grays, and some light-colored browns, you're stuck in 2015. Scandi style has turned pastel. Mysteriously known as Danish Pastel (why not Scandi? I guess we'll never know), this interior-design aesthetic has been floating around since 2020.
The basics? It combines the pastel and sherbet-like color palettes of VSCO with the soft, rounded edge of Kawaii. Yet, where the former is minimal and the latter is intentionally very childlike, Danish Pastel is quintessentially whimsical. 
Danish Pastel is an aesthetic that can be dialed up or down at leisure. If you fear that your personal space will turn into the interior designs seen in 1990s Polly Pockets, keep reading for three entry-level tips.
Art for Decor's Sake
Aesthetically, Danish Pastel is rooted in modernist art and it's easy to see why: artists like Kandinsky, Matisse, Chagall, and Kirchner had color palettes whose harmony lay in contrast and clashing hues. Yet, Matisse is perhaps the most mainstream of those (especially on social media) and you can see his influence in the wall art of those who favor Danish Pastel.
If you want your space to stand out while still emulating the 'basics,' we'll be happy to take you on a walk in the garden or to offer you a bouquet of flowers that will never die. Coined as the 'Matisse for those in the know,' Roger Bezombes took inspiration from Matisses' saturated palette to transform everyday objects into a work of beauty. 
Don't want art on your walls? Get creative and add it to your bed or couch. The Perry Throw, with its rainbow-like pattern of bright pastels, adds a hint of Danish Pastel but can also complement other design styles like maximalism and eclectic.
Those who fancy colors but are not impressed with shapes and curves can still get a good dose of Danish Pastel with Edith Young's Tonya Harding's Figure-Skating Costumes, a series of Pantone swatches featuring the colors she wore on the ice rink.
Candles Take Center Stage
Fancy, scented candles with sturdy vessels no longer take the cake when it comes to home decor. Turns out, candles can easily double as sculptures (and you can easily get rid of them by burning, should you tire of their presence in your living space).
Given its proximity to hygge, Danish Pastel has a thing for sculptural, whimsical candles. Lex Pott's Twist Candles, a snake-like structure that comes in pastels and bright shades, have been so ubiquitous that they became a parody on TikTok. Candy-colored busts of David's Michelangelo, alongside seashell-like candles, are other staples in Danish Pastel. 
Yet, of course, we prefer the edgier alternatives. For rounded, sculptural candles look to the Molecule Candle and the Dip-Dye Neon Candles, which can elevate what would otherwise be an overly saccharine decor. If you're still #teamtaper the drip candle holder introduces surrealism with a silver contrast that pairs well with pastels. 
All About That Glass
With its soft edges, swirl-like pattern and delicate color palette, it's easy to see why the Murano Mushroom Lamp is a staple in Danish Pastel. Yet, Danish Pastel's fondness for glass goes way beyond lamps: cups, candle holders, and vases are all items that lend themselves well to rounded shapes and hints of pastels.
One of our favorites, the Oily Folds Vase, can fit in with the pastel aesthetic while the ever-changing, holographic hue adds an edge. Want to keep it light? Pair white blooms with the vase and style it among complementing items to get the full effect.
If you're looking for a more multi-use item, we are partial to pitchers (whether they're filled with your favorite pour or a bouquet of flowers). We have our very own Murano Art Glass Drink Pitcher (thanks, it's vintage) that makes a statement on the shelf AND dinner table.
The Hobnail Pippin Pitcher also meets the needs of those who want a touch of Danish Pastel and its signature, hobnail polka dot-like pattern can help keep your Danish Pastel abode safe from resembling Barbie's Dreamhouse. 
If you're clumsy, consider acrylic. Candy dishes inspire the playful whimsy that dominates the Danish Pastel vibe while being totally unique and eye-catching. Bonus? You can pick out one based on your favorite candy. Which begs the question - are you team gummy sharks or peach rings? 
All in All
If you're looking to go full-blown Danish Pastel, then yes, feel free to add an Ultrafragola mirror, sculptural candles, plush pillows in various shapes and textures (no squares here) and paint the walls in a pastel explosion. Yet, if you are still clinging to your 'decor choice' (be it traditional, eclectic, modern, or minimalist) and want to dabble in Danish, these touches can blend elements without being overbearing.
At the heart of it, Danish pastel is the embodiment of youthful decoration for grownups (think back to your elementary or middle school bedroom but make it 'adult') so, no matter if you're choosing to go big or small, don't forget to embrace your inner child and have fun with it!
By Angelica Frey: Angelica Frey's aesthetic combines classicizes decadence with maximalist prints and a bold color palette. For the time being, though, her Brooklyn apartment is mostly white with yellow, turquoise, and pink accents. You can read her work in New York Magazine, The Guardian, WSJ, and ArtNews. She's always looking for more designers and creatives to talk to @angelica_frey_writes