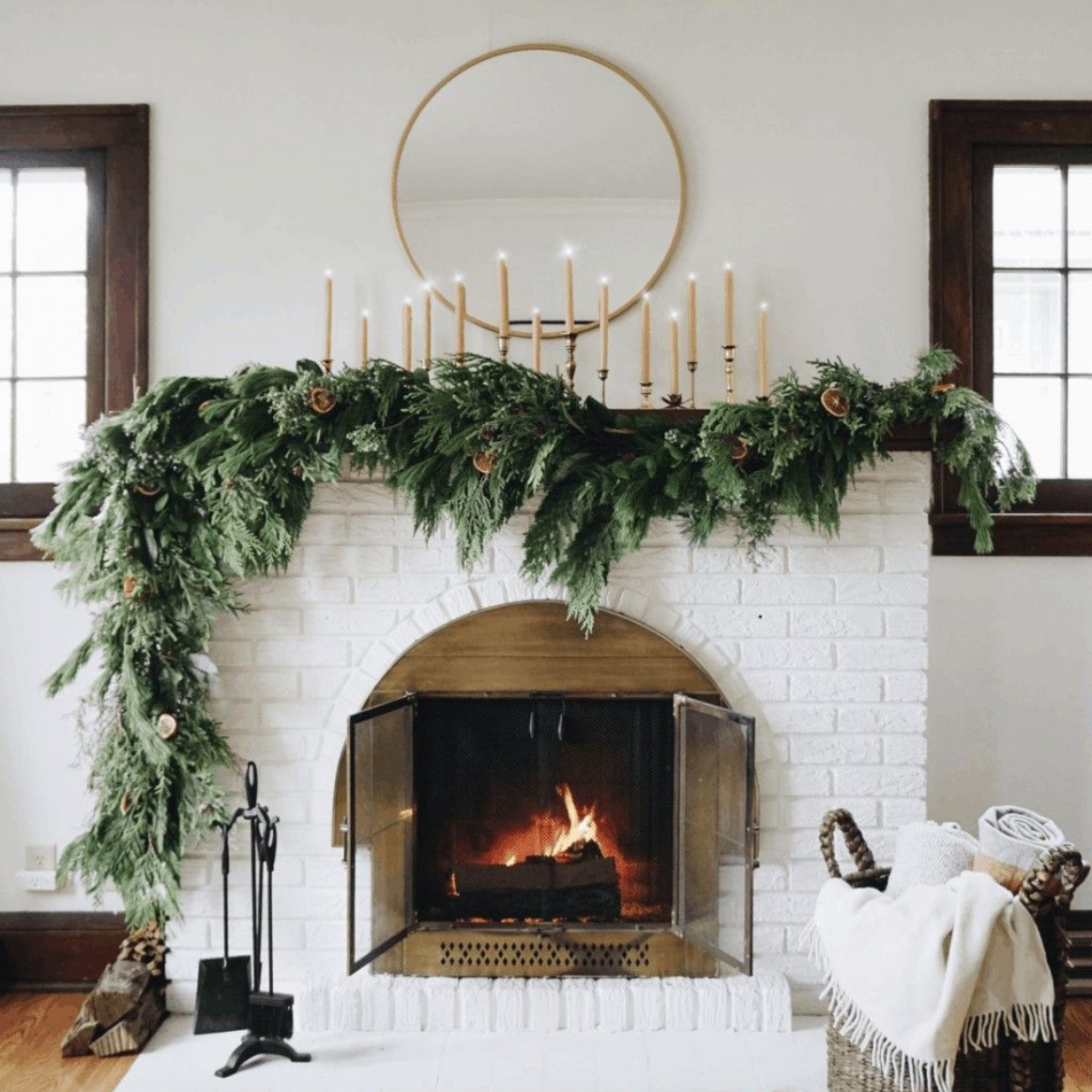 7 Instagram Accounts to Follow For Holiday Decor Inspo
By: Sarah Lyon
There are plenty of amazing home-focused Instagram accounts that I love to follow all year long, but the holiday season brings about a newfound appreciation for many of my favorite content creators. Especially those who knock it out of the park with their winter decor. 
Year after year, I find myself turning to the same fab 'grammers for inspo as I deck my own halls. And since it's the season of giving, after all, I figured I'd introduce you to these creatives, too! Below, I'm sharing seven of my favorite home influencers whose innovative hacks will most definitely put you in a jolly mood! 
Glitzy Garland
Erin of Francois et Moi is basically the garland queen. She always manages to make it look flawless throughout her home (and did a stunning job decking out a friend's brick fireplace, too—this famous image of hers is constantly floating around the internet!). Last year, in my former apartment, I took Erin's advice and used command hooks to hang garland around an archway, and the system worked wonderfully. I also love following Erin during the holidays because she encourages followers to share their own festive makeovers using the hashtag #handmademodernholiday. Hello, endless inspo! 
Waiting For My Invite 
Consider this my official plea to score an invitation to one of Anastasia Casey's stunning holiday dinner parties. The founder of The Identite Collective has truly mastered the art of the tablescape and makes every seasonal gathering look oh-so-festive and inviting. No detail goes unnoticed, from the napkins to touches of greenery. Better yet, Anastasia loves to share simple DIYs with her followers, so keep an eye out for her tips, too. And as if her fab tablescapes weren't enough, Anastasia is majorly creative when it comes time to outfit the rest of her house for the holidays—her whole home becomes an artfully arranged winter wonderland come December. 
Holidays on a Small Scale
As an apartment dweller myself, I love seeing how Mallory Fletchall has managed to decorate her small yet mighty Brooklyn abode over the years. She's amazing at making use of her mantel, getting creative with vertical space (how cool are her hanging candles?!), and adding pops of garland in unexpected places. All the while, her contemporary decorating style shines through and is majorly swoony. Mallory's setup is proof that a few intentional touches can go a long way, particularly when short on square footage. 
Not Your Average
Lowe Saddler's space is always filled with a whole assortment of eye-catching, eclectic accents, which she cleverly incorporates into her seasonal setups, too. As a lover of bust statues myself, I can truly say there's nothing better than seeing one wrapped in twinkly lights. And don't be afraid to break out a disco ball—it'll look ultra fab come New Year's. 
Handcrafted Holidays
Rebekah Lowin's Jewish lifestyle account is filled with suggestions for celebrating holidays all year long, and come winter, she continues to knock it out of the park. We're loving the thoughtful blue and white details that make up her Hanukkah tablescape and can't get over her handcrafted floral menorah, either. Brb, off to the craft store we go! 
European Touches
Hattie Kolp has an ultra-cool living situation year-round: After college, she took over her parents' lease in the NYC apartment in which she grew up and transformed it into a fabulous bachelorette pad. Around the holidays, Hattie makes her space look even more cozy and charming, with thoughtful, classic touches around every corner. If your aesthetic is all about vintage or Parisian elements, you'll want to take a cue from her home. 
More Sparkle, Please
If your style leans glam, you definitely can't miss Monica Benavidez's holiday setup, which features bows, baubles, and all of the black, white, and gold. If you're itching to think beyond the traditional Christmas color scheme when it comes to decorating your tree, you'll know where to turn! And we're majorly into her decision to hang floral patterned stockings by the fireplace.
By Sarah Lyon: Sarah Lyon is a New York City-based freelance writer who contributes to a number of national design and lifestyle publications like Architectural Digest, Apartment Therapy, MyDomaine, the Wall Street Journal, and more. Sarah also works with designers to help them style spaces for photo shoots. Find more shelfies on her Instagram page, @sarahlyon9