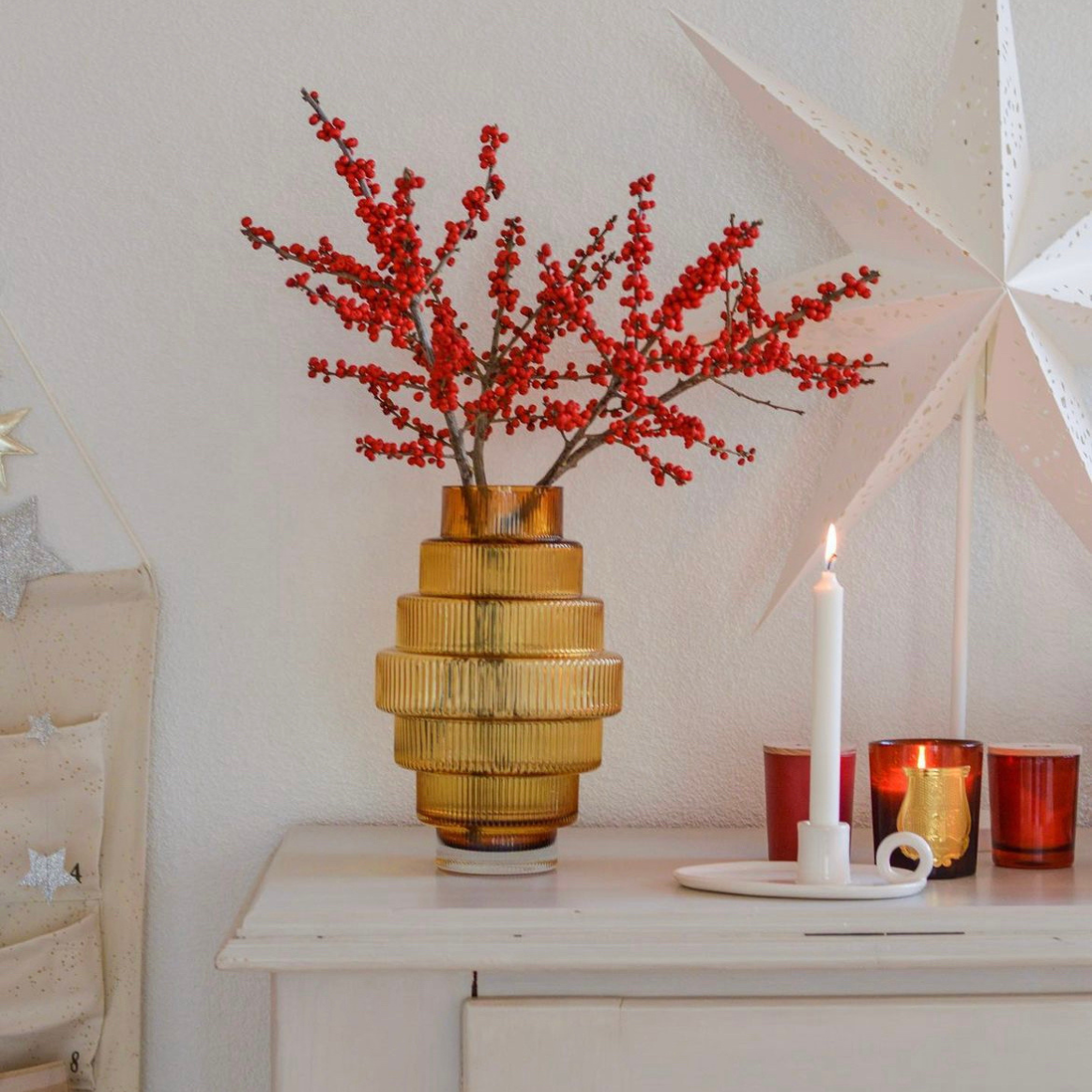 From Candles to Cable Knit: 4 Ways to Nail November Decor
By: Heather Bien
Halloween is the decor darling these days, with 12-foot skeletons and Hocus Pocus-themed cauldrons making the rounds on Instagram. And Christmas is a perennial favorite. Who can resist the warm glow of twinkle lights surrounded by classic tartan or a modern melody of gold and silver glittering across a tablescape like fresh fallen snow. October and December have all the design fun, right?
And November…November gets lost somewhere in the middle. Cornucopias and pilgrim shoes don't have quite the Instagram-ready appeal of their flashier holiday siblings. But this year we're making the case for November decor that does double duty. We think there are more than a few ways to make your October decor shine through the end-of-year festivities.
Use Colored Glass Accents to Switch Between Seasons
Who says Halloween has to be all orange and black? We love introducing either ghastly colors to the palette, and a red glass vase gives perfectly ghoulish vibes. But, as soon as the calendar switches to November 1, you can use that same glass vase for an elegant vignette that incorporates fall plaid, taper candlesticks, and warm textures like woven or wood baskets. You can even bring in natural accents. "This is my favorite time to go to the flower mart where there are so many options for fall foliage to put in all my vases," says Janette Mallory of Janette Mallory of Interiors. 
Then, when the festive spirit settles in after Thanksgiving, use the red glass as an accent to an iconic Christmas styling moment with tartan, gold, and glittering accents. Don't have red? Opt for warm amber with red accents. 
A Candlelit Glow Works All Fall and Winter
No matter the season, you can never go wrong with taper candles. But they're best when there's a chill in the air. "Candles can be in organic neutrals in cream and coffee to complement the warmer hues of cinnamon reds and browns, earthy greens and golds, and rich umber browns," says interior designer Gaby Jimenez.
Opt for an ivory white for something that's entirely seasonless, or choose a clay or mustard color. Clay is the perfect shade of red to accompany spooky October settings, then blend seamlessly with your abundant pumpkin and apple tablescape in November, and finish out the year by complementing a tartan tablecloth. Mustard, on the other hand, adds a gruesome pop to orange and black Halloween decor, fits in flawlessly with the cornucopia of November, and pulls out the subtle accents in a timeless red plaid for Christmas.
Cozy Up Your Space with a Throw
Once there is a chill in the air, a comfy throw blanket goes with everything. And, while October is spooky and December is sparkly, November is all about settling in for a cozy night at home. Opt for a blanket in ivory that will go with everything and you won't have to think about swapping this out until the first warm days of spring arrive.
Photo courtesy of Heather Bien
Toast to All the Seasons with Vintage Glassware
As soon as November hits, it seems like the world finds more reasons to gather together. From Friendsgivings to multiple Thanksgiving feasts to an entire season of holiday parties, the cooler months are all about celebration. Jimenez explains, "Vintage pieces of glassware or dinnerware complement this season as we start to open our doors to family and friends." 
These dazzling vintage glasses and multicolored tumblers are the perfect to pull out for a display on your bar cabinet starting with your Halloween party and keeping it through the 12 days of Christmas. Both look as pretty as they are functional, and we promise you'll find reasons to use them all season long, from a quiet Friday night at the beginning of November to artfully displaying dessert on Turkey day.
See, November doesn't have to be the redheaded stepchild of seasonal decorating. In fact, November is the perfect middle ground as you shift from spooky to spirited!
By Heather Bien: Heather Bien is a Washington, D.C.-based writer. You'll often find her making pitstops for roadside antique shops, drooling over original hardwood floors, or perfecting her latte recipe.