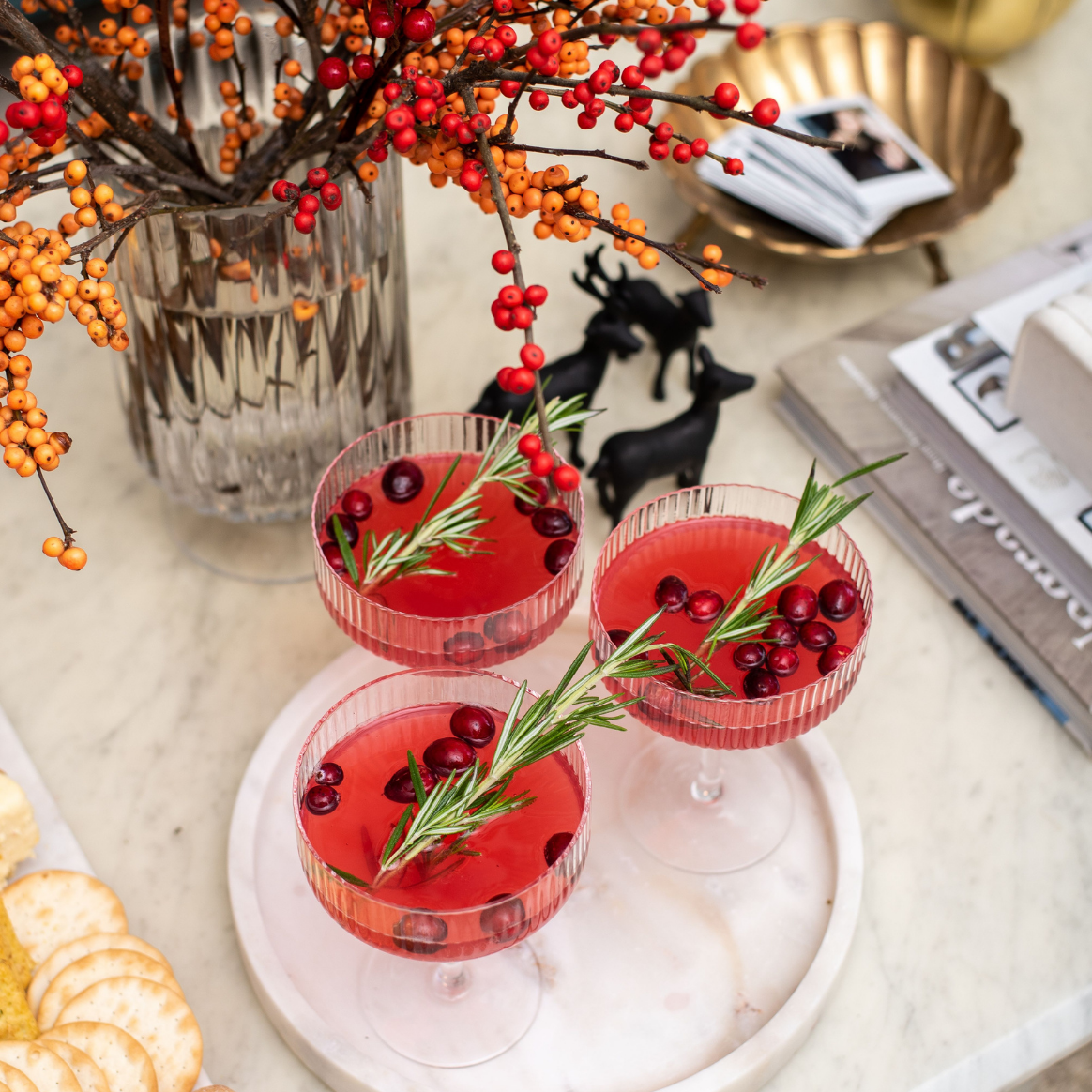 Holiday Hosting Refresh (and a Recipe for a Cup of Cheer!)
By: Sarah Lyon
The holiday season is officially here, and it's time to gather your nearest and dearest and get in the festive spirit! If you're entertaining friends at your place this season and need a bit of a hosting refresher, we've got you covered. 
Read on for four simple (but key!) steps to take to ensure that both you and your guests will have a fab time! 
Do Your Chores
Even if you're only entertaining close friends, you'll want to make sure your place is spick and span before people arrive. This should be a no-brainer, of course. Yet, sometimes knowing exactly what to prioritize (cleaning wise) can be tricky. If you're limited on time, we have a few easy pointers.
First, do a quick sweep of any clutter in your entryway and on the coffee table. You'll want guests to have space to set their belongings and take off boots, coats, and the like. Run the vacuum and spray down the kitchen counters, getting rid of any stray crumbs or stains. Don't forget about the bathroom—set out fresh hand towels and light a seasonally scented candle. Have fun with scents in the rest of your home, too—the more candles the merrier! 
If you're trying to keep different items together - candles, a mini-tinsel tree, even some eye-catching ornaments, use a fun, festive tray to stylishly group them!
Keep the Bevvies Limited
Hosting is stressful enough, and I've found over the years that having a limited number of drink options is way easier than opening up your bar cart to the masses. We all know that having too many choices can sometimes just feel paralyzing! Not sure what to serve? Well, the holidays are the perfect time to try out a seasonal cocktail.
I love making anything that involves using cranberries as a garnish—they're so fun to add to a punch bowl or statement pitcher. One of my favorites is this Holiday Fruit Punch. It's so easy to make which gives you more time to iron out any other finishing touches for your soiree. When served in a unique pitcher, punch bowl or drinkware with some sprigs of fresh rosemary, this drink looks like a million bucks. 
Your guests will likely arrive with bottles of wine in hand or perhaps bring their own beverages of choice, but it's still better to be overly prepared and set out a bottle of wine or two (for those who may wish to abstain from the cocktail),some water and  a sparkling non-alcoholic beverage. With these offerings you have it all, beverage wise! 
Deck the Halls and Well, Everywhere Else
Simple festive touches will make your shindig the party to remember. There's no such thing as being too extra in terms of holiday spirit! Craft a holiday playlist to have on in the background (we suggest a mix of traditional and modern day), light the Christmas tree or menorah, turn on twinkly lights indoors...you get the gist. Plus, these elements will make your party super Instagrammable, which is always a #win. 
Charcuterie, Please!
We're adults—those parties that took place sans food are in the past! Guests will expect to have some things to nibble on while they're over, and you'll need more than a bag of chips and some salsa to tide everyone over. Even if you're not serving dinner—or are hosting a pre-dinner event before the main meal—set out small bites. 
A charcuterie board is festive looking and fun to assemble, but an array of dips alongside crudites and some pita chips or crackers works just as well. If guests offer to bring something, you can always suggest they prepare a dessert—there's no limit as to how many sweets people are willing to consume during the holiday season (no judgement here).
There you have it, we hope your holiday get-together goes splendidly!
By Sarah Lyon: Sarah Lyon is a New York City-based freelance writer who contributes to a number of national design and lifestyle publications like Architectural Digest, Apartment Therapy, MyDomaine, the Wall Street Journal, and more. Sarah also works with designers to help them style spaces for photo shoots. Find more shelfies on her Instagram page, @sarahlyon9